Last Updated on February 14, 2021
Have you tried shishito peppers? They are very mild and occasionally super spicy but either way it's delicious! Whether you tried them before or not, give a try on this recipe, Capellini with Shishito Peppers. It's a fusion pasta dish between Italian and Japanese. It's vegan, oil-based with salt & pepper, aromatic from garlic! It can be gluten-free by using GF pasta of your choice, (I used brown rice pasta.)
What Are Shishito Peppers? 
The full name of Shishito pepper is Shishitogarashi [獅子唐辛子] but commonly known as shishito [ししとう] as an abbreviation. Shishi [獅子] means lion and togarashi [唐辛子] means hot pepper in Japanese. Why lion? According to some web references, the tip of the peppers look like a head of lion. Do I see that?…not so sure. But that's the name origin!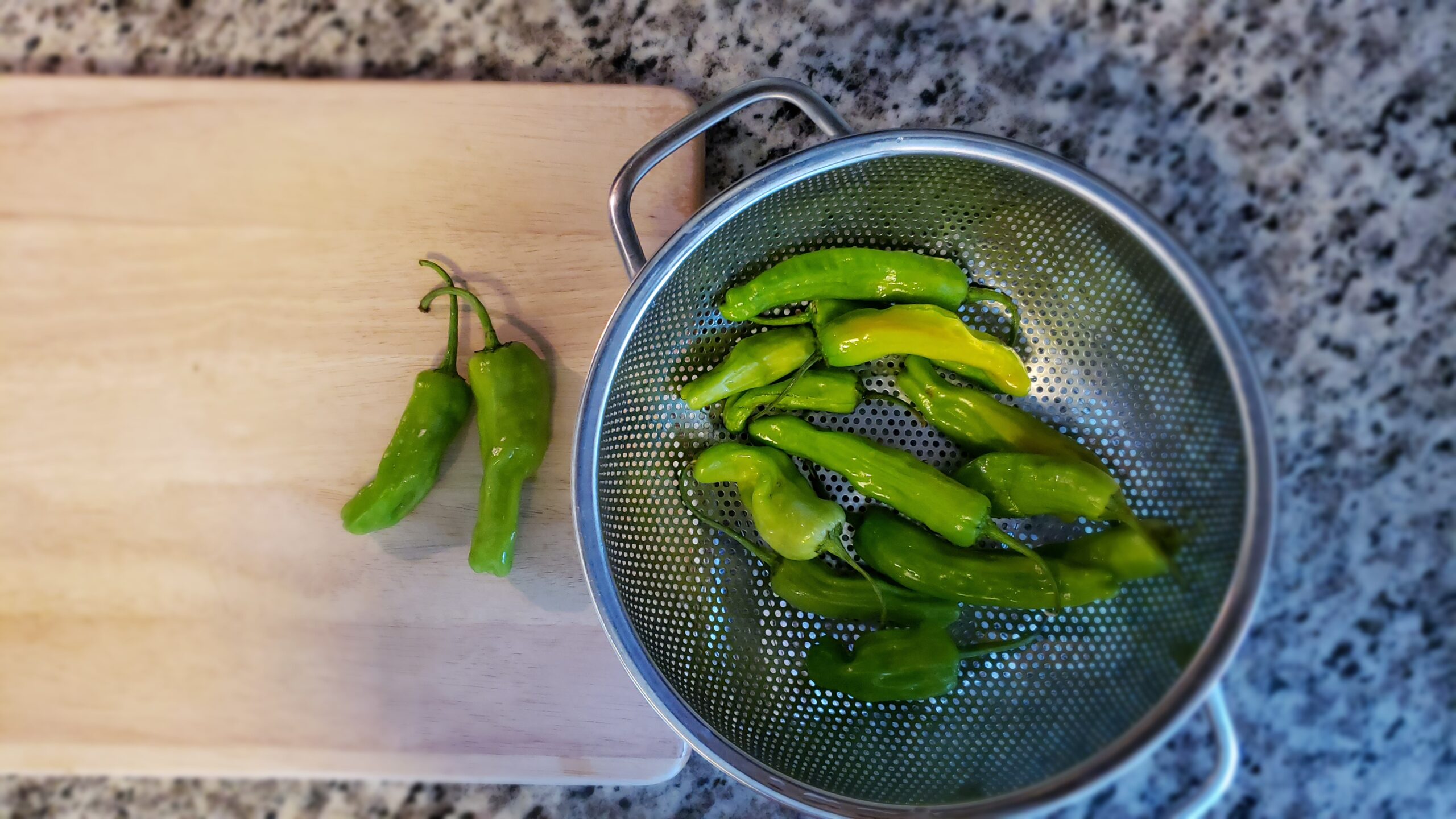 The taste of the shishito peppers is very similar to green bell peppers. In a way, a slightly bitterer, in my opinion. The heat level is mild in most cases. About 1 in 10, you get a really spicy one if you're unlucky (or lucky.) You won't know until you actually eat it like a Russian roulette. lol. The smell is also very similar to green bell peppers or other chili peppers such as jalapeno.
Actually, the whole entire body part, except the stem, is edible including the core and seeds. When I grill, I leave as a whole and cook until charred. For pasta dishes, I prefer not biting into seeds so I remove them.
The Ingredients
Shishito Peppers
Capellini (or any other long pasta of your choice)
Extra Virgin Olive Oil
Garlic
Water or Pasta Cooking Water
Dulse Flakes (optional but highly recommended)
Salt
Black Pepper
I used about 15 shishito peppers for 2 servings. You can use less or more, if you like.
As mentioned above, I used brown rice capellini to cook with what I already had in my pantry. But any other long pasta of your choice will work for this dish.
Although, this is a oil-based pasta it needs a little liquid to make "sauce." To do so, I use filtered water. You can substitute with pasta cooking water or even white wine for more depth.
Now, dulse flakes are something I often use for making "Asian" fusion pasta dishes. It gives a hint of ocean flavor which mimics the traditional kombu dashi without going through extra steps of making one prior. I'd say it can be optional but I believe that cooking with dulse flakes adds another layer of background flavor. It may not be too noticeable but for those who are familiar with the taste of it, you know the difference!
The Tips
As mentioned above, I would recommend removing the core/seeds of shishito pepper for this dish. To do so, pull off the stems first (it easily comes off), then slice in half lengthwise. Now use a grapefruit spoon or a teaspoon to scrape off the core/seeds. From there, cut into an inch size pieces. You can also slice thinly to make strips. It's up to you!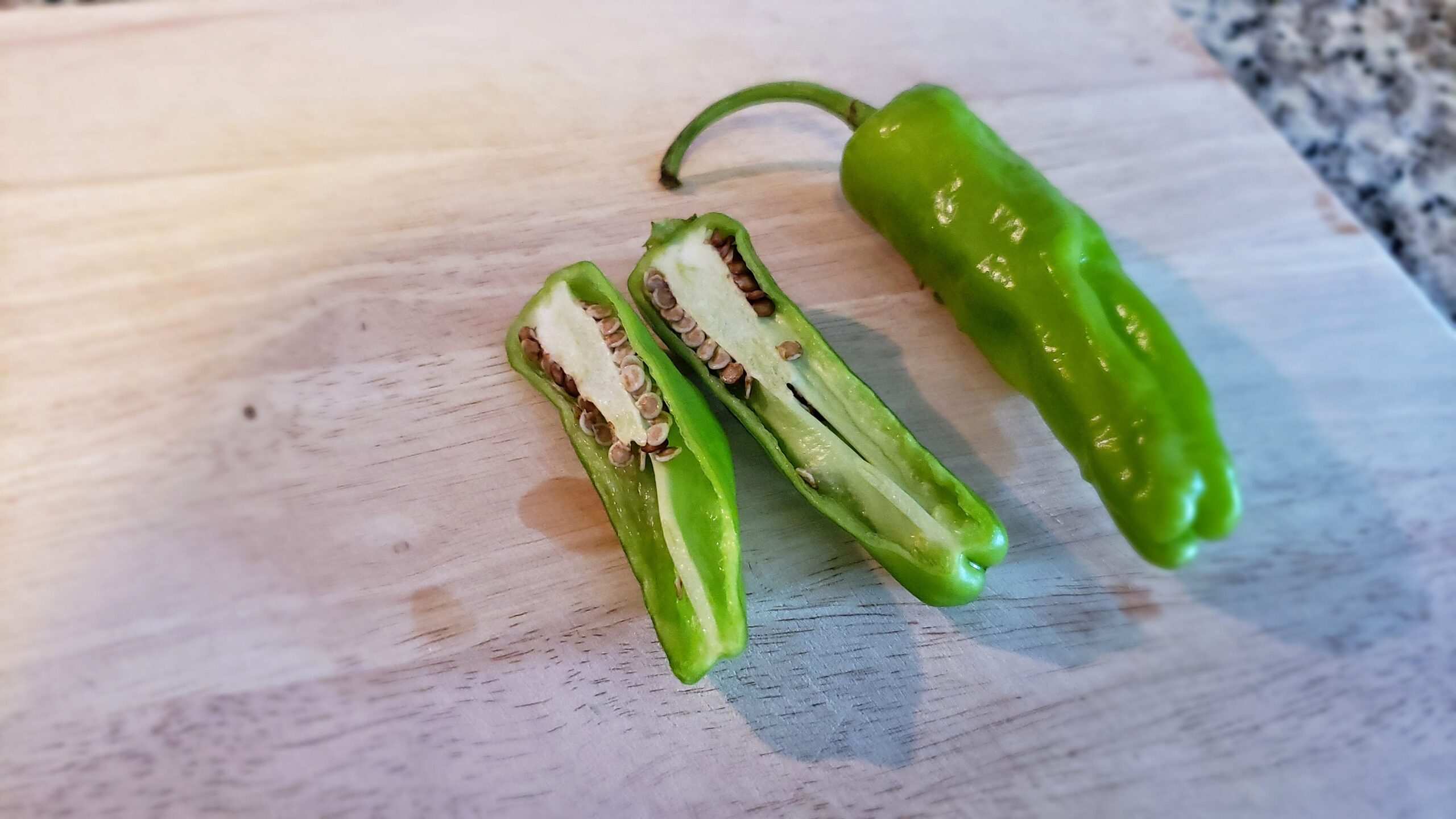 Also, be sure to not over cook shishito peppers. For this dish, it tastes much better when they are still somewhat crispy!
My go-to brown rice capellini takes 7-8 minutes to cook. I know it's longer than the typical cooking time for regular semolina flour capellini which takes about only 2-3 minutes. Depending on the shape of pasta (and the brand of pasta) that you use, make your own judgement on when to start cooking pasta for the al dente finish but the shishito peppers are still crispy enough when you add the cooked pasta to the shishito mixture.
Again, just as a reminder, any long pasta should work for this recipe!
To honor and to savor the potential (but mild) spiciness of the shishito pepper, I intentionally omit the use of extra heat such as red chili pepper flakes. But if you enjoy extra heat, go ahead and add some at the same time as when you cook garlic in oil.
The Taste
I love oil-based pasta in general because it's all about the taste of the highlighted veggies, in this case the shishito peppers, with a little kick from the garlic! Capellini is delicate enough so that it doesn't overpower the mild flavor of shishito peppers in both taste and texture wise. The pleasant bitterness is in each bite with an occasional spiciness that hits your tongue. If you use dulse flakes, like I did, a hint of ocean flavor comes through your nose as well! Whether you've tried shishito peppers before or not, this is a must try!
Feeling Inspired?
Try other Asian fusion pasta dishes you may enjoy!
Spaghetti Aonori Aglio Olio e Peperoncino
Spaghetti with Kimchi Cream Sauce (thin)
Capellini with Shishito Peppers
Capellini with Shishito Peppers is a fusion pasta dish between Italian and Japanese. It's vegan, oil-based with salt & pepper, aromatic from garlic! It can be gluten-free by using GF pasta of your choice, (I used brown rice pasta.)
Ingredients
15

pieces

shishito peppers

8

oz

capellini

(or any other long pasta of your choice)

1

tbsp

extra virgin olive oil

plus more for serving

2

cloves

garlic

thinly sliced

1/4

cup

water or pasta cooking water

1

tsp

dulse flakes

(optional but highly recommended)

1/2

tsp

salt

adjust to taste

1/4

tsp

black pepper

plus more for serving
Instructions
In a large pot, start boiling water for cooking capellini.

Pull of the stems of shishito peppers. Slice in half lengthwise and remove the core/seeds. Then cut into 1/2-inch pieces. Place them in a fine mesh colander and rinse under running water to clean and to remove remaining seeds. Drain well and set aside.

Heat up a frying pan at medium high heat. Pour extra virgin olive oil and add garlic. Cook for 1-2 minutes until aromatic. Then add shishito peppers and cook for 2-3 minutes until tender but still crispy. For better taste and texture, do not overcook the shishito pepper.

Start cooking capellini in salted water for 2-3 minutes (see the notes below) or follow the instructions on the package.

While the pasta is cooking, add 1/4 cup water or pasta cooking water and dulse flakes. Season with salt and pepper. If using pasta cooking water, use less salt than listed above. Reduce the heat to medium to medium low.

Once the capellini is cooked, drain and transfer to the pan. Give a quick toss.

Serve with freshly cracked black pepper and drizzle of extra virgin olive oil for the finishing touch.
Notes
If you like heat, add red chili pepper flakes in step 3.
It can work with any other long pastas. I used brown rice capellini which takes about 7-8 minutes to cook. To adjust the timing, I started cooking the pasta right before step 3. Make your own judgement for the actual cooking time for the pasta of your choice.