Last Updated on February 14, 2021
This is a vegan version of a authentic Japanese dish. Maitake "Gyu-Don" Style is a savory rice bowl but the sweetness really characterize the overall flavor of the dish. If you aren't sure what gyu-don is, we got you covered!
What's Gyu-Don?
"Gyu-Don" [牛丼] is a type of dish which translates as "Beef Rice Bowl." It consists of  a bowl of rice topped with shredded beef and onion cooked in sweet & savory sauce. It's often comes with red-color pickled ginger as garnish. In Japan, dishes like this are considered "B Class Gourmet" [B級グルメ] which means it's nothing fancy but inexpensive, delicious, and a popular food.
There are may franchise restaurants that serve this dish sort of as a Japanese version of fast food. You go in a restaurant and will be served literally within a few minutes. In case you're wondering, the price range is typically from $3-$8 depending on the size. Also, you have an option to add a side dish, miso soup, and/or raw egg for an extra $3 or so.
Why Maitake?
The inspiration comes from the idea of the fact that often times, mushrooms are the substitution for beef for vegans. Now, we love maitake and they shred easily, we choose to make the vegan version of it with the umami-rich maitake mushrooms!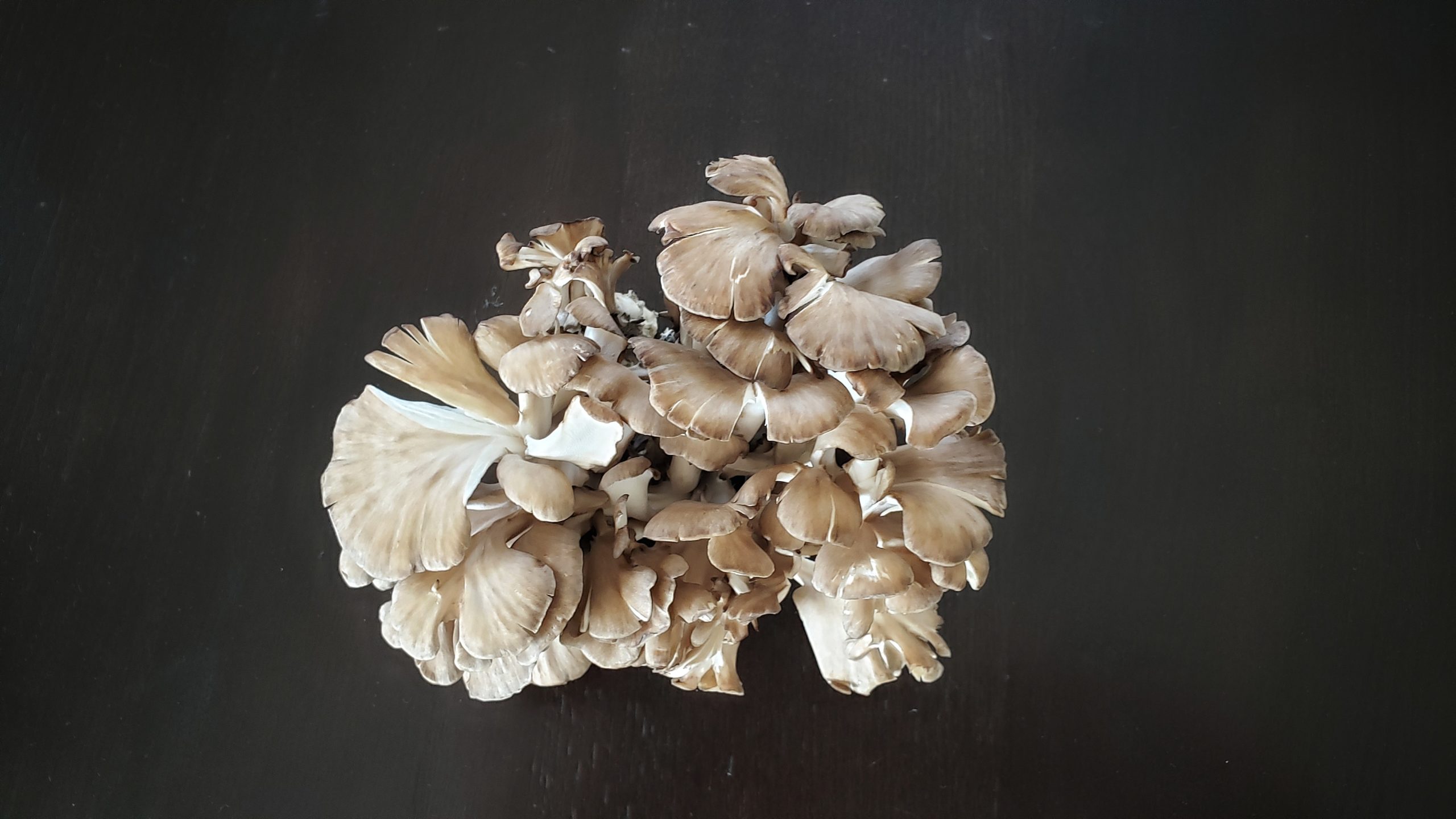 The Sauce 
As mentioned above, the taste is sweet & savory, the common Japanese flavor. For gyu-don, the flavor of the sauce plays an important role! Although the concept of the flavor is universal, the sweetness and the saltiness may vary from one place to another, one cook to another. Now, our recipe for the sauce (the liquid part) calls for;
2 cups water
4 tbsp soy sauce
4 tbsp sugar
2 tbsp sake
1/2 tbsp mirin
Yes, we admit that this is pretty sweet to best suit our personal preference. That being said, feel free to modify the amount of soy sauce and sugar to your taste!
Now, you may think that the amount of all the ingredients together may sounds (and looks when you cook) like a lot of sauce for cooking only maitake and onions. Don't worry, it's completely normal. Because, we want to make sure that there's enough liquid (sauce) for maitake to be submerged in so it absorbs all the goodness!
Also, another cool fact for a dish like gyu-don is that there's a term called "Tsuyu-Daku" [つゆだく]. That translates as "drenched in sauce." Some people prefer having extra sauce poured over. With the amount of the sauce that we make for this recipe, we can make "tsuyu-daku" possible!
About The Ginger (Topping)
Typically, gyu-don is topped with red-color pickled ginger strips called "Beni-Shoga" [紅しょうが]. To make beni-shoga, ginger is pickled in plum vinegar (the same solution to make umeboshi) and the use of red shiso perilla gives the red color.
That being said, we simply substitute with julienned fresh ginger although we may attempt to make beni-shoga in the near future! It just needs a little fresh gingery bite to cut through the sweetness!
Feeling Inspired?
Check out other maitake  and sweet & savory dishes!
Sweet & Savory Burdock Root and Carrot
Maitake "Gyu-Don" Style
This is a vegan version of a authentic Japanese dish. Maitake "Gyu-Don" Style is a savory rice bowl but the sweetness really characterize the overall flavor of the dish.
Ingredients
The Rice
2

cups

uncooked white Japanese rice

(starchy short grain rice)

2

cups + 2 tbsp

water
The Sauce Mixture
2

cups

water

4

tbsp

soy sauce

4

tbsp

sugar

2

tbsp

sake

1/2

tbsp

mirin
The Rest
8

oz

maitake mushrooms

shred into small pieces (trim off the bottom if needed)

1

cup

thinly sliced yellow onion

1 1/2

inch

ginger knob

peeled and julienned

Shichimi pepper

(optional)
Instructions
Prepare the rice. Place rice in a large bowl (or in a fine mesh colander over a large bowl.) At the sink, pour water in the bowl to cover the rice. Wash it with your hand moving in circular motion then discard water. Repeat the process until water becomes clear. Transfer to a fine mesh colander to drain. Set aside for 30 minutes.

In the meantime, prepare the sauce mixture. In a medium bowl, combine water, soy sauce, sugar, sake, and mirin. Mix well and set aside.

After the 30 minutes (from step 1), transfer the rice into a medium size pot with a heavy lid. Add water then make the surface of rice leveled. Cover it with the lid and cook over medium high heat. Once it starts boiling (bubbling), open the lid and stir gently from the bottom. Make the surface of rice leveled again and put the lid back on then reduce the heat to low. Simmer for about 15-20 minutes until water is completely absorbed. Turn off the heat and let it stand for 5-10 minutes.

While the rice is being cooked, finish cooking the rest. In a medium size pot or pan (preferably deeper pot or pan), add the sauce mixture. Cook over medium high heat and bring it to gentle boil. Once the sugar is dissolved, reduce the heat to medium to medium low. Add yellow onion and cook for 3-4 minutes. Then add maitake and cook for 10 minutes or so until the rice is ready.

Use a rice paddle to mix rice gently and serve it in a bowl. Top it with the maitake mixture and drizzle extra sauce over the rice. Garnish with ginger and shichimi pepper (optional.)
Notes
It is normal that the mixture is very saucy just so that maitake will be simmered in enough liquid. The leftover sauce can be re-purposed for making another dish. Use within 2-3 days.