Last Updated on February 14, 2021
Cremini mushrooms are great for both cooked and raw! This Mushroom Salad with Dill and Ginger Miso Vinaigrette is a great way to showcase the deliciousness of mushrooms prepared raw. It's a perfect salad for all seasons!
Mushrooms
Would you consider mushrooms as seasonal food? We'd love to say yes…at least that's how nature intended it to be. But we all know that in many places they are available all year round because they are cultivated rather than grown and harvested in the wild. While we have the fantasy of going into the forest to hand-pick mushrooms to put them in a wooden basket, we buy organic creminis displayed in a basket (not pre-packaged) instead. We gently 'hand-pick' with the tongs and put them in our reusable produce bag 😉  In our grocery store, they have a few options for non-packaged organic mushrooms; cremini, shiitake, and portobello. Occasionally, around the holiday seasons, they have other non-packaged options like chanterelles and oyster mushrooms which we look forward to!
The Flavor
When it comes to cremini mushrooms, we like both cooked and raw. Did you know mushrooms are more nutritious when they are cooked? Well, that's great but that doesn't stop us from eating raw mushrooms 😆 If you never had raw cremini mushrooms, you should definitely try this one! When creminis are prepared raw, it doesn't really change the flavor profile but it's somewhat lighter in texture (not chewy.) Another thing is that the aroma is a bit more earthy than cooked ones, at least for us. Now, dill adds a fresh scent to the earthiness of the creminis. And the best of all, our homemade Ginger Miso Vinaigrette binds everything together! It's gingery, lemony, and rich from miso, with a touch of onion-like flavor from shallots.
The Ingredients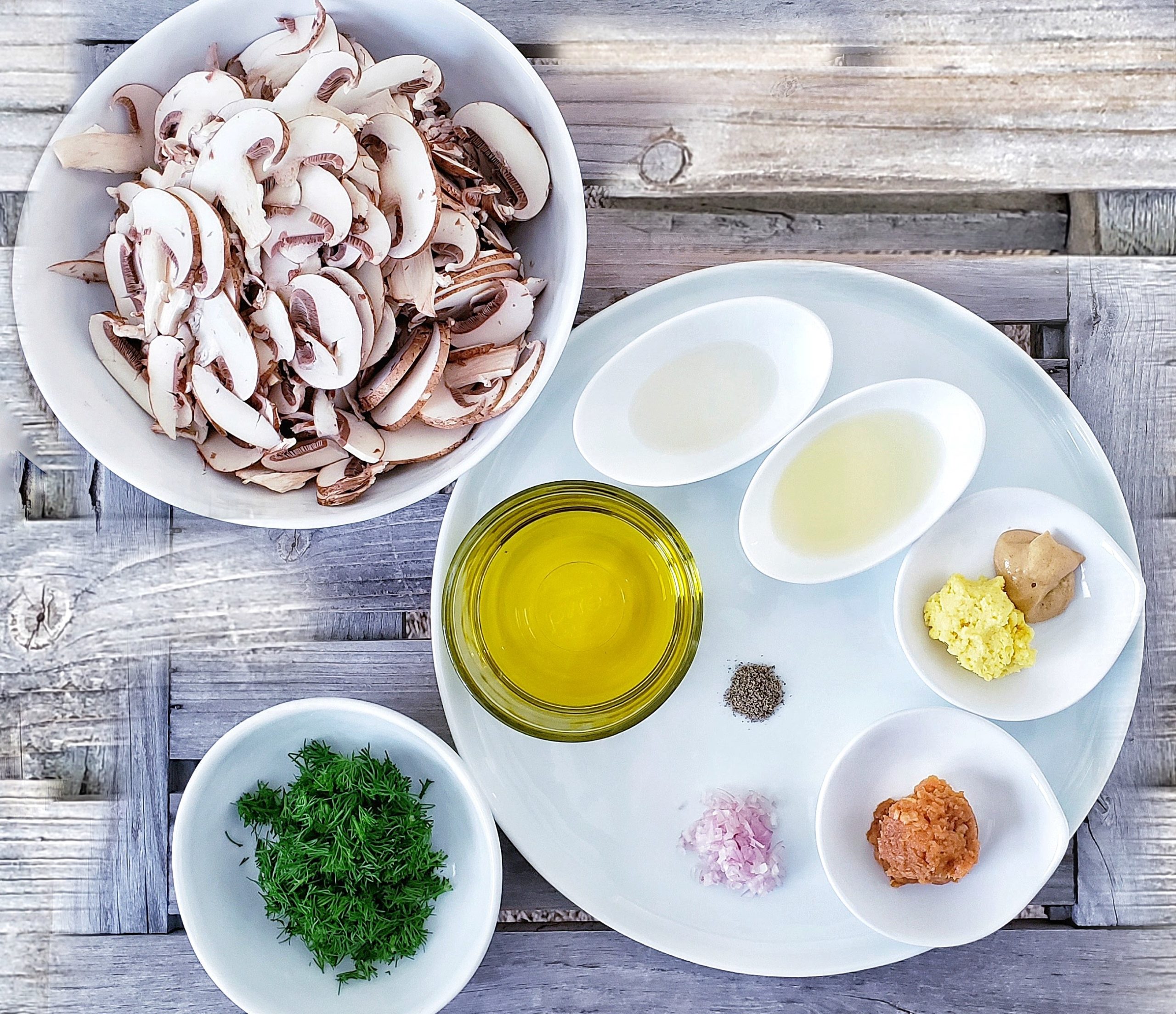 1 1/2 tbsp white miso
1 1/2 tbsp grated ginger
1/2 tbsp Dijon mustard
1 tbsp minced shallots
2 tbsp fresh lemon juice
1/2 tbsp rice vinegar
1/4 tsp black pepper
1 tbsp water
1/4 cup extra virgin olive oil
The Rest
14 cremini mushrooms, thinly sliced
2-3 tbsp chopped dill
Make sure to buy the creminis as whole and you slice them! We've seen them sold pre-sliced…they don't look fresh at all, and no offence, we don't understand who is lazy enough not wanting to slice mushrooms??? We love the flavor of dill but if dill is not your thing, parsley would be another option for the green herb. But just know that the flavor of this particular dish wouldn't be the same if you use different herbs other than dill.
How to Serve
We enjoy the fresh (dry) bite of the creminis so simply sprinkle chopped dill on sliced creminis then drizzle the vinaigrette over. Another way to serve this dish is to marinate the creminis in the vinaigrette and ill for about 5 minutes or so. In this way of preparation, creminis will be wet from soaking up the goodness of the vinaigrette which gives a chewy texture. Either way, it tastes fantastic so choose your own way that you enjoy the most!
Mushroom Salad with Dill and Ginger Miso Vinaigrette
This Mushroom Salad with Dill and Ginger Miso Vinaigrette is a great way to showcase the deliciousness of mushrooms prepared raw. It's a perfect salad for all seasons!
Servings:
4
people (appetizer)
Ingredients
Ginger Miso Vinaigrette
1 1/2

tbsp

white miso

1 1/2

tbsp

grated ginger

1/2

tbsp

Dijon mustard

1

tbsp

minced shallots

2

tbsp

fresh lemon juice

1/2

tbsp

rice vinegar

1/4

tsp

black pepper

1

tbsp

water

1/4

cup

extra virgin olive oil
The Rest
14

cremini mushrooms

cleaned and thinly sliced

2-3

tbsp

chopped dill
Instructions
In a small bowl, combine white miso, ginger, Dijon mustard, shallots, lemon juice, rice vinegar, black pepper and water. Use a small whisk to mix well. Then slowly pour extra virgin olive oil as you keep stirring to emulsify. Set aside.

Serve sliced cremini mushrooms then sprinkle dill on top. Drizzle the vinaigrette as much/little as you like.
Notes
An alternative way to serve this is to marinate the mushrooms with the vinaigrette. In a large prep bowl, combine mushrooms, dill, and vinaigrette. Toss well and let it stand for 5 minutes.
Store any leftover vinaigrette in an airtight container and keep it in the fridge. Use within 2-3 days.