Last Updated on February 14, 2021
Have you tried the combination of soy sauce + butter yet? This Soy Sauce "Butter" Mini Gold Potatoes is another creation of the popular Japanese flavor marriage that are savory, sweet, rich, and super addicting. It's made with vegan butter but tastes authentically Japanese!
Soy Sauce & Butter?
Yes! That's right! If you've never tasted this delicious combination of the two ingredients, I urge you to try some. It's a popular flavor in Japan that you can experience in many dishes.
The authentic way is to make with soy sauce and dairy butter but vegan alternative works just fine and gives the same richness as the dairy option.
The basic method is to use only "soy sauce + butter" which sounds very simple but tastes bold! As a variation, sometimes sweetener is added like this recipe. Somehow, this combination is super addicting where you just can't stop eating and crave for more.
Ingredients
This recipe calls for only 6 ingredients.
Small Gold Potatoes (or any small potatoes)
Soy Sauce
Mirin
Sugar
Vegan Butter (unsalted)
Scallions
It's super simple, isn't it? Now, let's get into it.
Small Gold Potatoes
On the recent grocery shopping trip, I spotted the baby ones and they happened to look fresh! I personally love gold potatoes over any other kinds. To me, they taste creamy and slightly sweet, and love the pretty yellow color.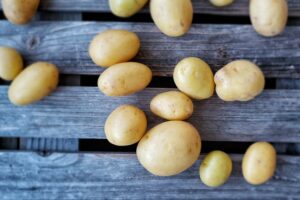 Often times, I don't really peel the potato skin whether it's for salad or mashed potatoes unless I really need to. Again, potatoes are one of the low waste options that I really try to strive for. Now, since they are so tiny, you don't even need to cut them. Just rinse them, remove the sprouts if necessary, and they are ready for cooking!
Seasonings
The savory part comes from the two main ingredients, soy sauce and butter. I recommend to use unsalted butter to control the saltiness but if you don't have that option, simply use a bit less soy sauce. Now for the sweetener, I use mirin and sugar. Why not just sugar? Because mirin doesn't just add sweetness and a depth in flavor but also adds a shiny finish to any dish.
When you cook soy sauce, mirin, sugar, and butter together, the consistency of the sauce becomes quite thick as they cook down in a pan. It's actually a perfect consistency to coat the potatoes. The flavor of the sauce is rich and pretty intense that you don't even have to season the potatoes when you boil them!
Topping and More
Don't forget to incorporate scallions (green part only) to give a hint of onion flavor which works well with the rich buttery & savory sauce! It also gives a pretty accent color to the presentation. In this particular dish, scallions are not just a optional garnish. It actually brings out the deliriousness of the potatoes with sauce!
Some people may wonder what to serve this dish with. It's a Japanese dish, so you know it…
Serve with a bowl of RICE!
Yes, it's carb on carb (our specialty) but I promise it's one of the best ways to eat these potatoes! It's also a great appetizer to serve with a cold beer or sake, if you enjoy drinking!
Feeling Inspired?
Check out other vegan "Soy Sauce Butter" recipes!
Soy Sauce "Butter" Mini Gold Potatoes
This Soy Sauce "Butter" Mini Gold Potatoes is another creation of the popular Japanese flavor marriage that are savory, sweet, rich, and super addicting. It's made with vegan butter but tastes authentically Japanese!
Ingredients
12

oz (about 10 pieces )

mini gold potatoes

(or any small potatoes or your choice)

1 1/2

tbsp

soy sauce

2

tsp

mirin

1

tsp

sugar

2

tsp

unsalted vegan butter

Green part of scallions

finely chopped (garnish)
Instructions
Clean potatoes well with running water (remove dirt and sprouts if necessary.)

Place them in a small to medium pot and add water enough to cover the surface of the potatoes. Uncover and cook over high heat to bring to boil. Once boiling, reduce the heat to medium. Cook for another 15-20 minutes or so until the potatoes are tender. To check the tenderness, stick a skewer through the center of potato. If it goes through easily, they are done. Drain well and set aside.

Prepare the sauce (you can also do this step while waiting for the potatoes to cook.) In a small bowl, combine soy sauce, mirin and sugar. Mix well and set aside.

Once potatoes are done, cook with the sauce. Use the same pot to cook the potatoes, add vegan butter and let it melt over medium heat until slightly browned. Turn the heat down to medium low and add the sauce. Mix well.

Now, transfer the potatoes to the pot. Stir gently to coat with the sauce. The sauce should start thickening. Continue to cook for a couple of more minutes until the sauce becomes glossy and it has the consistency of thick maple syrup.

Serve with scallions on top.