Last Updated on June 3, 2023
You may already have Tamari (Tamari Shoyu) in your vegan pantry which is a popular gluten-free soy sauce as an alternative to conventional soy sauce. There are a couple of different types of soy sauce you may want to have in your vegan pantry such as multipurpose regular soy sauce, light soy sauce, and smoked soy sauce. In this post, the highlight is on the GF tamari that you could use as a substitute of regular soy sauce.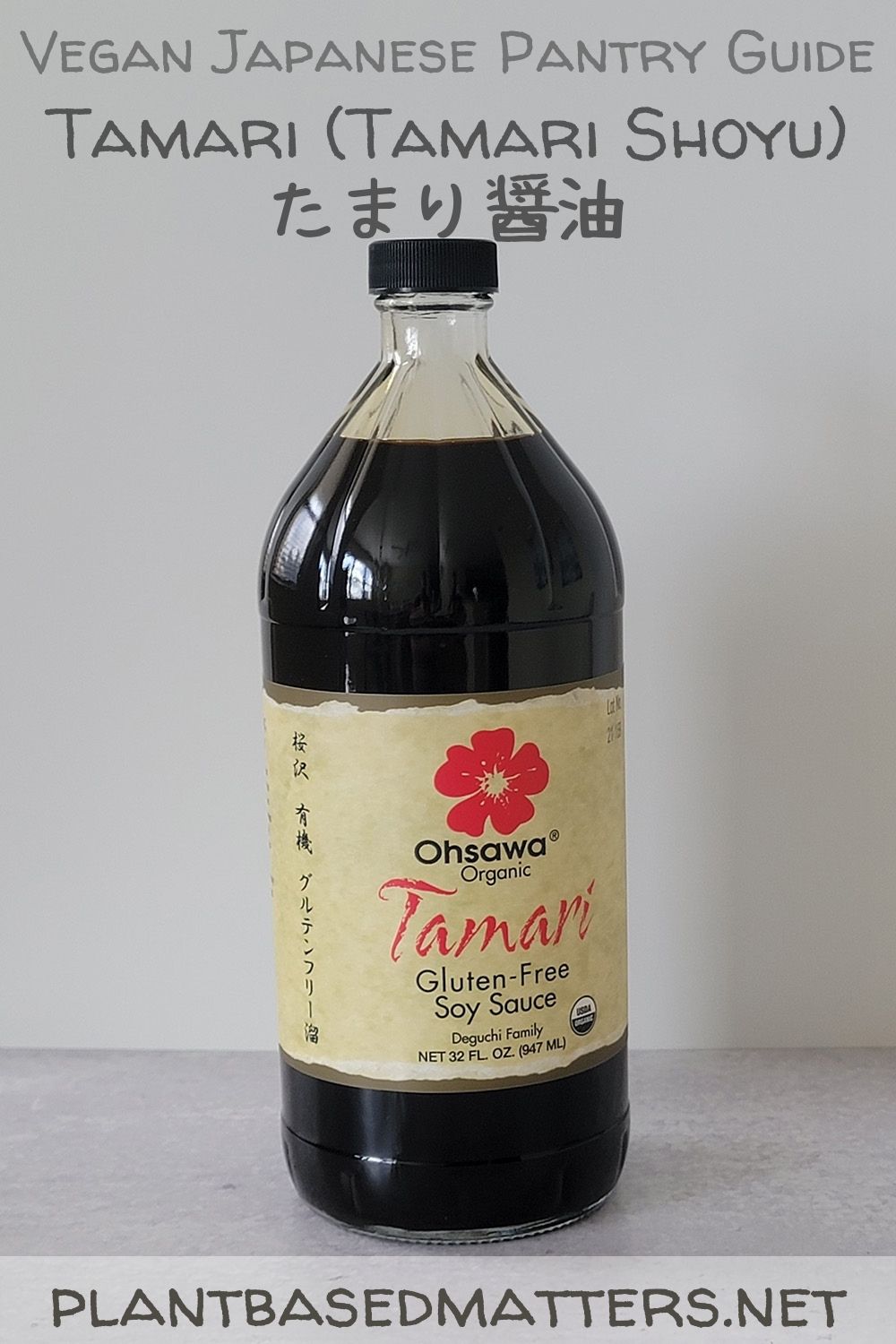 The Soy Sauce Family
There are several types of soy sauce products that you can use for different purposes. Some of the examples are:
Tamari
Smoked soy sauce
Ponzu
White soy sauce
White tamari (technically not "soy" sauce but similar)
Now, let's talk about tamari!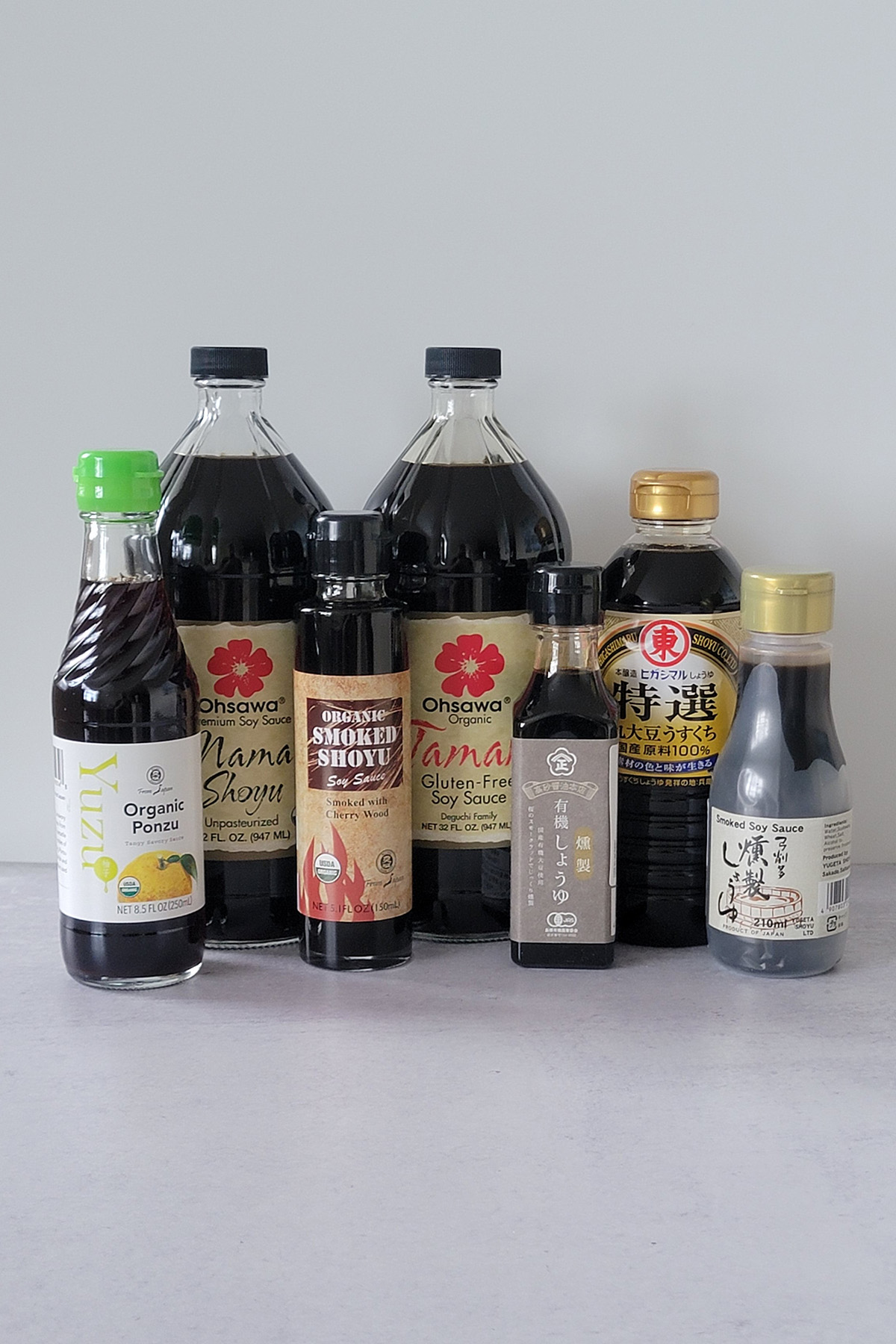 What's Tamari ?
Overview
Tamari is a aged & fermented liquid condiment made from soybeans that's commonly used in Japanese cuisine. Tamari can be an GF alternative to regular soy sauce which you're probably using in your everyday cooking.
In Japanese, it's called tamari shoyu [たまり醤油] means tamari soy sauce. In English (at least in the U.S,) the shortened name "tamari" is the official name instead of "tamari soy sauce" but they're the same products.
The word "tamari" derives from the verb "tamaru [溜まる]" which means accumulate, collect or precipitate. Tamari is basically a liquid extracted from the unrefined soy sauce called moromi that eventually accumulates at the bottom of the barrel. Actually, tamari is the origin of what we now know as soy sauce.
The color of tamari is rich and dark which is similar to regular soy sauce. It's typically aged for about a year to 3 years and the percentage of sodium in tamari is about 16 % which is about the same as the regular soy sauce. It's slightly lower than light soy sauce (usukuchi soy sauce) which is 18%.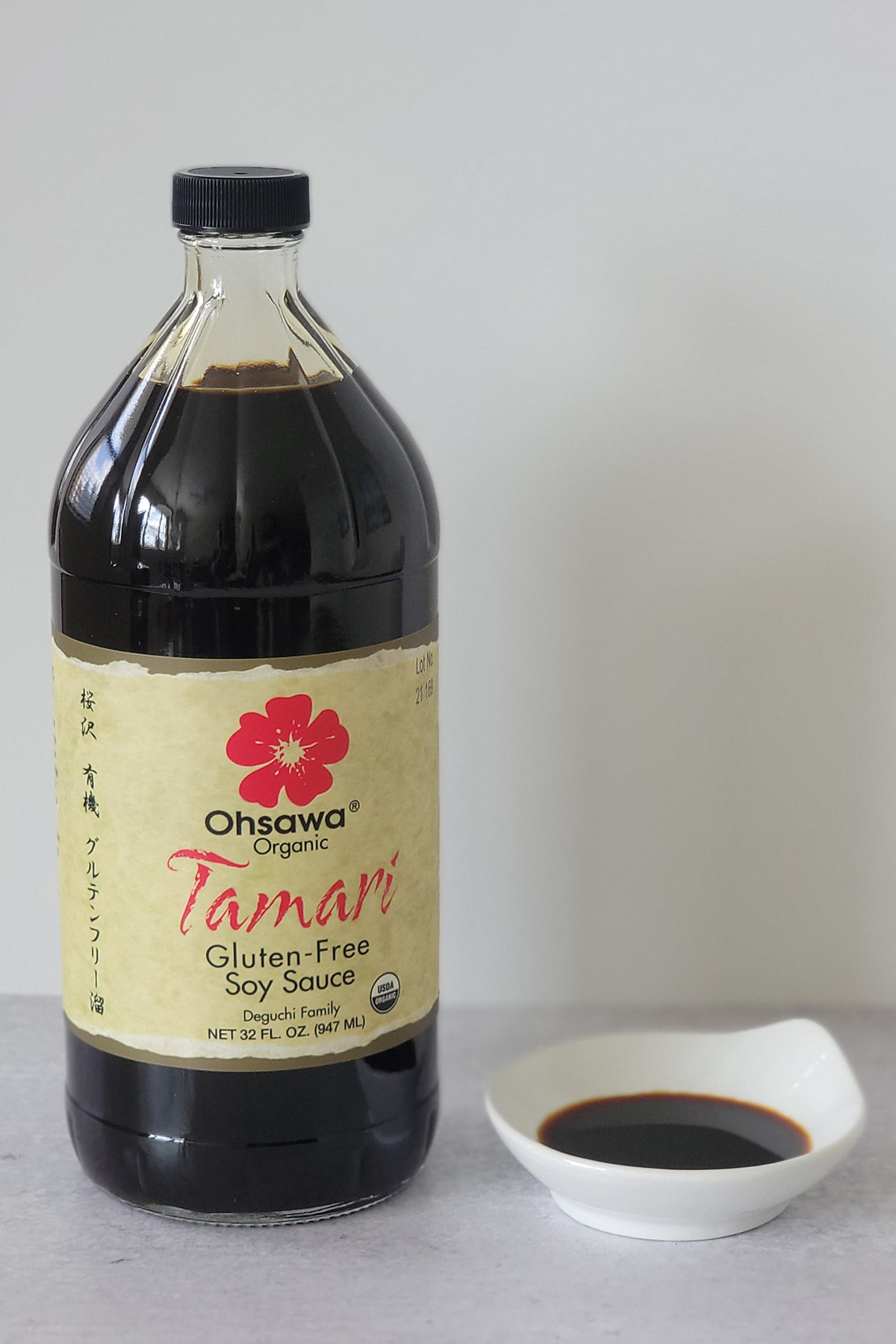 Ingredients
The basic ingredients of tamari are:
In the U.S., majority of tamari products are made with soybeans only (free of wheat) therefore, gluten-free. However, some tamari made in Japan may not be GF due to the the fact that those contain a small amount of wheat. If you happen to pick up tamari produced in Japan, be sure to check the label.
Process
Brief process of the making of tamari is;
Soybeans are soaked and steamed
#1 is mixed koji mold (aspergillus oryzae) to form miso-koji balls called misodama koji
Salted water is added to #2 which becomes unrefined soy sauce called moromi
The extracted liquid (tamari) from the moromi is pumped over frequently for proper fermentation/aging
Pressed and heated for pasteurization then filtered or just filtered without pasteurization *
Bottled
The actual process may vary depending on the types of tamari or products.
* Typically, soy tamari is heated through to pasteurize after being pressed except for "pure tamari", "fresh tamari" or "mana-tamari." Those are the types of tamari with no heat applied. In other words, the tamari is "alive" to retain more aroma and umami, enzymes, and the pure taste of tamari. It's delicious!
Taste
When you taste tamari by itself, you will notice that it's slightly sweet and super rich in umami! It's still salty like regular soy sauce but definitely taste a bit different, being that the consistency is thicker than the soy sauce.
Ways to Use
Technically, you can use tamari in the same way as regular soy sauce. In Japan, tamari is often used for seafood especially for sashimi (not for vegans), simmered dishes, and/or sauces. It's useful for making something that you want to add some richness.
As you may already know, in the U.S., tamari is a gluten-free alternative to conventional soy sauce. So, you can simply substitute soy sauce with tamari and use it in the same way as you would do with soy sauce.
Tamari can be used in many different ways. You can use it as;
Dipping sauce as is
Mixing with other ingredients to make dressings
Seasoning for stir-fries
Secret ingredient as an umami enhancer
Marinade
If you've been using regular soy sauce but never tried tamari yet, try tasting one next time.  Ever since I discovered the deliciousness of tamari, it has become a staple in my kitchen. I use tamari specifically for:
Drizzling over avocado slices on top of rice (SOOOO good!)
Making Japanese soy sauce based salad dressing
Drizzling over steamed veggies
I enjoy the richness and umami-packed sweetness of tamari on simple & minimally processed food!
How to Store
Tamari is high in sodium so it has a pretty long shelf life. That said, oxidization will slowly change the flavor profile. Just like any other food, it's best to consume as soon as possible once it's open.
Another thing to consider is by a small size bottle if you don't use it often in your cooking. This may not be cost effective but there is nothing like having a fresh tasting ingredient to cook with rather than being forced to use an old one.
Here is how I store my tamari.
Keep an unopen bottle in a dark place to avoid direct sunlight.
Once it's open, always cap it tightly and store in the fridge.
I transfer and adequate amount to a soy sauce dispenser to use on the table and kitchen. I also keep the dispenser in the fridge when I'm not using it.
Since I use tamari pretty often, I buy the one comes in a large glass bottle (32 fl oz/947 ml.) But I have to say it's not so convenient to use it out of a big heavy bottle especially when I want to measure and have control over how much to use.
That's why I transfer some in a soy sauce dispenser and it's very practical. If you haven't done so, I highly recommend trying it!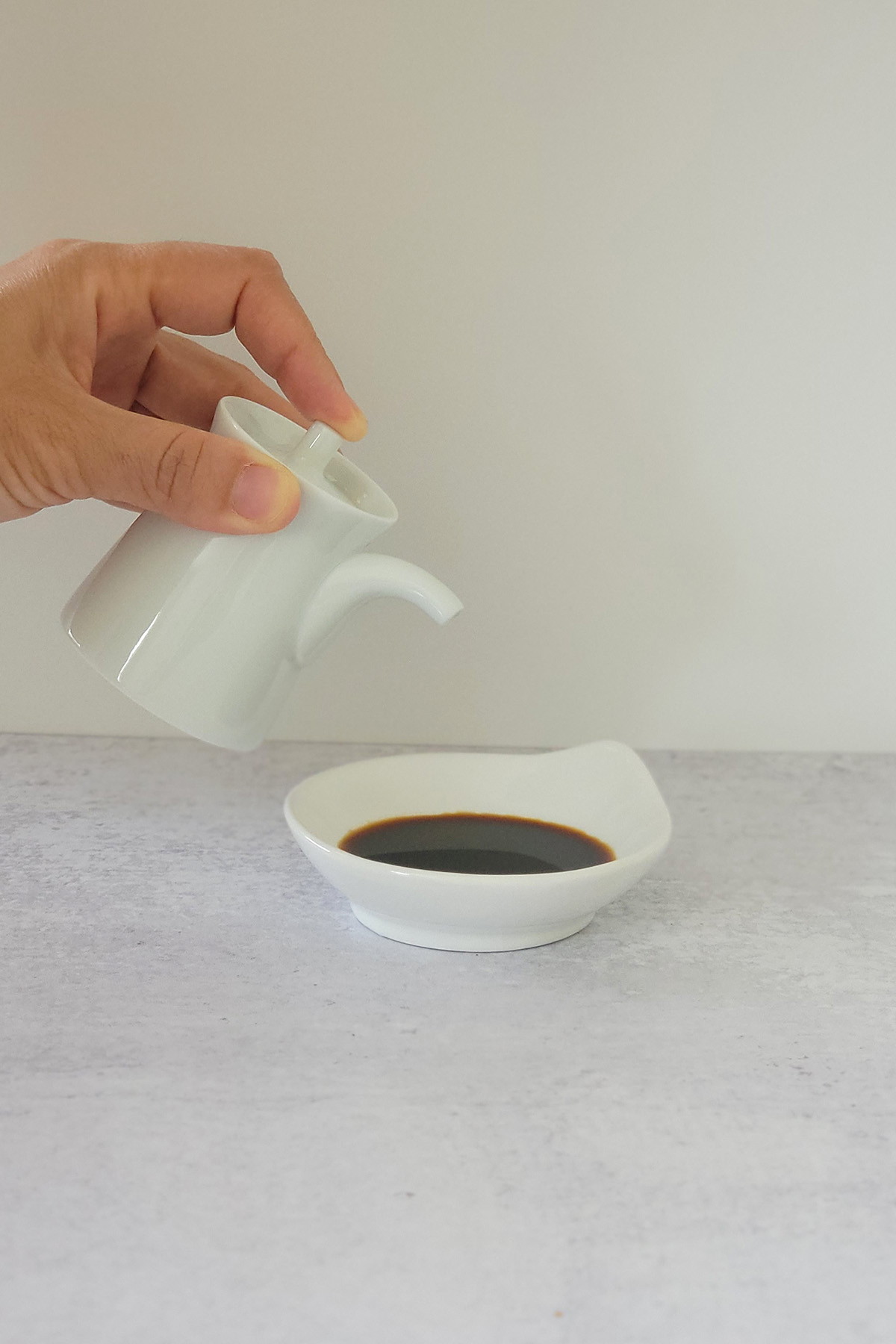 Where to Buy
Since tamari is widely available, you can find it pretty much at any grocery stores without having to go to Asian grocery stores.
That said, I'll definitely recommend trying different products to taste the difference and to find your favorite! I personally recommend buying organic tamari to avoid GMO.
My go-to everyday tamari is Ohwasa Organic GF Tamari from Gold Mine Natural Foods. It's a product of Japan, unpasteurized, organic, umami-rich and really delicious! I buy a large bottle but smaller bottles are also available.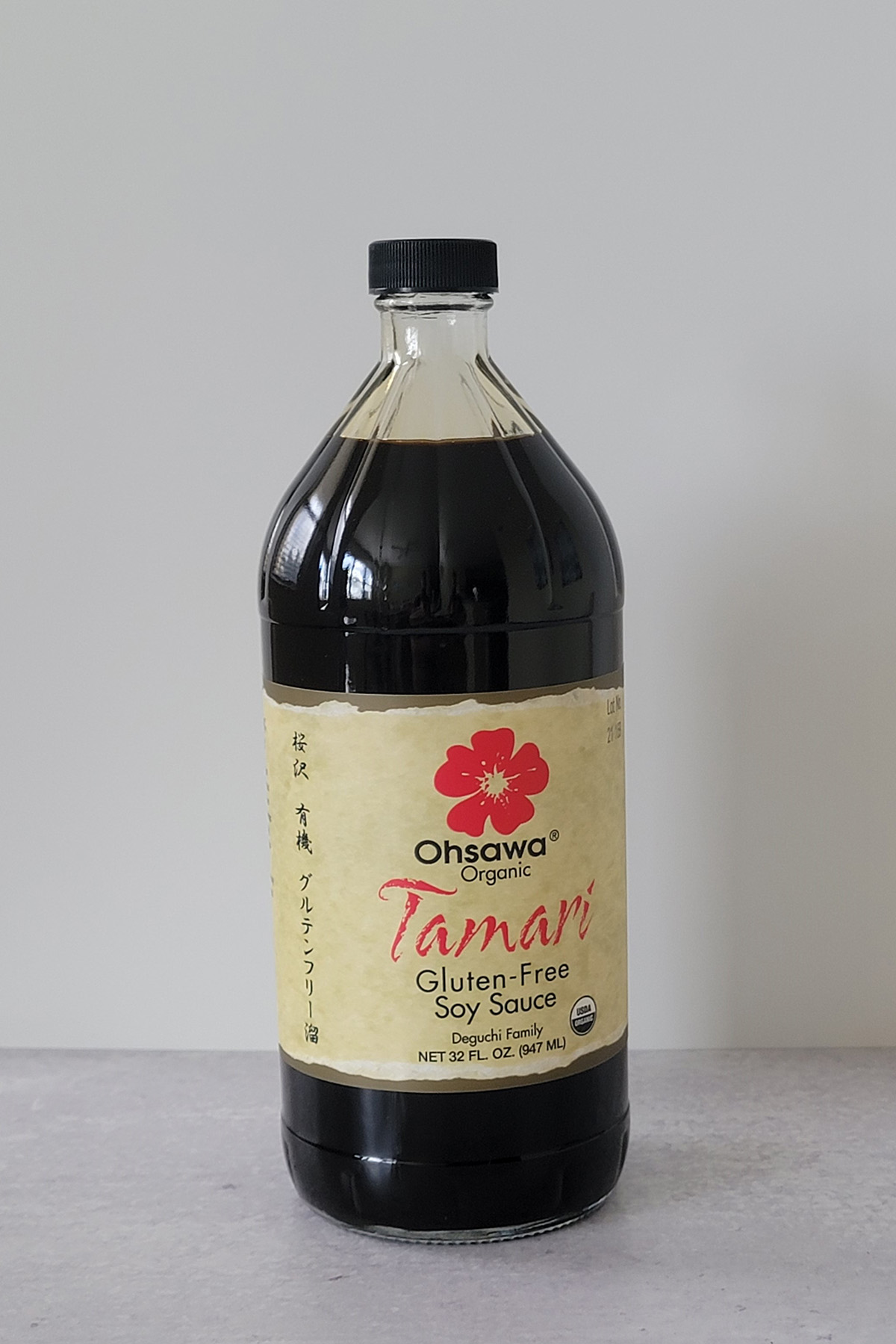 I recommend trying "real" Japanese tamari for you to stock up your authentic vegan Japanese pantry. This is a general tip for shopping Japanese groceries or pantry items which is to get the products that labels as "Product of Japan" on the back of the package. Often times, what appears to be a "Japanese" product is actually produced in another country. Always check the label!
Let me know in the comment sections below if you have any questions or other recommendations!