Last Updated on February 14, 2021
Soups are one of my favorite things to make. It's so comforting and doesn't make me feel bad about going for the second bowl or sometimes three! Butter Bean & Swiss Chard Soup is definitely one of them that won't weigh you down afterwards. It's vegan and gluten free, tastes light but hearty!
Swiss Chard
A couple of weeks ago, we were listening to almost the entire broadcasts of Food Revolution Summit. This has been our annual tradition to do around this time of year. It's definitely worth joining next year, if you're interested. It's completely free!
What they talked about on the summit reminded me that I hadn't cooked Swiss chard for ages. Swill chard, in my opinion, is one of those low-waste veggies like daikon radish that you can eat from the bottom to the top. Both leaves and stalks are very tender and taste very mild enough for everyone to enjoy the flavor. For the nutritional value aspect, it's abundant in antioxidant and vitamin C. It's a great way to swap from spinach once in a while, although they are pretty similar in nutritional value!
Butter Beans
We buy dried beans in bulk and always keep them available in our kitchen. Butter beans are one of them. They are not just for soups, you can also use them for making a dip and it's super creamy and delicious!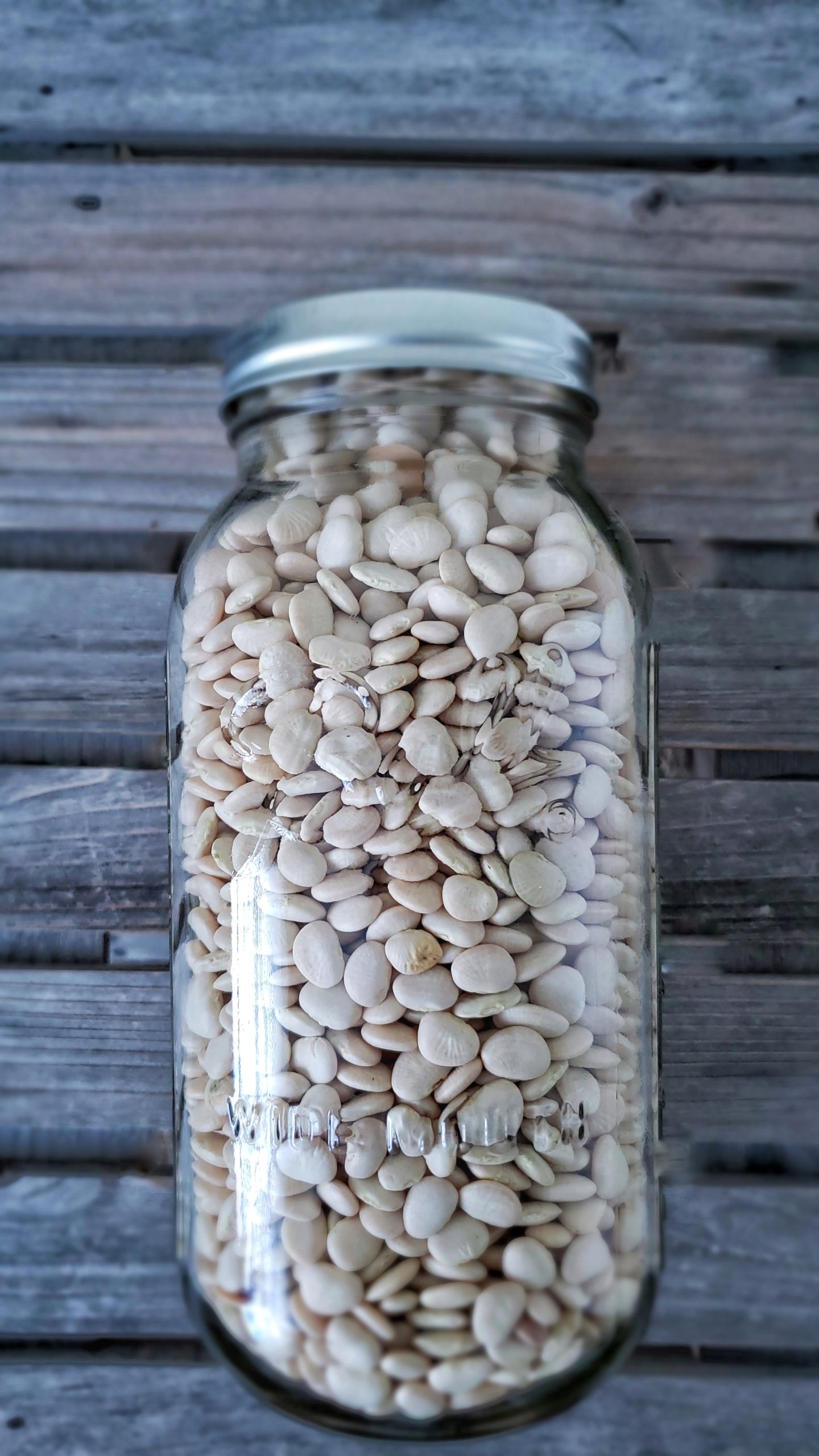 I personally like to cook Swiss chard accompanied by some kind of white beans. So butter beans are perfect match with the Swiss chard in the soup. The beans give a nice body to the soup like this recipe which is somewhat on the lighter side.
Other Key Components
Aside from the Swiss chard and the butter beans, there are two ingredients (maybe three in a sense) that have contributed to give a grate background taste.
Cremini Mushrooms (cooked with garlic)
White Vinegar
As soon as we taste it, the pretense of the garlicky mushrooms were very prominent. It's important to cook mushrooms first with oil and garlic until caramelized! If you cook mushrooms with mirepoix (onions, celery, carrots), it won't be caramelized therefore, the true flavor of mushrooms won't develop.
Now, what does vinegar do? Adding vinegar at the end of cooking gives a nice edge to the bean soup or lentil soup. You just need a generous splash which works like a magical agent to bind all the flavor together. Don't worry, it won't change the flavor profile completely but yet, the difference in the final taste between with vinegar and without is so significant.
I used white vinegar because of the overall color of the soup. Which vinegar did I use for this soup? —Rice vinegar. lol. I know, it's not an Asian dish but that's what I had at the moment.
If you never tried "adding vinegar to the soup" method, I highly recommend you do! You can use any vinegar that makes sense to the dishes you are making as long as they are not sweet but rather acidic! For brown color soup try red wine vinegar or sherry vinegar. For lighter color soups try champagne vinegar or rice vinegar like I did.
Soups, Always Make a Big Batch
I'm sure that I'm not the only one to make a large amount of soup although we're a family of two. Not only you can go back for more, I always remake something else using the same soup.
After Thoughts
After making the soup, I realized that we posted this on our Instagram only a year ago. Back then, we didn't have any official recipes available so just enjoy the picture and drool 😉
Feeling Inspired?
Try other bean recipes!
Butter Bean & Swiss Chard Soup
Soups are one of my favorite things to make. It's so comforting and doesn't make me feel bad about going for the second bowl or sometimes three! Butter Bean & Swiss Chard Soup is definitely one of them that won't weigh you down afterwards. It's vegan and gluten free, tastes light but hearty!
*Total Time doesn't reflect Inactive Time for soaking beans
Ingredients
Soaking Butter Beans
2

cups

dried butter beans

Water

A few pinches of salt
The Rest
2

tbsp

extra virgin olive oil

6

garlic cloves

minced

8

cremini mushrooms

thinly sliced

2

cups

diced yellow onions

(1 medium to large yellow onion)

1

cup

diced carrots

(2 small carrots)

1

cup

diced celery

(2-3 celery stalks)

1

pound

Swiss chard

chopped into bite size

1/2

tbsp

dried oregano

1

tsp

dried thyme

2-3

bay leaves

2 1/2 - 3

tsp

salt

3/4 - 1

tsp

black pepper

6

cups

water

1

tbsp

white vinegar

A drizzle of extra virgin olive oil

(for the finishing touch)
Instructions
Place butter beans in a large prep bowl. Cover with plenty of water and add a small amount of salt (a few pinches.) Soak them 8 hours or overnight. After soaking, discard the water.

In a large pot, place the soaked beans and cover with enough water (about 1 1/2 inches above the beans.) Uncover the pot and cook it over high heat to bring it to boil. As soon as it starts boiling, turn off the heat. Use a colander to drain. Give a quick rinse under running water and set aside. Rinse the pot thoroughly and wipe off the water.

Place the same pot back to the stove. Heat it up over medium high heat. Pour extra virgin olive oil and add garlic. Cook for 1-2 minutes until aromatic. Then add mushrooms and cook for 3-4 minutes until caramelized. Adjust the heat if necessary.

Next, add yellow onion, carrot, and celery. Cook for 5-6 minutes until softened. Then add swiss chard. Cook for 2-3 minutes until wilted. Add oregano, thyme, bay leaves, season with salt and black pepper. Transfer the cooked butter beans to the pot. Add water then cover with a lid. Bring it to gentle boil and reduce the heat to medium low to low. Cook for about 45-60 minutes until beans are tender. We recommend checking (tasting) the beans at 45 minutes to see if they are soft. If not, continue to cook.

Once beans are fully cooked and tender, remove the bay leaves. Add white vinegar and stir well.

Serve in a bowl with a drizzle of extra virgin olive oil for the finishing touch.