Last Updated on February 14, 2021
Today's post is a bit different.
What do you do with leftover soups? This is an arrangement of the Butter Bean & Swiss Chard Soup I made. It's made with the same exact soup. The only difference is that this time the soup turns into pasta sauce for fusilli.
Leftover Soups
Peter (my husband and the photographer of Plant-Based Matters) and I wouldn't mind eating the same thing repeatedly. Especially, when it comes to soups, they always taste better the next day. So, I purposely make them in a large batch, enough to last for a couple of days. But I must admit, even the tastiest soup can be overwhelming to keep eating over and over, knowing that I'm actually craving for something else but must finish because you don't want to waste it.
Well, you can also freeze it which I rarely do…not sure why 😆
Anyways, that's when I use a little trick (twist) with the leftover soup to give a complete makeover! Often times, Peter doesn't even realize that he's actually eating the same exact food!
The Twist
Here are some examples of what I actually do with leftover soups.
Adding more liquid to simply change the consistency (when it's a thick soup)
Using as pasta sauce without changing the flavor

Using "as-is"
Adding more liquid (water, veggie stock)

Adding different seasonings, ingredients, or herbs to make pasta sauce

Curry powder (yes, I use curry powder for making pasta sauce)
Harissa
Tomatoes
Oregano
Thyme
Cumin powder
Soy sauce
Miso
Tahini

Adding the following ingredient(s) to make curry-style sauce then serve over a bed of grains

Curry powder
Garam masala
Thai curry paste
Coconut milk
Obviously, some combinations may not work too well and others, not so much. It's all depending on what the original flavor is and what you're adding to it. For example, you wouldn't want to think of combining black bean soup with soy sauce or miso. But if it was minestrone, adding or miso would work (did you know the combination of tomatoes and miso is fantastic?)
It's fun to use your imagination and go with your gut!
With Fusilli
For this recipe, I simply turned the soup into pasta sauce using the "as-is" method, above. Since it was made with beans, the consistency of the soup had changed next day.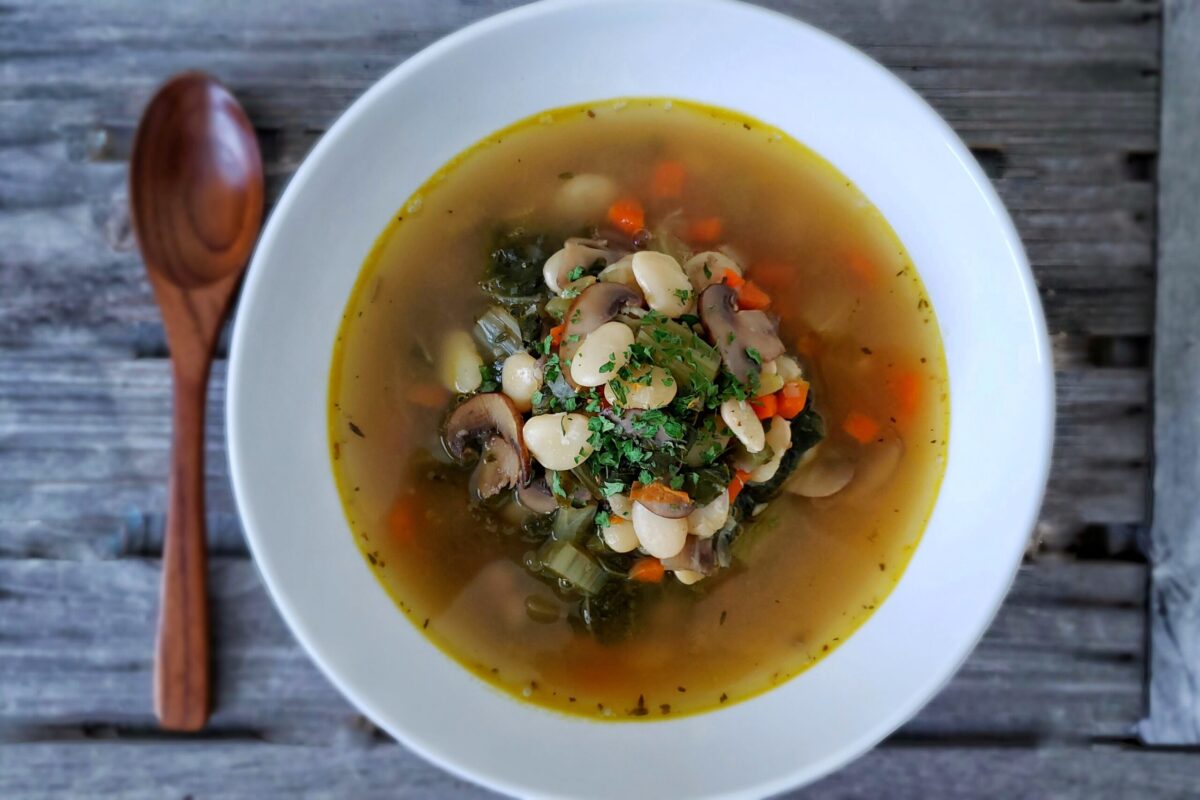 The first day, it was rather soupy (as you can see in the photo above) then the next day it was a lot thicker so the fusilli was a perfect shape to catch all the goodness from the leftover soup!
Now, the steps to make this [Fusilli with Butter Bean & Swiss Chard Soup] is so simple.
Start cooking whatever the pasta of your choice in salted water.
Meanwhile, reheat the soup in a pan (or a pot.)
Once the pasta is cooked, drain and transfer to the pan/pot. Cook together for a minute or so until the flavors come together.
Serve and enjoy!
It's so hearty and comforting! It gives a fresh look on the same soup without doing much work.
Feeling Inspired?
Would you give a try? Check out the recipe for Butter Bean & Swiss Chard Soup!
First, make the soup and enjoy the taste of freshly made soup, then add some pasta of your choice the next day!