Last Updated on February 14, 2021
Chilled Tofu with Natto is an arrangement of a typical Japanese dish, hiyayakko (chilled tofu) with natto. It's a perfect dish to serve for a hot summer! It's vegan with no-added oil, ready to serve in 10 minutes or less.
What is Natto?
If I need to name one mystery food that hasn't gained its popularity that it deserves is natto [納豆.] Natto is a traditional Japanese food that is made of fermented soybeans. It's stringy, slimy, and has a very pungent aroma. Many non-Japanese people don't even give themselves a chance to try this super healthy, good-for-your-gut food because of the smell and the appearance. But once you pass the oddity, you will certainly appreciate the flavor which is pleasantly nutty and and you can taste the natural sweetness of the soybeans.
In the past post here, I wrote a general idea of what natto is. On the post I mentioned about the fact that natto here in the U.S. is typically sold in unsustainable packages like Styrofoam or plastic-lined paper cup with a plastic film on it. That was the main reason why you haven't seen any natto creations on our blog. I just couldn't get over the guilt of consuming those junkie materials just to satisfy my cravings.
Then, I have discovered an alternative!! I found this U.S. (New York) based natto company called NYrture. They really changed my life!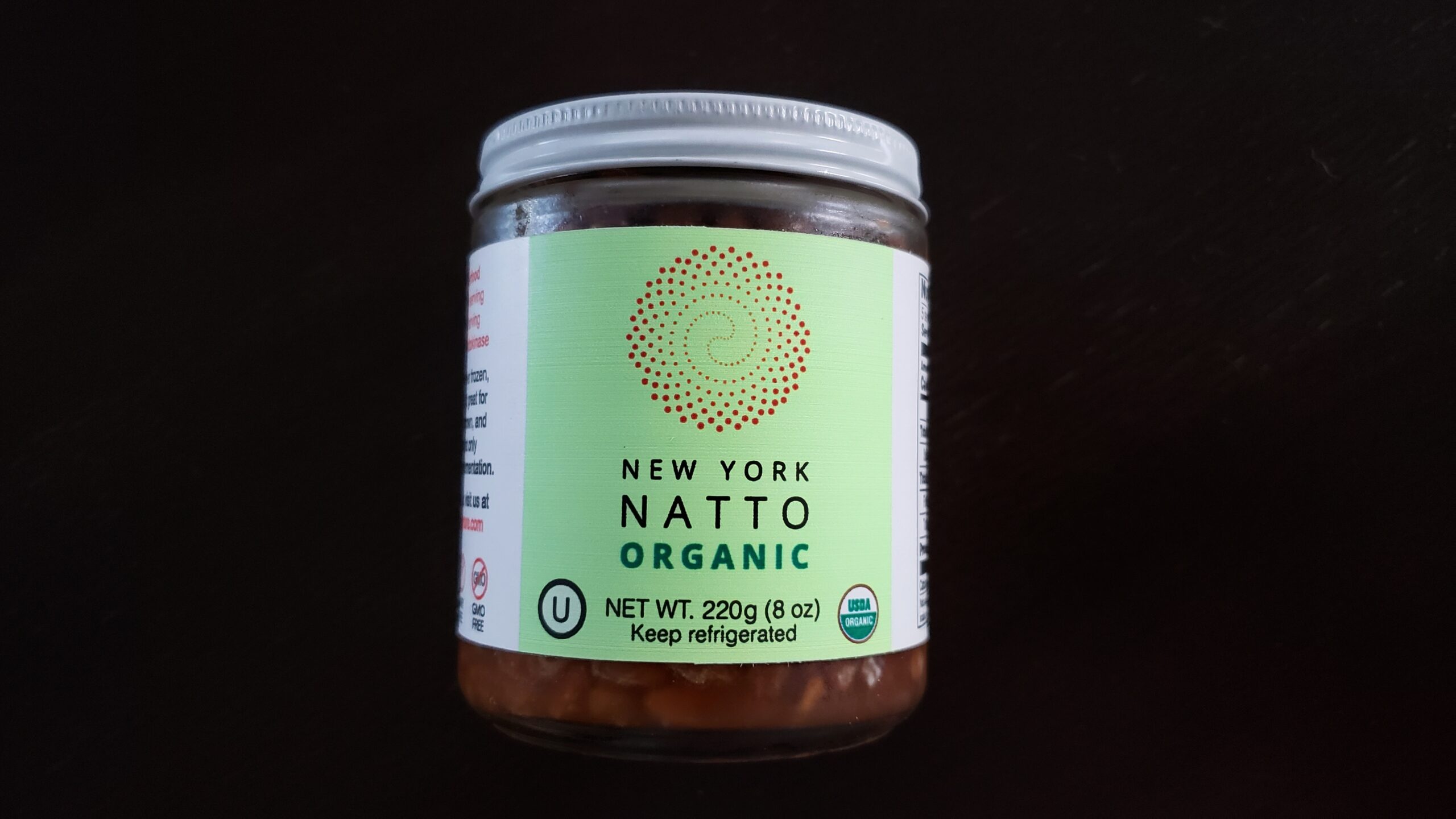 First of all, their natto comes in a glass jar and a metal cap! This itself is already a winner for me! Now, let me talk about the actual products. They have a couple of different products that you can buy. My go-to one is definitely the organic one.
Their natto is never frozen therefore it tastes super fresh and the texture is very fluffy. I can't find any at nearby grocery stores so I order it online but it still tastes amazingly fresh. As soon as you take the first bite, you can really taste the quality of the soybeans that they use. If you ever tasted any other natto before, you can definitely notice the difference in both quality & taste. In fact, their natto is the only one I don't mind eating without any seasonings. It's that good with full of umami flavor comes naturally from the soybeans.
I am so happy that I discover them!
Chilled Tofu (Hiyayakko)
As mentioned in the beginning, chilled tofu (hiyayakko) is a typical Japanese side dish. You can make it with with either silken tofu or firm tofu. It's a simple dish to prepare. The traditional way is to serve with bonito flakes but since this is a vegan recipe it will be made without. Otherwise, it's the same simple principals you can follow to prepare any hiyayakko:
Tofu
Scallions
Ginger
Soy Sauce
There are some variations and arrangements you can do with toppings and sauce, like this recipe.
The Ingredients
For this recipe, you will need only 5 ingredients:
Silken Tofu
Natto
Soy Sauce
Scallions
Ginger
Cut a block of silken carefully not to break a part. Then mix natto with some soy sauce and scallions then place it over the tofu. Top it with more scallions and grated ginger.
The Taste
The chilled tofu tastes very clean and light but with the toppings like scallions and ginger, it gives nice accents. Not to mention, the pungent aroma and nutty umami from natto comes through as you savor them altogether, and also the texture of natto blends really well with silky texture of tofu. I use soy sauce for the savory seasoning but ponzu could be a good candidate as well if you like a little acidity to the flavor.
Feeling Inspired?
Check out other cold tofu recipe and natto post here.
Natto Avocado Toast
Seasoned Tofu with Cucumber (Cold)
Chilled Tofu with Natto
Chilled Tofu with Natto is an arrangement of a typical Japanese dish, hiyayakko (chilled tofu) with natto. It's a perfect dish to serve for a hot summer! It's vegan with no-added oil, ready to serve in 10 minutes or less.
Servings:
2
(appetizer size)
Ingredients
1/2

block (8 oz)

silken tofu or firm tofu

cut in half

4

tbsp

natto

(Japanese fermented soybeans)

1

tsp

soy sauce

(more for serving)

1

scallion

finely chopped

1-

inch

ginger knob

grated
Instructions
Place the tofu block (1/4 block per serving) in a small shallow bowl or plate. Set aside.

In a small bowl, add natto, soy sauce, and a half of the scallion (save the other half for serving.) Use chopsticks and mix in a circular motion until natto is stringy and slightly foamy. Set aside.

To serve, top the tofu block with natto, the remaining scallions, and ginger. Drizzle a little more soy sauce over the tofu for the finishing touch.
Notes
You can save the remaining tofu (the other half of tofu block) in water. Place the tofu in container, cover with purified water, then keep in the fridge for 2-3 days. Make sure to change water every day or it will spoil quickly!
Instead of soy sauce, try ponzu sauce for citrusy, tangy accent to the taste.
As an alternative to ginger, try Japanese yellow mustard or wasabi instead.