Last Updated on February 14, 2021
I love ramen of any kinds from authentic Japanese ramen to fusions. This Mushroom Tom Yum Ramen is a crossover between Thai and Japanese. The broth is warm, tangy, savory, and aromatic from vegan tom yum paste and mushrooms, yet it's healthy and light with no added oil!
About The Tom Yum Paste
I'm not an expert of Thai cuisine so I can't really talk about any history or stories behind it. I know is I love the flavors of Thai food in general. It's typically very fragrant with the use of fresh herbs that have very exotic and complex flavors that will blow your mind. Let's not forget how fun it is to bite into something so vibrant, it leaves you wondering what it is.
Now, with the help of this Organic Tom Yum Paste from Mekhala, I can make Tom Yum soup (or ramen in this case) very easily with no fuss! It's vegan-friendly and organic, exactly what we look for! If you follow oil-free diets, this is also perfect for you. This jar is also free from a lot of things (GF, refined sugar free etc.) which you can check out on your own. They generously sent me this product as a complimentary sample for a try out!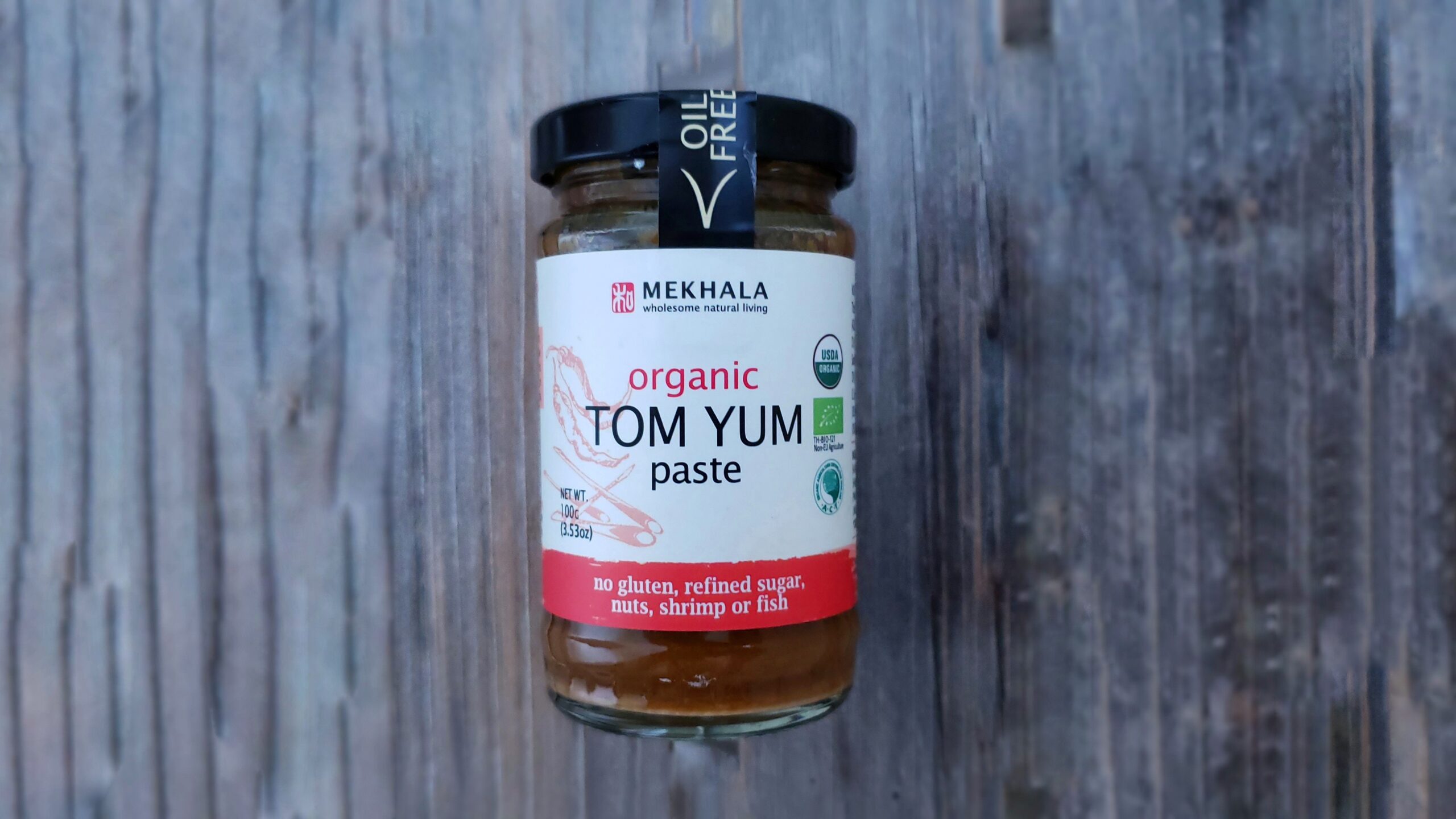 The Ingredients
It takes a total of 9 ingredients for this recipe (not counting salt and water.)
Cremini Mushrooms
Vegetable Broth
Vegan Tom Yum Paste
Fresh Lime Juice
Ramen Noodles
Bean Sprouts
Cilantro
Red Onion
Lime Wedges
The Broth
Since this tom yum paste says "oil-free" on the jar, I really wanted to follow through the idea of it. So I made the broth completely oil-free while the noodles I use has a little oil content (according to the package,) but the dish is respectfully made with no added oil!
How I made it was very simple.
Water sauté mushrooms
Add vegetable broth and the tom yum paste
Adjust the seasonings with salt
Add freshly squeezed lime juice to wake up the flavor
If you don't refrain from oil, feel free to sauté mushrooms with coconut oil or any neutral oil! I use vegetable broth to give a base flavor to the soup. To add more tangy taste and freshness, I use freshly squeezed lime juice.
The Toppings
Bean Spouts, cilantro, red onion, and lime wedges are my go-to toppings for this type of dish.
In my opinion, what sets the difference for Southeast Asian cuisine is a use of generous amount of fresh herbs and veggies! While the broth is flavorful as it is, additional layers with the fresh toppings gives a vibrant taste and crunchy texture!
Options
Feel free to add any proteins of your choice! Oven baked tofu will be a good candidate for no-added-oil option. Also for gluten-free option, use rice noodle or any other GF ramen noodles of your choice!
Feeling Inspired?
Do you want to learn how to make delicious vegan ramen from scratch? Check this out!
Try other vegan-friendly Southeast Asian inspired dishes!
Rice Noodles in Yellow Coconut Curry Broth
Black Rice Noodles with Mushrooms and Ginger Cashew Cream
Linguine with Red Curry Cream Sauce
Mushroom Tom Yum Ramen
Mushroom Tom Yum Ramen is a crossover between Thai and Japanese. The broth is warm, tangy, savory, and aromatic from vegan tom yum paste and mushrooms, yet it's healthy and light with no added oil!
Ingredients
8

oz

cremini mushrooms

thinly sliced

2

tbsp

water

(to cook cremini mushrooms)

4

cups

vegetable broth

4

tbsp

vegan tom yum paste

1

tsp

salt

(adjust to taste)

1

tbsp

freshly squeezed lime juice

2

servings (about 8-9 oz)

ramen noodles of your choice
Fresh Toppings
4

oz

bean sprouts

1/2

cup

chopped cilantro

1/3

cup

thinly sliced red onion

A couple of lime wedges
Instructions
Start boiling water in a large pot for cooking ramen noodles.

Meanwhile, prepare the broth. Heat up a medium pot at medium heat. Add cremini mushrooms with water. Cook for 5-6 minutes until the mushrooms are browned and shrunk down.

Add tom yum paste and vegetable broth. Mix well until the tom yum paste is dissolved. Bring it to gentle boil then reduce the heat to medium low. Season with salt and add lime juice. Continue to simmer for a couple of minutes until noodles are done.

Start cooking ramen noodles for 3-4 minutes (or follow the instruction on the package.) Drain well.

To serve, pour the broth in a serving bowl then transfer the drained cooked noodle to the bowl. Serve with a plate of fresh toppings: bean sprouts, cilantro, red onion, and lime wedges.
Notes
Check the label for "vegan" tom yum paste.
Feel free to add some proteins such as oven baked tofu or grilled tofu.