Last Updated on May 27, 2021
[スパイシーチポレ豆腐スクランブル]
Tofu scramble is definitely a staple for many vegans. My Chipotle Spiced Tofu Scramble recipe is my equivalent to the standard tofu scramble. It's classic yet has a little kick that once you taste it you will want to make it again!
Tofu Scramble
Vegans (or non-vegans) make tofu scramble to replace the traditional breakfast staple, scrambled eggs. It's one of those dishes that you may not need another recipe from someone else. Lately, I've been thinking a lot about what I can create next as new dishes that are unique and exclusive. Then, I feel that I'd like to go back to cover some basics.
Actually, we do have a couple of tofu scramble recipes however, this is the go-to recipe for everyday cooking. My tofu scramble making has evolved over the course of years after many trials and errors. I noticed that my preference keeps changing in terms of the use of ingredients, the taste, and the texture.
At one point, my tofu scramble had a lot of veggies (more than tofu), then I slowly transitioned to using very little veggies so the main component was the tofu, then now I settled with sort of 50/50 ratio of veggies to tofu.
For the flavor, I started making one with regular sea salt, then tried kala namak (Indian black salt) for eggy taste which I didn't like much so I went back to using my trusty sea salt. Also, I used to make one a lot saltier but now I use a lot less salt. I've also tried other variations like Southwest style but it was not for me. I just like the "standard" one.
For the texture, I used to use "super firm tofu" which is the firmest tofu I could find here in the U.S. (typically sold as vacuum-packed.) Peter still prefers the super firm kind which fries up well to give the toasty color and slightly crunchy bites. I now like "extra firm tofu" or "firm tofu" a bit softer texture so the result is slightly moist and not too dry.
In my opinion, tofu scramble can be very personal but at the same time it's very adaptable! So…how is my recipe different?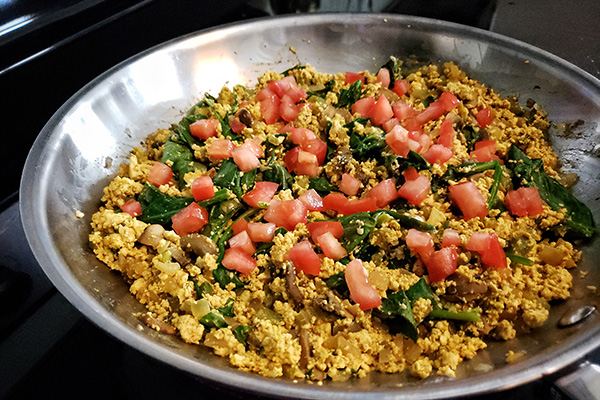 The Special Ingredients
You might be suspecting miso, soy sauce, or other Asian related ingredients. No, that's not it…at least not for this recipe. There are two ingredients that I think that highlight the dish.
Chipotle Powder
Lemon Juice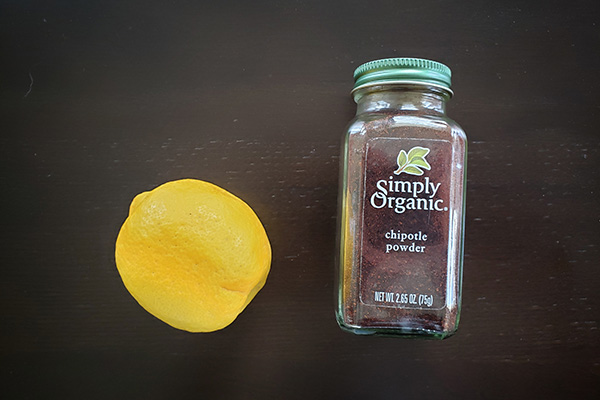 You may think it's nothing special. I agree. But there's something about the use of those two ingredients that makes the dish taste completely different than making it without. Although I really enjoy the addition of chipotle powder, if chipotle-spicy food is not your thing, simply skip it then use black pepper instead. The result is still fantastic and tastes is what you'd look for in the classic tofu scramble. Let's get cooking!
The Ingredients
Here is the list of the ingredients to make this dish.
Extra Firm Tofu
Neutral Oil
Yellow Onion
Celery
Green Bell Pepper
Cremini Mushrooms
Salt
Cumin Powder
Turmeric Powder
Chipotle Powder
Nutritional Yeast
Lemon Juice
Baby Spinach
Tomatoes
In the next section, I'll explain more about them in detail.
The Tips and The Recipe Notes
Here is the breakdown of the ingredients and the cooking tips that may help you.
Extra Firm Tofu
As briefly mentioned, I specifically choose extra firm tofu for making tofu scramble. It gives a nice firm texture without being too dry of too wet. What I do is to remove from the package, then break into 4 blocks so it's easier to handle. Then gently squeeze one block at a time to get rid of the excess water. The tip is to not over-squeeze in other words, it's ok to leave some moisture content which gives the softer texture when cooked. After that, just crumble and it's ready to use!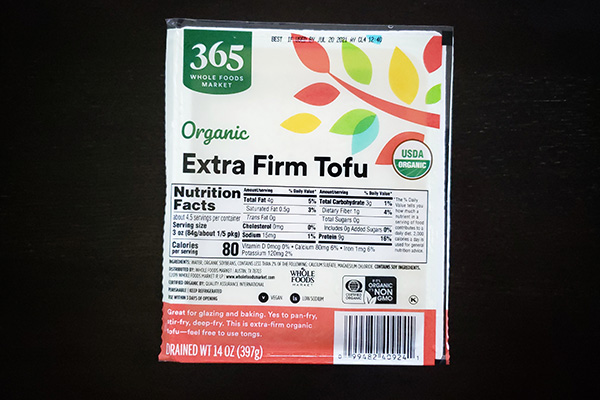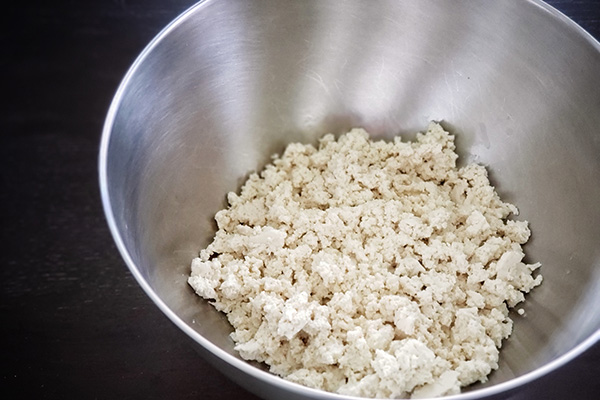 Veggies
I use yellow onion, celery, cremini mushrooms (it's not veggies but I included as the same category), baby spinach, and tomato (optional) for this recipe. Of course, you can modify the amount of how much to use to your preference. Many tofu scramble recipes have tomatoes. In my recipe, tomato is optional. While I love the taste of tomatoes, I don't see that it plays an important role in the overall flavor since I use a very little of it. But they add a nice color contrast to the dish! I tried both ways: cooked and raw.
Cooked: You want to add the chopped tomatoes at the very end of cooking just to heat them through. So that tomatoes won't completely break down and disappear into the dish. I prefer this way over the raw option.
 Raw: You want to add the chopped tomatoes after you serve it on a plate. You can really taste the accented flavor of fresh tomatoes along in the cooked tofu scramble.
Seasonings
Let's talk about the salt again. I use regular sea salt. Many tofu scramble recipes calls for kala namak which is Indian black salt that gives the eggy taste. However, I don't particularly enjoy the smell and I don't have any other use for it so I just opt for regular sea salt.
For the spices, I use cumin powder, turmeric powder, and chipotle powder.
Cumin powder: I got this secret from one of our local favorite restaurants. They make great tofu scramble and this was one of the spice that they use that I didn't think of using before. For the aroma, it doesn't come out as strong but gives the interesting flavor!
Turmeric powder: This is for an obvious reason, the color. That said, turmeric powder does have a strong taste. I think 1 tsp for 1 block of tofu should be perfect. I've tired with less and more. Less was just not enough, more came out too strong.
 Chipotle powder: The main ingredient! It gives a nice amount of heat with a slight smokiness. It's not the same if you do with cayenne pepper or black pepper. I use 1/2 tsp to 3/4 tsp. If you aren't sure, start with 1/4 tsp. Again, if you decide to skip chipotle powder, use 1/4-1/2 tsp ground black pepper instead to give a little heat.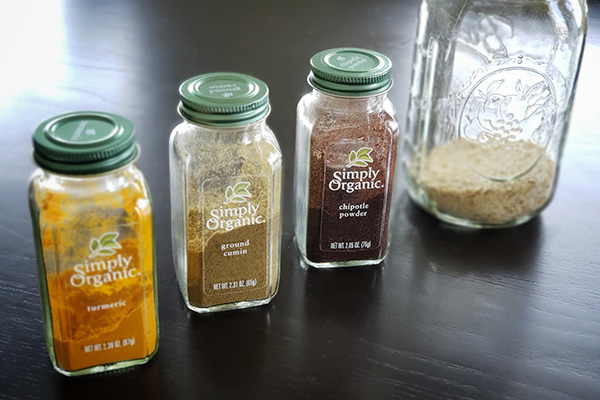 Nutritional Yeast
It's known for giving the "cheesy" flavor. Sometimes, it simply adds depth to the dish and plenty of umami flavor. I like using the one from Foods Alive for one particular reason. Their nutritional yeast is NOT fortified with B12 like many others are. I just don't get the idea of added vitamins in food (found in orange juice, cereals, and energy bars etc..) I take good quality B12 supplements so I don't need to take one from fortified food.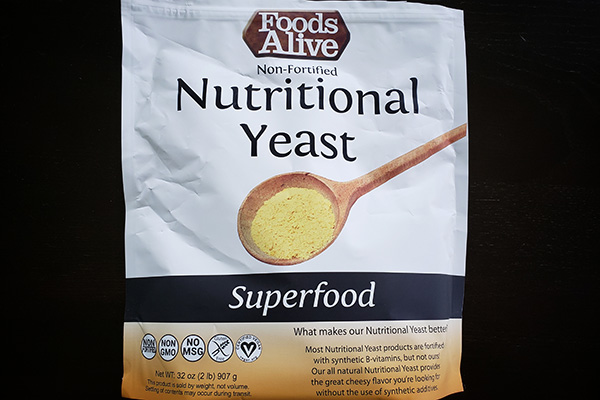 Lemon Juice
This is another one of the main ingredients to make my tofu scramble. There's something about the combination of nutritional yeast + lemon juice. Lemon juice enhances the "cheesy" flavor of nutritional yeast. Make sure to use freshly squeezed one. It really brightens up the dish!
Feeling Inspired?
Try our other tofu scramble related dish!
Japanese Sweet & Savory Tofu Scramble (Iri-Dofu)
Chipotle Spiced Tofu Scramble
My Chipotle Spiced Tofu Scramble recipe is my equivalent to the standard tofu scramble. It's classic yet has a little kick that once you taste it you will want to make it again!
Ingredients
1

block

extra firm tofu

(14 oz drained weight) *

1/2

tbsp

neutral oil

1

cup

yellow onion

diced

1

rib

celery

diced

1/2

cup

green bell pepper

diced

6

cremini mushrooms

thinly sliced

3/4-1

tsp

salt

1

tsp

cumin powder

1

tsp

turmeric powder

1/2-3/4

tsp

chipotle powder

adjust to taste *

2

tbsp

nutritional yeast

1

tbsp

freshly squeezed lemon juice

about 1/2 lemon *

A handful of baby spinach

1/3

cup

chopped tomatoes

(optional)
Instructions
Cut the tofu into 4 blocks then use hands to give a light squeeze on each block to drain excess water (no need to be completely drain.) Crumble and set aside.

Heat up a large pan at medium high heat. Pour neutral oil and add onion, celery, and green bell pepper. Stir for 2-3 minutes. Then add cremini mushrooms. Stir for another 2-3 minutes until the mushrooms are shrunk down. Adjust the heat if necessary. Season the veggies with 1/4 tsp salt and stir.

Reduce the heat to medium. Add crumbled tofu to the pan and season with additional 1/2-3/4 tsp salt, cumin powder, turmeric powder, chipotle powder, nutritional yeast, and lemon juice. Stir well and leave for 5 minutes. * (please see the notes for instructions.)

Add baby spinach stir until wilted. Lastly, add chopped tomatoes (optional) and give a quick stir.

Serve with toast, grains, or in a wrap.
Notes
For firmer texture, use the vacuum-packed kind (sold as super firm or high protein tofu in the U.S.) Otherwise, use "extra firm" tofu (packed in water) and squeeze excess water out.
I use "extra firm" tofu which, in my opinion, has a balanced texture of not too dry or wet. If you enjoy softer one, try using "firm" tofu instead. Silken tofu is not recommended for this dish.
I use a stainless-steel pan to cook the dish but sometimes it may stick to the bottom of the pan. Just keep your eye on it and give a stir occasionally. Adjusting the heat to medium to medium low (after the tofu crumbles are added) also helps to prevent from sticking. On the other hand, non-stick pan gives crispier texture to the tofu with no effort especially when you use the vacuum-packed "super firm" tofu.
With 1/2 tsp, the spiciness is pleasant. With 3/4 tsp, it becomes pretty dominant. If you aren't sure, start with 1/4 tsp and add more. If chipotle isn't your thing, you can use 1/4-1/2 tsp ground black pepper which will make the dish more classic tofu scramble.
Lemon juice brightens up the overall taste. Also, with the combination of nutritional yeast, it gives a slightly "cheesy" taste.
Any leftovers can be reheated using a pan. Keep it in a fridge and consume within 2-3 days.