Last Updated on July 13, 2023
[クミン味噌風味豆腐: パクチーと葱添え]
This is a vegan Japanese & Southeast Asian fusion dish that I created for tofu, miso and cilantro lovers! My Cumin Miso Sauce Baked Tofu with Cilantro & Scallions is a perfect side dish to complement your choice of grains. It has a very unique savory taste from cumin and miso. Yet, it's refreshing from aromatic cilantro and scallions with a squeeze of fresh lime juice.
Asian Fusion Dishes
As much as I love authentic Japanese food, I truly enjoy making Asian fusion dishes. I often do that with pasta and rice creations and combinations are infinite!
For this recipe, I used miso & tofu for the Japanese element and cumin & cilantro for the Southeast Asian element. With the addition of garlic, scallions and fresh lime, it has such an unique and complex flavor yet it's light and refreshing.
I never liked cilantro until I became vegan. In general, the Japanese people dislike cilantro for the strong distinct aroma and I was definitely one of them. I'd always enjoy Vietnamese food or Thai food but at the same time I recall thinking the cilantro just ruins the flavor. LOL. How little did I know that the cilantro is one of the important elements of those regional cuisines. I'm so glad that I now love it!
Another odd combo is the mix of cumin and miso. It may sound odd but it works well in the dishes like this. This is very much a non-Japanese combo but when it's combined with cilantro and lime, the "Japanese-ness" of miso transforms to a complex savory element to bind all the other non-Japanese ingredients together without being too dominant.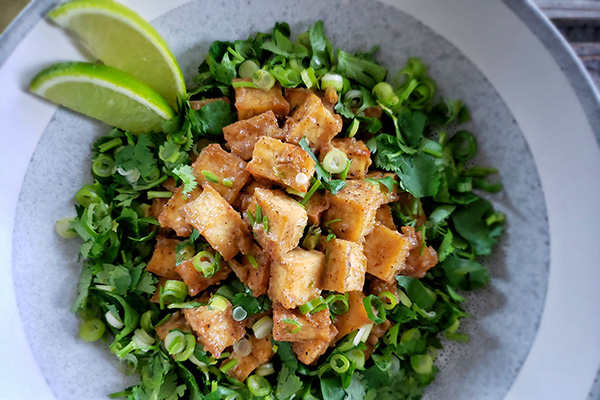 Baked Tofu
Oven baked tofu is another thing that I never knew existed until a couple of years after I became vegan. As a Japanese person, I would think tofu is something we consume as-is (technically uncooked) or cooked in sauce or soup, or buy fried ones and cook them in different ways. In my opinion, oven-baked tofu is a super brilliant idea! It always gets crispy and golden brown on the outside which gives the tofu a nice texture. Also, there's no greasy mess to clean up because it doesn't even need oil to get that crispiness. I just have to drain the tofu and cut them into slices or cubes then bake in the oven. This is one of those things I can make ahead of time and keep them in fridge to use it whenever I want to add some tofu to any dishes. I do this now very often as part of a weekly meal prepping!
In this recipe, the crispiness of the baked tofu picks up the cumin scented miso sauce very well.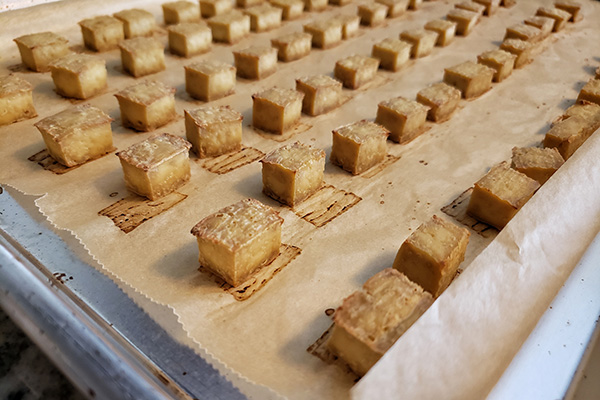 The Ingredients
Here is the list of ingredients to make this dish!
Baked Tofu
Miso Mixture
White Miso Paste
Sake
Water
Cilantro & Scallion Topping
Fresh Cilantro
Scallions
Lime Zest
Fresh Lime Juice
The Rest
Neutral Oil
Cumin Powder
Garlic
Black Pepper
Fresh Lime Juice
Lime Wedges (for serving. optional)
The Tips and Recipe Notes
Here is the breakdown of some key components of the dish.
Prepping Tofu
Most people know this now but I'll write it anyways. To make crispy oven baked tofu, there are few tips that you may want to know.
Use "extra firm" or "firm" tofu.
I like using extra firm tofu for oven-baked tofu. Firm tofu works fine, too. You could use "super firm" kind although I never tried yet. Sometimes, I find super firm tofu to be a bit dry for what I want to cook as.
Make sure to drain it before cooking.
Once you open the package, drain the water that's inside. After that, you drain again by placing the tofu on a plate or shallow bowl. Then put some heavy weight items like a large can on top and leave it for 15-20 minutes. After that, it's ready for baking!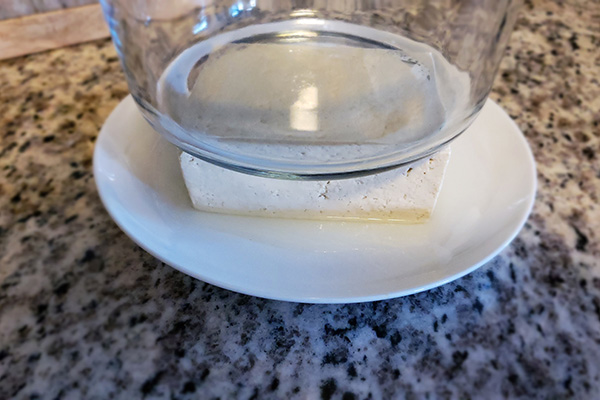 When cutting or slicing, the thickness of the tofu matters to the outcome of the crispiness.
There's no rocket science to this. The thinner or smaller pieces will be crispier and the thicker or larger pieces will be less crispier. You can also do this by controlling the baking temperature/time. For this dish, I wanted extra crispy (somewhat chewy as well) so I cut it into small cubes (about 3/4-inch.) After baking, it will shrink, too.
Don't overcrowd the baking sheet.
It's the same rule as when you bake veggies. Don't put too much tofu on one baking sheet. Make sure that each cube has enough space to breath otherwise they won't bake properly and end up with soggy tofu. I used only one regular size baking sheet for 1 block of tofu. But if you make a larger batch, use two baking sheets if necessary. Also use a parchment paper to avoid sticking.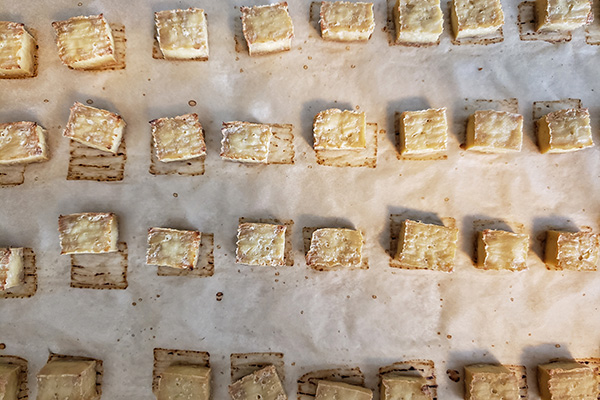 Know the right oven temperature and baking time.
When it comes to oven-baked tofu, I've tried both at 400 °F (205 °C) and 425 °F (218 °C.) In the end, I settled with 400 °F (205 °C) for avoiding overdried dehydrated tofu. For the baking time, I go for 25-30 minutes for one side, then take out the sheet and flip all of them. Pop it back in the oven and bake for another 10-15 minutes. Again, this can vary depending on the size of tofu cubes.
Miso Mixture
I used white miso for this recipe for a sweeter and mellow taste. It's mixed with water and sake to thin it out for making saucy consistency. I can drink sake but I always keep a bottle for cooking purpose only. People often ask me if it can be omitted for whatever the reason they may have. The answer is "yes, you could…maybe." Sake gives a touch of sweetness as well as complexity in the overall flavor. It also mellows out some strong smell of certain foods. For this recipe, you may not taste the difference with/without because there are other strong flavors like cumin, cilantro and lime etc.. I use it because I have it and but if it's not your pantry staple, then skip it.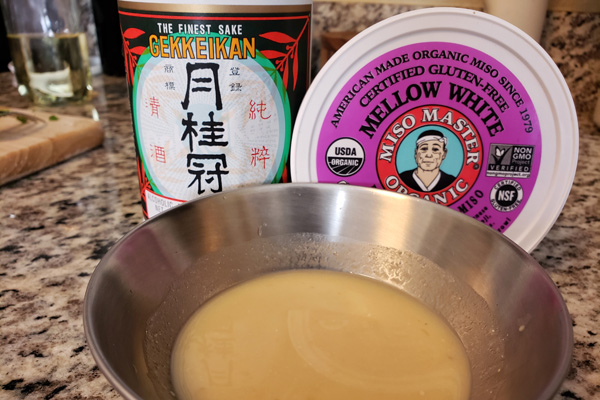 Cilantro & Scallion Topping
It's not difficult to to prep the cilantro & scallion topping. Just chop them and mix together with lime zest and lime juice. Make sure not to add lime juice too soon and don't let it sit too long with the lime juice because it may get soggy and wilted. To have a really vibrant green color and the texture, I'd recommend mixing together right before start to cook the baked tofu in the pan with the sauce. The final cooking process will take only a couple of minutes so the herbs can still stand very well.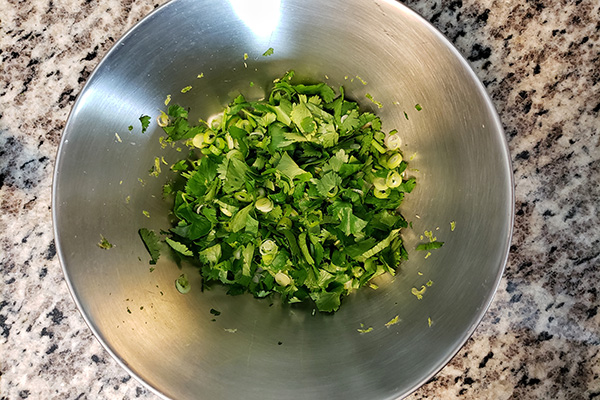 Feeling Inspired?
Be sure to check out for other Asian fusion vegan dishes and more!
Linguine with Red Curry Cream Sauce
Fettuccine with Curry Cream Sauce
Cumin Miso Sauce Baked Tofu with Cilantro & Scallions
This is a vegan Japanese & Southeast Asian fusion dish that I created for tofu, miso and cilantro lovers! It has a very unique savory taste from cumin and miso. Yet, it's refreshing from aromatic cilantro and scallions with a squeeze of fresh lime juice.
Ingredients
Baked Tofu
1

block / 1 pound

extra firm tofu

(weight is before drained)
Miso Mixture
1 1/2

tbsp

white miso paste

1

tsp

sake

1/4

cup

water
Cilantro & Scallion Topping
A handful fresh cilantro

(1/2 cup loosely packed, 1/4 cup roughly chopped)

2

scallions

finely chopped

Zest of 1 lime

1

tsp

fresh lime juice
The Rest
1/2

tbsp

neutral oil

3/4

tsp

cumin powder

2

cloves

garlic

minced

1/4

tsp

black pepper

1/2

tbsp

fresh lime juice

Lime wedges

(for serving. optional)
Instructions
Place an unpacked and drained tofu block on a shallow bowl or plate. Put heavy weight (such as large canned item) on top. Let it stand for 15-20 minutes to drain excess water.

Meanwhile, preheat the oven at 400 °F (205 °C.)

When it's drained, cut tofu into small cubes (about 3/4-inch cubes.) Place them on parchment lined baking sheet (or any non-stick surface) in a single layer. Bake them for 25-30 minutes on one side then flip and bake another 10-15 minutes until crispy and golden brown. Take them out and set aside.

In the meantime, prepare the miso mixture. In a prep bowl, combine miso paste, sake and water. Whisk together until well combined. Set aside.

Once the tofu is baked, prepare the cilantro & scallion topping. In another prep bowl, combine cilantro, scallions, lime zest, and lime juice. Toss lightly and set aside.

Heat up a non-stick pan at medium high heat. Pour neutral oil and cumin powder. Cook for 30 seconds until aromatic, then add garlic and cook for another minute or less.

Add the miso mixture to the pan. Cook for a minute until the alcohol evaporates and thickens a little. Then add the baked tofu cubes to coat with the sauce. Season with black pepper and add lime juice. Give a quick toss.

Serve with the cilantro & scallion mixture on top. Squeeze more lime juice (optional.)
Notes
Try to avoid mixing the cilantro & scallion topping too soon. The lime juice can make it soggy and wilted. I'd recommend mixing it right before the final process of cooking everything together in the pan.
It can be served as is or any choice of your grains or quinoa.