Last Updated on June 3, 2023
Have you ever had shirataki before? Shirataki [白滝] is a type of Japanese noodles made with konjac yam. It translates as White Waterfall…how pretty! It's typically white translucent color or sometimes stone-gray-ish color and the texture is a bit firm and gelatinous. It's a great alternative to use for typical noodle dishes like pasta or ramen. We also have this Korean dish made with shirataki replacing the traditional sweet potato noodles.
What does Shirataki have to do with Ramen?
Ramen is definitely one of the comfort foods for us. Especially, Ms. Plant-Based Matters (Akiko) grew up eating ramen at least once a week. It's typically not the healthiest thing to eat but the guilty pleasure of eating noodles is irresistible! We use to buy our favorite organic ramen noodles (just the noodles, we would still make our own broth) but they discontinue the production or something where we no longer can get it anymore. That's when we stopped eating ramen for a while but it was nearly impossible to give up on the beloved noodles…we've tried different brands but it was not memorable enough to use again…Then we spotted this shirataki noodles at the local grocery store.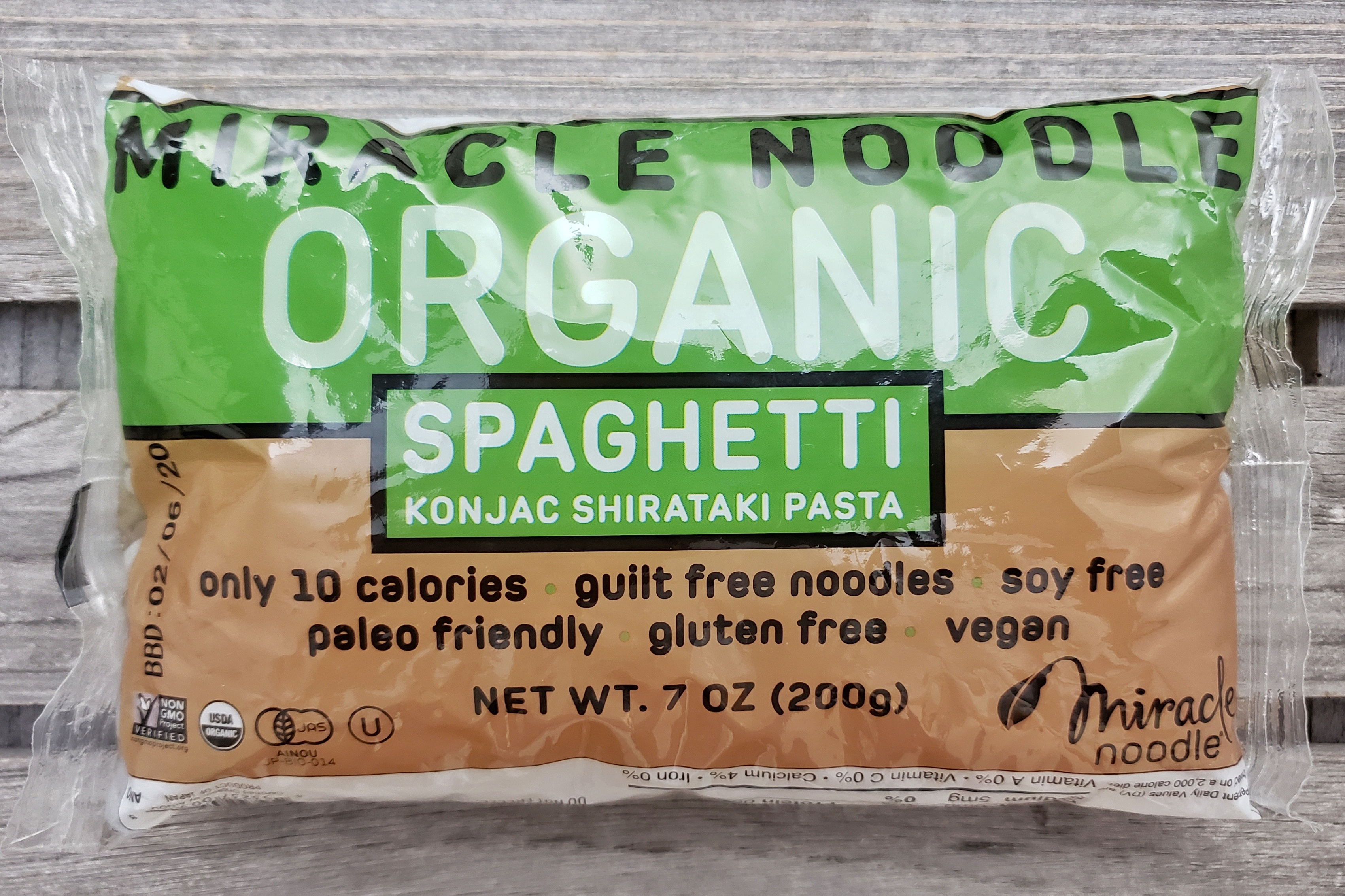 This one we picked up had a different package design than this on their site but we're pretty sure that the one we use is an old design with the same product. It's organic and made in Japan!…so we tried and made ramen with it. The guilty pleasure of ramen transformed to not -so-guilty pleasure! In case you aren't familiar with Shirataki, it's super healthy and has almost zero calorie! Most importantly, it works well as as a substitution of ramen noodles! Just like any other shirataki, it may have an odd smell when you open the package. Don't worry, it will be gone after you cook in boiling water for a couple of minutes.
The broth
It's miso based mushroom broth infused with lots of garlic and some ginger.and this particular one is super quick and easy. Just make sure to use good miso like this (we've tried this brand before and liked it but currently use one from Japan.) And our go-to broth brand is Pacific Foods. For this recipe we use their Organic Mushroom Broth which is an easy way to add some depth to the flavor of broth when not using kombu dashi. We often use the Organic Vegetable Broth for non-Asian dishes but for dishes like ramen, the mushroom one works better for flavor.
The toppings and condiments
Although, the two most important components of ramen are broth and noodles, toppings/condiments are just as important. It adds more flavor dimensions to the ramen and it's almost like in a way that you can personalize your own bowl! We can't serve ramen without scallions and this dish is not an exception. We also use this toasted sesame oil for aromatic nutty flavor for the finishing touch with freshly ground black pepper. Other suggested toppings/condiments are woodear mushrooms, wakame seaweed and toasted sesame seeds which you can see all those 3 in the picture. For some spicy kick, we recommend using shichimi pepper (Japanese hot chili pepper blends) or ra-yu (Japanese hot chili oil.) They work very well for the miso based broth. Wood ear mushrooms don't have a strong mushroom flavor but do have some crunchy texture to add a pleasant bite. Just know that wood ear mushrooms are sold dry and require 30-40 minutes of soaking in water to hydrate before use. Wakame seaweed also requires soaking in water but it usually takes only 5-7 minutes which doesn't add the extra prep time.
Eat more ramen!
Ramen like this is almost guilt free! Try shirataki as an alternative and make it like the authentic one! Find good ingredients, make your own broth, and slurp more often!!
Feeling
Inspired

?

Check out our other ramen creations!
Garlic Miso Shirataki Ramen
This ramen dish is made with shirataki noodles instead of the traditional one. The broth is miso-based mushroom broth infused with garlic!
*Inactive Time for soaking dried wood ear mushroom (optional) is not included in Total Time
Ingredients
2

cups

mushroom broth

(Pacific Foods or any other brands)

1

cup

water

2-3

garlic cloves

thinly sliced

2

inches

ginger knob

grated

1

tbsp

grapeseed oil

(or sesame oil)

1/4

cup

white miso paste

2-3

packages (7 oz each)

shirataki spaghetti

(Miracle Noodle or any other brands)

1

scallion

thinly sliced

Black pepper

Toasted sesame oil
Topping/Condiment Suggestions
2-3

dried wood ear mushrooms

(optional)

Wakame seaweed

(optional)

Toasted sesame seeds

(optional)

Shichimi pepper

(optional)

Ra-yu or Japanese hot chili oil

(optional)
Instructions
Wood Ear Mushrooms (optional)
Soak dried wood ear mushrooms in water for 30-40 minutes. Drain and trim the hard stems then slice them thinly. Set aside.
Wakame Seaweed (optional)
Soak wakame seaweed in water for 5-7 minutes. Set aside.
Garlic Miso Shirataki Ramen
Start boiling water in a large pot for cooking shirataki noodles.

Meanwhile, prepare the ramen broth. In a medium pot, pour grapeseed oil and add garlic slices. Submerge them in the oil. Turn on the heat at medium and cook the garlic until golden brown and crispy. Remove the garlic from the oil and se aside. The oil will remain in the pot.

In the same pot, add ginger and cook for 1-2 minutes. Next, add mushroom broth and water. Turn up the heat to bring it to boil (uncovered), then reduce the heat to low. Let it simmer for 5 minutes.

Add white miso paste. To do so, place the miso on a ladle and partially submerge it in the broth to slowly incorporate the broth into the ladle. Use long cooking chopsticks (or a small whisk) to stir the miso gently in the ladle to let it dissolved. Stir and continue to simmer at the low heat until noodles are done.

Start cooking shirataki noodles in the boiling water. Open the package and discard the water using a colander. Rinse under running water then transfer the noodles into the boiling water and cook for 2 minutes. Use the same colander to drain. Shake off the excess water then transfer to a serving bowl.

To serve, pour the both over the noodles. Top it with scallions, the garlic chips (cooked in step 2), black pepper, and a drizzle of toasted sesame oil. Other suggested toppings are wood ear mushrooms, wakame seaweed, toasted sesame seeds, shichimi pepper or ra-yu.
Notes
Use 2 packages (7 oz each) of shirataki noodles for two smaller servings. If you like a larger portion (like us), use 3 packages for two servings.