Last Updated on June 3, 2023
[ソイミートのヴィーガン麻婆春雨]
This is one of my favorite Japanese home cooked meals! My vegan Japanese Mabo Harusame is savory and spicy stir-fried glass noodles made with soy meat (TVP.) It's a perfect accompaniment for a bowl of rice!
What is Mabo Harusame?
Have you had the Chinese dish called mapo tofu? It's a popular Sichuan style tofu dish that's spicy and numbing from lots of chilis and Sichuan peppercorns. As far as I know, mabo harusame is a Japanese interpretation of the Chinese style dish that tastes similar to mapo tofu. It's a completely different dish than the mapo tofu that you may be familiar with but the concept is the same.
For the taste, Japanese mabo harusame is nowhere as spicy as the traditional Chinese mapo tofu. In some cases, it's not spicy at all so kids can eat it as well. Another difference is that often times there's no numbing factor from the spicy peppercorns. While Japanese sansho [山椒] peppercorns, which has the similar numbness factor as the Chinese Sichuan peppercorns, can be a great addition for those seeking for a numbing factor, I made this recipe without it.Here is a little Japanese lesson. While the word "mapo (mabo)" [麻婆] is a Chinese word pronounced with a "p", the Japanese one is mabo pronounced with a "b." Now, "harusame" [春雨] is a Japanese word for glass noodles or mung bean vermicelli noodles. The direct translation of harusame is Spring [春] Rain [雨]—it sounds so peaceful and beautiful.
Anyways, the authentic one is not vegan but just to give you and idea, the typical ingredients are:
glass noodles (mung bean vermicelli noodles)
tobanjan (fermented spicy chili bean paste)
bamboo shoots
wood ear mushrooms
Chinese chives
meat
This is a home cooked style food so everyone has their own recipe with a different flavor from one another. For the consistency, some are soupy and others are rather dry or less soupy. As mentioned, it's a side dish for rice so the soupy one works great on top of rice because the rice soaks up all the flavors! I can just keep eating 2-3 bowls of rice like that but this recipe is the dry version (not soupy) because that's what Peter prefers—he isn't a fan of wet rice.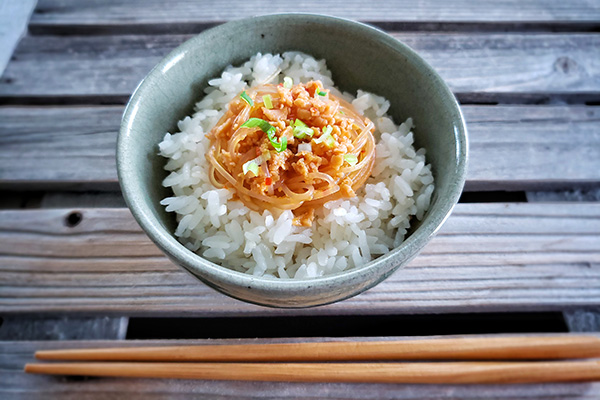 My Vegan Version
While I could've still incorporated those typical ingredients (minus the meat), I made a very much simplified one with the stuff that I can use without having to go to 10 different stores to gather the ingredients—I don't like canned bamboo shoots, I didn't want to drive 30 minutes just to buy Chinese chives and I didn't have any mushrooms. You can check out the complete list of ingredients in the next section.
Of course, there is no meat in my recipe. Instead, I used TVP. Sometimes, I make tofu "meat" by using frozen tofu but in this case I opted for TVP which is kind of the same concept but there's no downtime for freezing tofu.
It's always good to have some kind of greens in any dishes. The only greens I used was scallions. As long as you have glass noodles, tobanjan, some aromatic garlic & ginger plus other pantry staples like soy sauce, you should be able to make vegan mabo harusame!
Let's get cooking!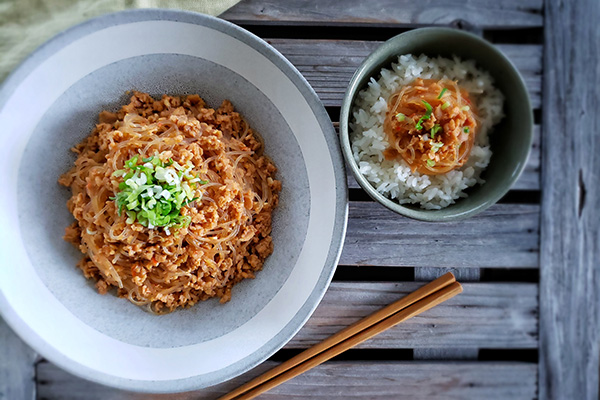 The Ingredients
Here is the list of ingredients to make my vegan mabo harusame!
TVP crumbles (soy meat crumbles)
Water
Dried Mung Bean Vermicelli Noodles (Harusame)
Neutral oil
Ginger
Garlic
More Water
Sake
Soy Sauce
Sugar
Tobanjan (fermented spicy red chili bean paste) be
Salt
Toasted Sesame Oil
Scallion
The Tips and Recipe Notes
TVP
I am not really a big fan of mock meat products. I figured out that I tend to dislike those stuff even more when it's comes in large chunks or strips. Because of that, TVP crumbles are perfect size for me. Unlike the already-made products, I'm in total charge of the flavor! I wish I can find organic TVP but the best one I can find is the non-GMO kind like this one.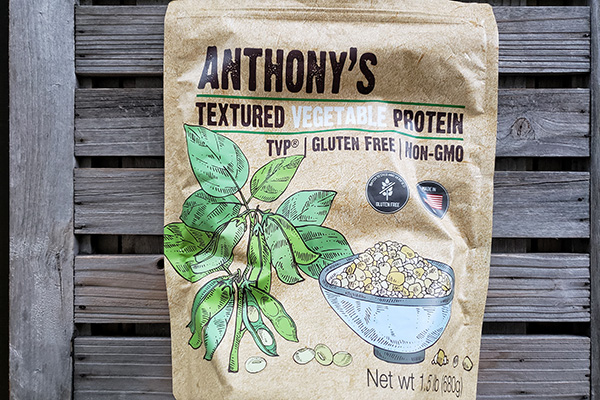 I also make my vegan ramen with this as well! To hydrate TVP, the instructions usually tells you to use hot water to soak. I use room temperature water and it's totally fine. This may be different in your case. I live in a hot climate so the room temperature water can be warmer than where you live. I read that using hot water reduces the particular smell of TVP (?) but it doesn't really bother me.
If you don't want to use TVP, I totally understand. If you want to use something else instead, my recommendation is to add veggies instead like:
bok choy
bamboo shoots
Chinese chives
shiitake
wood ear mushrooms
green bell peppers
eggplants etc..
Mung Bean Vermicelli Noodles (Harusame)
You can find mung bean vermicelli from anywhere. I used the one from Gold Mine Natural Foods for one particular reason—it's a product of Japan! It has a great texture as well. If you are interested, go to the recourses page to get coupon code!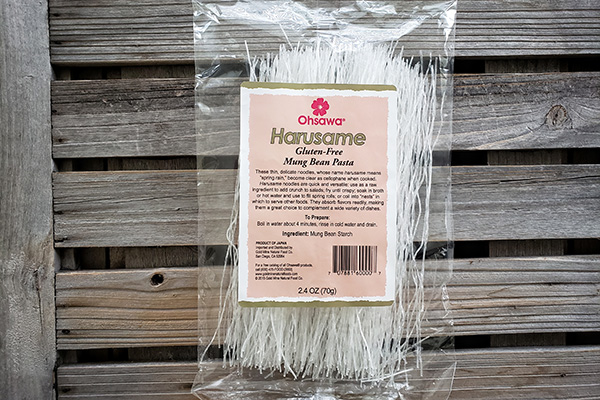 Tobanjan
Tobanjan is actually Chinese ingredient which is fermented spicy broad bean chili paste. You can find it pretty much anywhere you find similar products but the one I use is this one.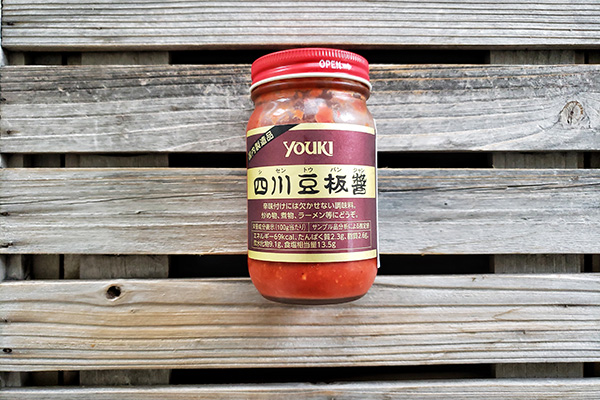 It's from a Japanese company called Youki. They have a variety of Chinese, Korean and other ethnic ingredients. You can find the tobanjan from Youki on amazon and many Asian grocery stores here in the US. I find their tobanjan to be suitable for the Japanese palate. It's not too strong in flavor and it's not overly spicy.
The Soup (Liquid)
For the main body of the liquid part, I just use water and it was fine. I don't always have veggie stock in my pantry. Also, in terms of flavor, some store bought veggie stock don't really work well with Asian dishes. That said, if you prefer to use some type of stock or bouillon for more complex flavor, that may work!
Feeling Inspired?
If you enjoy this type of authentic Japanese home cooked food, you may enjoy other recipes as well!
Okonomiyaki (Japanese Savory Pancakes)
Yaki Udon (Japanese Stir-Fried Udon Noodles)
Japanese Mabo Harusame
This is one of my favorite Japanese home cooked meals! My vegan Japanese Mabo Harusame is savory and spicy stir-fried glass noodles made with soy meat (TVP.)
Ingredients
Hydrating TVP
1/2

cup

dehydrated TVP

(soy meat crumbles)

1 1/4

cup

water
The Rest
2.4

oz

dried mung bean vermicelli noodles

(harusame)

1/2

tbsp

neutral oil

2-

inch

ginger knob

peeled & minced (1 1/2 tbsp minced)

1-2

cloves

garlic

minced (1 tbsp minced)

1

cup

water

(or vegetable stock)

1

tsp

sake

1 1/2

tbsp

soy sauce

1 1/2

tsp

sugar

2

tsp

tobanjan

(fermented spicy red chili bean paste)

1/4

tsp

salt

(adjust to taste)

1

tsp

toasted sesame oil

1

scallion

finely chopped
Instructions
Prepare TVP. In a prep bowl, soak TVP in room temperature water (or hot water) for 20 minutes to hydrate.

Meanwhile, prepare dried mung bean vermicelli noodles (harusame.) Start boiling water in a medium sauce pan or pot. When boiling, add the vermicelli noodles and cook for 4 minutes or follow the instructions on the package. Use a colander to drain then rinse under running water. Shake off the excess water and set aside.

After the 20 minutes of soaking TVP, drain and squeeze water as much as possible. Set aside.

Heat up a frying pan (preferably non-stick surface) at medium high heat. Pour neutral oil and add the TVP. Stir for 4-5 minutes until golden brown. Adjust the heat if it starts burning too quickly.

Next, add ginger and garlic. Cook for a minute until aromatic. Then add water (or vegetable stock), sake, soy sauce, and sugar. Stir well and cook until alcohol is fully evaporated.

Reduce the heat to medium. Add tobanjang and adjust the seasoning with salt (or soy sauce.) Make sure that it's salty enough before adding the noodles. Then, transfer the vermicelli noodles to the pan and cook for 2-3 minutes. If it's getting too dry, add 1 tbsp water at a time.

Serve with scallions on top.
Notes
It's best to serve with a bowl of rice.
Shiitake, wood ear mushrooms, Chinese chives, bamboo shoots can a great addition.