Last Updated on February 14, 2021
Gyoza [餃子] is a Japanese word for dumplings (potstickers.) Typically, there are a few ways of cooking gyoza in Japan, pan-fried or boiled, in some cases steamed. This particular recipe is pan-fried option called Yaki-Gyoza [焼き餃子] which literally means pan-fried dumplings.
Traditional?
Traditionally, it's not a vegan dish but we replace the meat part with tofu (yup, another tofu!) We try to keep the rest of the ingredients as traditional as possible however, Chinese (Asian) chives are not available at the grocery store we go to. So we have to skip that. Chinese chives are not the same as the Western chives. They are long and green leaves and taste somewhat of a mix of garlic and scallions but more on the garlic side. The scent is pretty strong (in a good way) that gives a really good accent to the dumpling fillings. If you happen to find one, we'd strongly recommend to incorporate into this dumpling recipe.
The Wrapper!
Now, for the wrappers, we spotted this vegan friendly version of wonton wraps at a local Wholefoods market. This particular product used to be made with eggs but now it clearly shows "VEGAN" on the package!!! Finally!!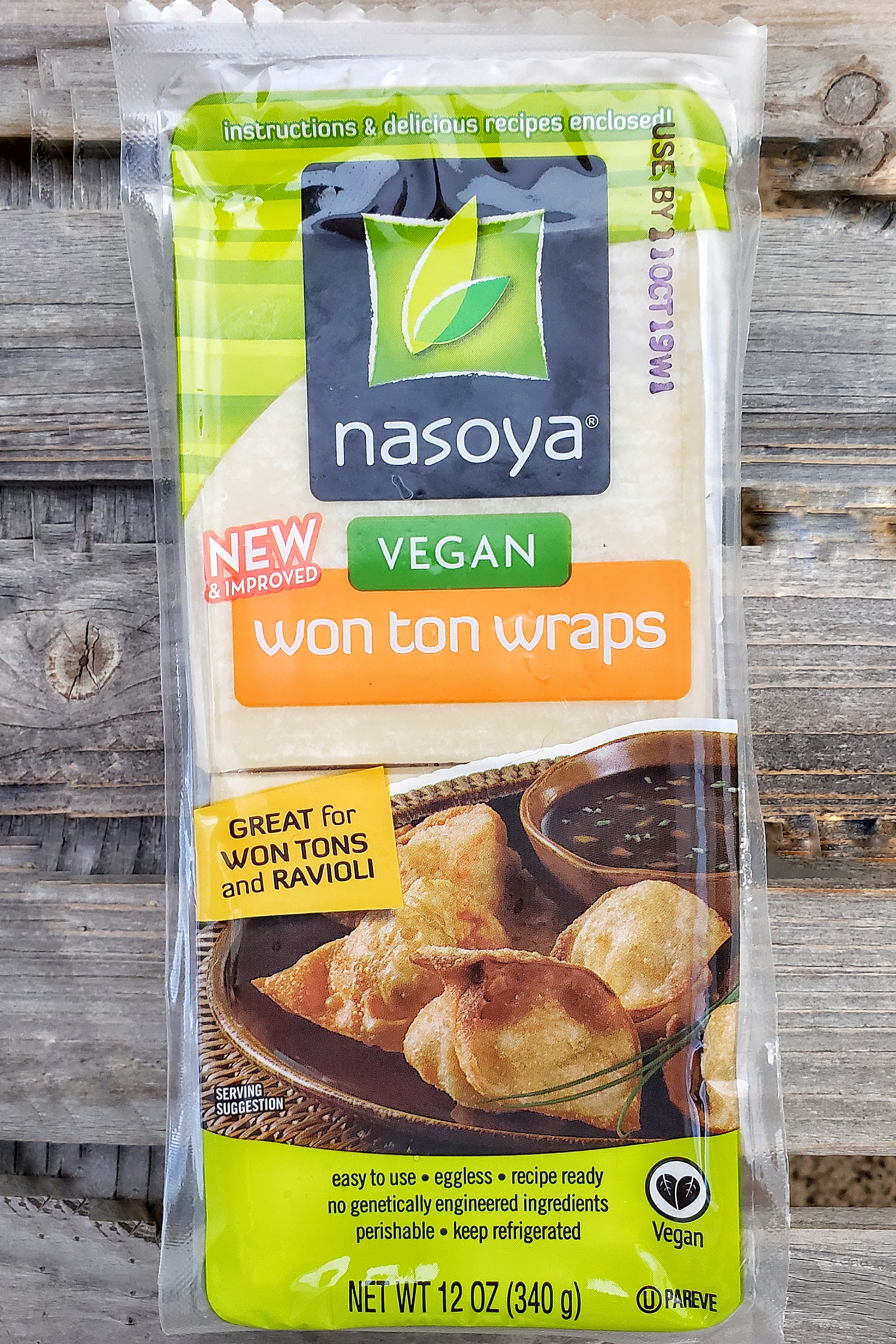 ***We wanted to put a direct link to Nasoya's website but somehow they only have the old version (non-vegan) on the product page. It's a bummer.***
In case you aren't aware, the shape of wonton wrappers are square and gyoza wrappers are round. Yes, we are supposed to use the round one which is not available here. Using the round shape one allows to make the traditional dumpling shape looks like a crescent moon. Since we used the wonton wrappers we could not get the traditional look but it took much less time to wrap. We just folded into a triangle shape!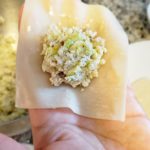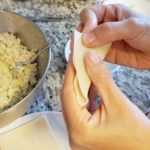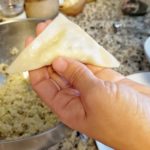 There are many ways to fold wonton wrappers. But since this was for pan-frying, we suggest to keep the shape as simple as possible to get that crispy texture and yummy brown color.
The Filling!
For the filling, if tofu is not your thing, feel free to replace with other veggies to make all-veggie gyoza. Also, when it comes to certain Japanese dishes, we prefer using dried shiitake for more intensive flavor, aroma, and texture. In our opinion, it really makes a difference in a finished dish. The only downside is that it takes a bit longer for prepping. So, for whatever reasons whether dried ones are not available or you'd prefer less prep time, you can use fresh shiitake as an option. To go for a more traditional taste, we'd strongly recommend using dried ones.
Finally, let's talk about dipping sauce. With this recipe, dumplings have enough seasonings to eat by themselves. But to complement the dish (just like a traditional way), we make a simple dipping sauce. It's a mix of soy sauce, rice vinegar, and Japanese chili oil. This is how Japanese people typically eat gyoza. As always, you can be creative and try to experiment with your choice of ingredients even for dipping sauce!
Pan-Fried Gyoza
Gyoza is a Japanese word for dumplings. This is a pan-fried option using vegan wonton wraps. To complement, they are typically eaten with dipping sauce such as soy sauce, rice vinegar, and Japanese chili oil or combination of those.Yield: makes about 24 dumplings
Ingredients
For Soaking Shiitake
8

dried shiitake

2 1/2

cups

water

(for soaking)
The Rest
8

hydrated shiitake

(or use fresh ones)

2

oz

napa cabbage

core removed

1

block (16 oz)

super firm tofu

(typically sold vacuumed packed)

4

cloves

garlic

grated

2

inches

knob ginger

grated

1/2

tbsp

toasted sesame oil

1 1/2

tsp

salt

1/2

tsp

white pepper

1/2

tbsp

potato starch or corn starch

1

package (about 24 sheets)

Nasoya Vegan Wonton Wraps

(or any other brands)

2-3

tbsp

grapeseed oil

1

scallion

julienned (optional)
Dipping Sauce Suggestions
Soy sauce only

Soy sauce + rice vinegar

2:1 ratio

Soy sauce + rice vinegar + Japanese chili oil (ra-yu)
Instructions
**If using fresh shiitake, skip to Step 3
Put dried shiitake in a bowl then add water to soak. Put a tiny plate over to completely submerge them in the water (they will float!) Soak for 8-12 hours.

After soaking, rinse and clean plumped shiitake under running water to remove unwanted particles trapped in the gill. Don't waste the soaking water!! Save it as shiitake broth for later use---Place a paper towel on a fine mesh strainer over a bowl. Pour the soaking water slowly to strain and to catch the dirt. Store in the fridge or freeze.

Cut the stems off from shiitake and mice the caps. Set aside.

Boil water in a large pot. Cook napa cabbage for about 10 minutes. Use a colander to drain water. Rinse under running water to cool down. Squeeze out water and mince them. Squeeze once again to remove remaining water. Set aside.

In a large prep bowl, use hands to crumble tofu into tiny bits. Then add shiitake, napa cabbage, garlic, ginger, toasted sesame oil, salt, white pepper, and potato starch (or corn starch.) Mix altogether with hands. Let it rest for 5 minutes.

After resting, start wrapping. Prepare a small bowl with 2 tbsp of water. Also have a baking sheet with parchment paper (or on a large plate covered with plastic wrap) to array dumplings. Take a wonton wrapper on your palm, then place a small amount of tofu mixture in the center. Use your finger to apply water around the edges and fold in half to make a triangle. Place the dumpling on the baking sheet then put a plastic wrap over to avoid drying out. Repeat the process.

Tips: When you fold wonton wraps, don't over fill and try not to have air pockets. Seal the edge very well to avoid the tofu mixture spilling out.

Heat up a non-stick frying pan at medium high heat. Pour 1/2 to 1 tbsp grapeseed oil. Place dumplings in a single layer (cook 6-8 at a time.) Cook for 2-3 minutes on one side then flip (o r leave them if you prefer crispy only on one side.) Pour about 1 tbsp water then cover with a lid to steam-cook for 1-2 minutes. Repeat the process. If it's burning quickly, reduce the heat to medium.

Serve with scallions (optional) along with a dipping sauce of your choice (see the suggestions in the ingredients section.)
Notes
While dried shiitake has more flavor, feel free to replace with fresh ones as a quicker cooking option.
Once package is open, wonton wrappers get dry pretty quick. Use them all instead of saving them for later. If there are any wrappers left, be creative and try to have fun wrapping some leftovers in the fridge.