Last Updated on July 8, 2021
Are you in a mood for a comforting soup that is not so heavy? Try this Wakame Soup! It's vegan, light, delicate, and no dashi or stock required but it sure is packed with umami. It's super easy to make and ready to eat in less than 30 minutes!
Wakame Soup
This type of wakame (seaweed) soup is widely eaten in Japan. It's a typical home-cooked-style soup but also widely popular menu item at Korean style BBQ restaurants. Both Japanese and Korean versions are very similar. To our knowledge, the Japanese version is typically made with chicken stock while the Korean version is made with beef stock and/or seafood base in some cases. Of course, our version is 100% vegan, no use of animals ingredients, and still tastes good and satisfying!
Our Vegan Wakame Soup
To list some important ingredients (*not a full list of ingredients) for our Wakeme Soup are;
Wakame
Shiitake
Scallions
Soy Sauce
White Pepper
Toasted Sesame Seeds
Toasted Sesame Oil
Now, shiitake and scallions will add depth and give umami to the soup as well as soy sauce. White pepper has such unique aroma that it works very well in the soups like this (or ramen, too.) Most importantly, toasted sesame seeds and toasted sesame oil are a must-have-item for making a good wakame soup!
Make sure to check out the full ingredients list in the recipe at the end!
About Wakame
Most likely you know what wakame is by now as it has gained some popularity over the course of years along with the popular demand of healthy eating. It's a type of edible seaweed that is healthy, low in calories, high in fiber, rich in mineral and umami. It's a staple for Japanese diet and widely used in all kinds of dishes such as soups (especially in miso soup), salad, condiments (ramen topping), stir-fry dishes, just to name a few.
The most popular types of packaged wakame you can find in stores are;
Salted Wakame

Boiled and preserved with salt
Needs to be soaked in water to remove salt and cut before use
Tastes & texture close to fresh boiled wakame
Needs to be refrigerated

Dried Wakame

Salted wakame prepared and dried
Easy to use and ready-to-use
Inferior tastes & texture compare to the salted wakame
Longer shelf-life, no refrigeration needed
In where we live, we can only find the dried version at Asian grocery stores. To tell you the truth, we're very particular about the ingredient sources so the only ones we use is from Japan (grown and prepared in Japan) like the one below.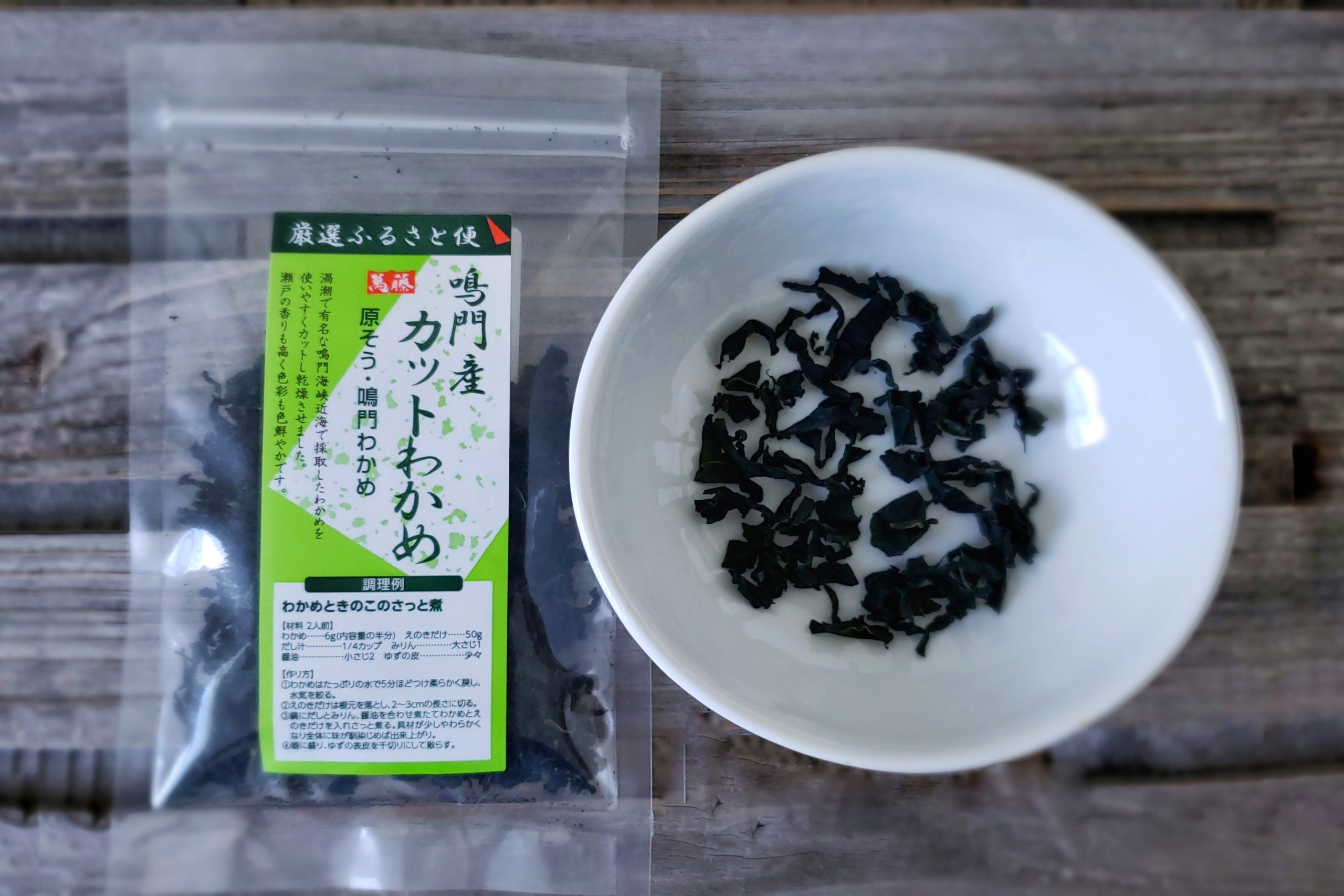 Dried Wakame, To Soak or Not
Now, when we cook with dried wakame, you can either soak in water prior to use or directly add in whatever the liquid you are cooking with. For example, if you are using it for making salads, stir fry dishes, or use as ramen topping, you will need to soak in water first to re-hydrate. Then simple scoop it out from the water and ready to use (no rinsing required.)
On the other hand, if you are using it for soups, you could directly add to the soup right before serving to re-hydrate. Isn't it super easy and convenient to use? When you do this, wakame will add some natural sea-flavor to the soup which is a fantastic way to add a depth to the taste. However, be aware that even dried wakame has some sodium content, so be sure to go shy on seasoning with salt before adding wakame, then taste it and adjust as needed.
Remember, you can always add salt later but can't remove it once added!
Feeling Inspired?
Check out other Japanese soup related recipes that satisfy your cravings!
Somen Noodles in Creamy Sesame Miso Soup
Wakame Soup
This is a really light soup which is perfect for when you crave something that isn't too heavy or when you want to have a side soup to serve with a main dish. No dashi or stock required to keep it simple and quick. It's easy and ready to eat in less than 30 minutes!
Ingredients
1/2

tbsp

neutral oil

4

scallions

separate whites from green parts, thinly sliced

2-3

large shiitake

trim off the bottom and sliced thinly

6

cups

water

1/2

tbsp

soy sauce

1 1/2

tsp

sugar

2

tsp

salt

adjust to taste

1/4

tsp

white pepper

3

tbsp

ready-to-use dried wakame seaweed

1

tbsp

toasted sesame seeds

plus more for serving

1

tsp

toasted sesame oil

plus more for serving
Instructions
Heat up a medium pot at medium high heat. Pour sunflower oil and add white parts of scallions. Cook for 1 minute until fragrant. Then add shiitake. Cook for 2 minutes until softened.

Add water. Cover and bring it to boil. Then reduce the heat to medium low. Add soy sauce, sugar, salt and white pepper. Stir well and bring it to gentle boil.

Add dried wakame, toasted sesame seeds, and toasted sesame oil. Cook for 2 minutes until the wakame is re-hydrated.

Serve with green parts of scallions on top. Sprinkle extra toasted sesame seeds and a drizzle of toasted sesame oil (optional.)
Notes
Dried wakame seaweed can be hydrated in water before adding to the soup. However, we recommend re-hydrating directly in the soup adds a touch of "sea flavor" which is a plus!
Adding dried wakame seaweed directly in the soup may add more saltiness to the soup (natural salt attached to the wakame.) If you are concerned, re-hydrated it in water first or use less salt at first and adjust it after wakame is cooked in step 3.