Last Updated on March 11, 2021
[アボカドと納豆寿司丼]
This is probably one of the easiest and simplest vegan sushi dishes that I make often. My vegan Avocado & Natto Sushi-Don is healthy and delicious. No rolling or special techniques required to make. All you have to do is prepare delicious sumeshi (vinegared sushi rice) and the rest is just cutting and assembling!
What's Sushi-Don?
Have you checked out our vegan sushi recipes? Each one is completely different but they all are considered sushi. When it comes to sushi making, there are two types of people; ones who really enjoy rolling or shaping sushi and the other ones who enjoy eating sushi but find the whole process of making sushi really reluctant. I'm not sure which category I belong to but if I crave for sushi I think I do this "don" style more often because it's much simpler in every aspect.
Don [丼] is a Japanese word for a bowl with cooked rice with some toppings. It's a quintessential Japanese style of food presentation. In the past, I made vegan gyu-don using maitake mushrooms and the word "don" here is in the same sense. So, the word "sushi-don" can be translated as "sushi in a bowl. In fact, this don-style sushi is very common in authentic Japanese sushi. To give you an example, kaisen-don [海鮮丼] has sumeshi at the bottom with various pieces of seafood on top.
Now, the bowl dishes have become such a trending thing to plate that everybody makes one. However, the Japanese don-style "bowl" has a different concept than what most people know as bowls. This is just my personal opinion but the trendy bowls typically has a bunch of mishmash ingredients thrown into a bowl and the main component can be anything; rice, noodles, pastas, healthy grains, fruits and/or veggies. In other words, as long as all elements are in one bowl, it's called bowl.
Although, I've been living here long enough to understand both aspects, I'm still Japanese at heart. Therefore, bowl = a bowl with cooked rice with some toppings.
I try avoiding the word "bowl" to define my dishes unless it really makes sense to do so. For example, I made this in the past and since it's an American interpretation of sushi, it made sense for me to name as "sushi bowl." On the other hand, I consider this recipe as authentically Japanese therefore I named as "sushi-don."
Avocado & Natto for Sushi
Not too long ago, avocado wasn't as popular as it is now in Japan. I could be wrong but I'd never seen one at any grocery stores when I lived there. Despite the limited availability back then, I'd heard this one statement multiple times:.
Avocado has a similar taste to raw tuna so it would work very well as sushi-neta (sushi ingredient or sushi topping.)
I think this statement is so true. There is something about the creaminess & richness of the avocado that mimics the texture of raw tuna. When I first went vegan, I still craved seafood and to disguise the cravings, I made sushi like this one so often and I was super satisfied!
Now, let's talk about natto. In case you aren't familiar with it, natto is fermented soybeans. It's rich source of probiotics & vitamin K and definitely one of my favorites! Every time I make a recipe with natto, I say the same thing over and over like a broken record but I'll say this again…it has an acquired smell and taste.
Natto is another common ingredient for sushi, natto-maki (natto roll) to be particular. Typically, when it's in natto roll, the natto soybeans are all chopped up into small bits which is called hikiwari-natto [ひきわり納豆.] In Japan (or some Asian grocery stores here), you may find one the hikiwari-natto but just used the regular one. If I really wanted to, I could chop them up on my cutting board, but it gets a little messy to clean up so I don't even bother to do so.
In my personal opinion, the combination of avocado & natto is a perfect match and so addicting. The creaminess of avocado works very well with the slimy texture of natto. Served with cooked Japanese short grain rice, whether with seasoned sushi rice or just regular one, with a drop of soy sauce, it's irresistible. In a way, they "bond" together to make music that I can "savor" in my mouth!
Do you want to "listen" to that music? Let's get cooking!
The Ingredients
Here is the list of making this simple but delicious sushi!
Sushizu (Seasoned Rice Vinegar Mixture)
Cooking Rice
Uncooked White Japanese Rice (starchy short grain rice)
Water
Dried Kombu Sheet
Toppings & Condiments
Hass Avocado
Natto (Japanese fermented soybeans)
Scallion
Radish Sprouts (or other sprouts of your choice)
Toasted Sesame Seeds
Shredded Nori Seaweed
Soy Sauce
Wasabi
The Tips and Recipe Notes
Sushizu
For a short cut, you can actually purchase a bottle of sushizu. It may be sold as sushi vinegar, sushi rice vinegar, sushi seasoning, seasoned rice vinegar etc.. But in my recipe, I use my own blend made with organic rice vinegar and sugar. It is very easy to make!
The balance of acidity, sweetness and saltiness is important for making the sushizu. The ratio of those three on my recipe should be pretty universal to fit anyone's palate. The good news is that you can adjust the amount of each ingredient to slightly make it even more enjoyable for your preference. Sometimes, I make sweeter sushi rice especially for making chirashi-zushi [ちらし寿司] (scattered-style sushi bowl.)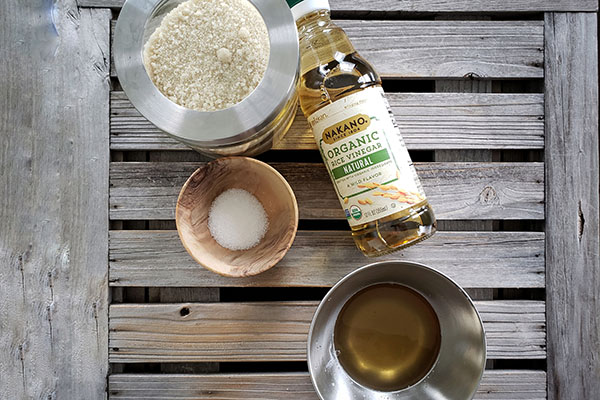 Now, when you mix the rice vinegar, sugar and salt, you may see that the sugar and salt are not quite dissolved. However, it should be fine as it will be dissolved once the mixture goes into the warm cooked rice. If it bothers you for some reason, you can cook the mixture on the stove which I sometimes do if I feel like it.
My sushizu recipe below is good for 1 1/2 cups uncooked rice. You can also make it in larger amount and keep in the fridge. I do not make sushi often so I just make as much as I need at a time.
Good Sumeshi
The key to make a perfect textured sumeshi is to use less water to cook the rice than you typically use for making plain white rice. Remember that you are going to add the sushizu to cooked rice! Firmly cooked rice will absorb the sushizu properly.
In this recipe, this is the actual measurement for rice and water.
1 1/2 cups uncooked rice + 1 1/2 cups water (for Imperial measurement)
300g uncooked rice + 360 ml water (for metric measurement)
This time, I cooked it using a cast iron rice pot from Staub which is one of my favorite items in the kitchen. If you have a rice cooker, you can do the same as well. FYI, my Zojirushi rice cooker comes with a rice measuring cup and it also shows the water line for "sushi rice making" and has the "sushi rice setting" button. It is very convenient!
Now, the reason why I am providing you both systems is because I like measuring precisely when it comes to rice making (go figure) so I use the metric measurement. But if you live in the US and are not crazy like me, you can follow the Imperial option above. Both cases make the same amount of cooked rice that should yield for:
2-3 servings in general
2 large or 3 regular portion of sushi-dib (sushi bowl)
Please note that this is just an general idea. It may vary depending on the actual size of food that you are making.
Kombu
This may be something that may be new to you. Whether at a sushi restaurant or at home, sumeshi is supposed to be cooked with kombu sheet. It gives a hint of aroma and slight complexity to the rice. For me the kombu sheet is one of my pantry staples. Although it is now widely available, I actually shop around to find ones from Japan.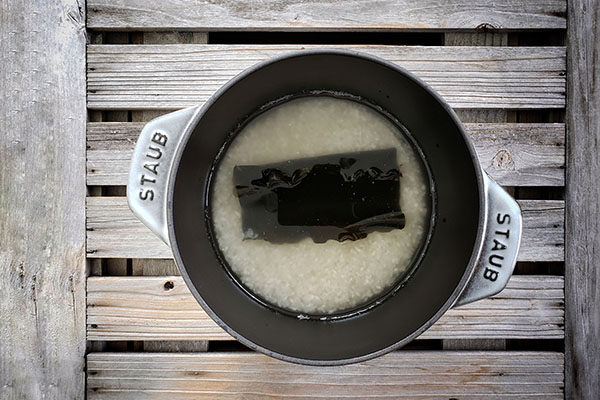 Being Japanese, I can notice the difference in taste when I use it and when I do not. But I must say it is a very subtle flavor. So, I would highly recommend using one if you really want to make it authentic (or to impress your cooking knowledge and skills to family and friends!) Otherwise, you could skip it.
Natto
If you have access to Asian grocery stores (especially Japanese or Korean ones), you should be able to find some natto. That's where I used to buy natto but their package is typically Styrofoam which isn't environmentally friendly. Another downside for me as vegan is they always come with not vegan friendly seasoning packets that I need to throw away.
Luckily, I found this way better alternative one at NYrture. They're US based company who makes great quality natto including the Organic Natto that I buy. I always order mine online.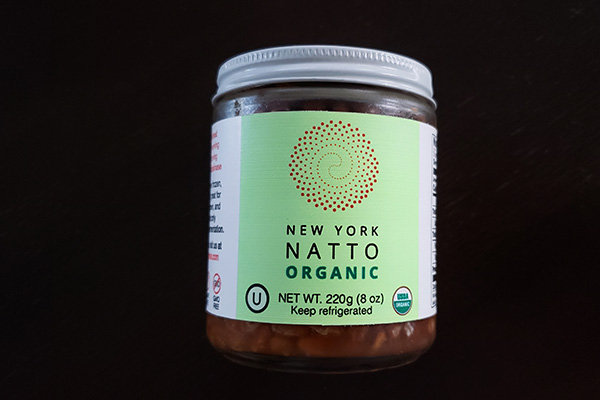 As you can see, it comes in a glass jar with a metal cap (✓), it's organic & Non-GMO (✓), it doesn't come with the unwanted non-vegan seasoning packets (✓), it's always fresh means never frozen (✓)  and tastes excellent (✓✓)!! What else can you ask for? I highly recommend it!
Shredded Nori Seaweed
You can find nori that's already shredded at Asian grocery stores or Amazon. It's very convenient to have when you want to add a touch of seaweed bites to the dish which makes a big difference in the overall taste in many Japanese dishes. In this recipe, it's sushi so you really want to have some nori in it especially the shredded one.
If you can't find (or don't have) shredded nori, what you can do is to take a sheet of sushi nori then shred into thin strips by using kitchen scissors. Alternatively, you can tear a nori sheet into tiny pieces then put it on top of the dish.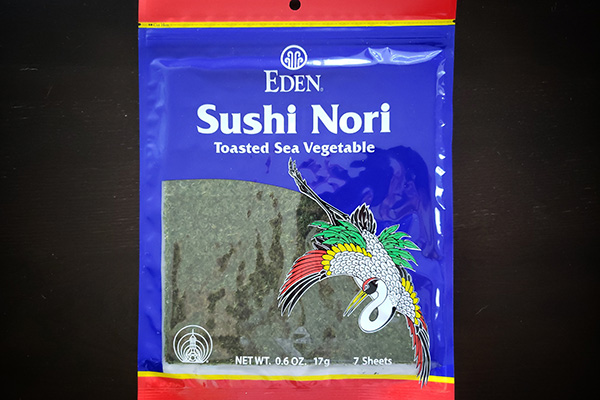 Feeling Inspired?
Check out other awesome vegan sushi recipes!
King Oyster Mushroom "Fish" Nigiri Sushi
Avocado & Natto Sushi-Don
This is probably one of the easiest and simplest vegan sushi dishes that I make often. No rolling or special techniques required to make. All you have to do is prepare delicious sumeshi (vinegared sushi rice) and the rest is just cutting and assembling!
Yield: 2 large or 3 medium portions
Ingredients
Sushizu (Seasoned Rice Vinegar Mixture) *
3

tbsp

rice vinegar

1 1/2

tbsp

sugar

2 1/2

tsp

salt
Cooking Rice *
1 ½

cups

uncooked white Japanese rice

(starchy short grain rice)

1 ½

cups

water

(12.7 oz)

0.3

oz

dried kombu sheet
Toppings & Condiments
1

Hass avocado

thinly sliced

4

tbsp

natto (Japanese fermented soybeans )

*

1

scallion

finely chopped

A handful radish sprouts

(or other sprouts of your choice)

Shredded nori seaweed

*

Soy Sauce

Wasabi
Instructions
Make suzhizu (seasoned vinegar mixture) first. In a prep bowl, combine rice vinegar, sugar and salt. Whisk together until well blended. Set aside. You may see the sugar and salt not quite dissolved which should be fine once it is mixed with warm rice. Alternatively, you may cook the mixture on the stove on medium heat just until the sugar and salt is dissolved. Remove from the heat and let it cool down until rice is done.

Prepare rice. Place rice in a large bowl. Pour water to cover the rice. Wash it with your hand moving in circular motion then quickly discard the water. Repeat the process for 5 to 6 times until water becomes clear. Drain well. Alternative way: Place rice in a fine mesh colander. Rinse under running water. Use a hand moving in circular motion to rinse thoroughly until water becomes clear. Drain well.

Transfer the rice to preferably a cast iron pot with a heavy lid or something similar. Pour water and make the rice leveled. Place kombu sheet on top of the rice (submerge in the water) and cover with the lid.

Cook over slightly higher than medium heat. In about 10-15 minutes, it starts almost boiling (you will see the bubbles.) At this point, open the lid and use a rice paddle to give a quick stir from the bottom. Make the rice leveled again then cover with the lid. Reduce the heat to low and continue to simmer for 10 minutes. After the 10 minutes, turn off the heat. Keep the lid on and let it stand for 10 minutes.

Remove the kombu sheet and transfer the cooked rice to a large shallow bowl (preferably wooden sushi bucket for soaking up excess moisture.) Add the sushizu and mix with a rice paddle. To do so, move in gentle cutting motion. Once it is mixed well, use a fan to let the rice cool down until ever so slightly warm like your body temperature. Sushi rice tastes better when it is not completely cold.

Assemble. First, place the sumeshi in a serving bowl. Then top it with sliced avocado, natto, scallions, radish sprouts, toasted sesame seeds, and shredded nori. Serve with soy sauce and wasabi. You can mix the soy sauce and wasabi then pour over the dish. Alternatively, pour soy sauce over the dish then place a tiny dap of wasabi on every bite for more intensive wasabi effect!
Notes
Sushizu: You can adjust the amount of each ingredients in sushizu to suit your palate. For example, I like making a little bit sweeter sushi rice for chirashi (scattered-style sushi bowl) so I simply increase the amount of sugar by a teaspoon or so.
Rice: 1 1/2 cup uncooked Japanese rice is equivalent to 2 cups (2合) in the Japanese rice measuring cup that comes with most Japanese rice cookers. The cook time will be longer if you use a rice cooker. Although it's still edible, leftover sushi rice will harden especially in the fridge. It is best to make only as much as you need.
Natto: Many natto products come with seasoning packets that are NOT vegan. Just use the natto soybeans by itself without the seasoning packets.
Shredded Nori: If you don't have shredded nori seaweed, you can use regular sushi nori sheet and shredded into thin strip with kitchen scissors.