Last Updated on February 14, 2021
While I ago when I bought a sac of shishito pepper and a small basket of small tomatoes, I wanted to make a couple of new dishes with them. Luckily, I had plenty of those fresh ingredients to make another dish which is this Casarecce with Mini Tomatoes & Shishito Peppers. It's a rustic and comforting dish incorporating fresh grape tomatoes and crispy shishito pepper. You can make this with any short pasta (or long pasta if you like) in no time! It's vegan and can be made gluten free.
Rustic Pasta Dish
What is rustic pasta dish to you? For me, it's the type of pasta that doesn't have the most appealing look but it's taste so comforting and you can't stop eating. It's typically made with what you already have in your kitchen; a little bit of this, a little bit of that…not the right kind (shape) of pasta? No problem, it's all good!
This dish is no exception. It's a collection of some leftover ingredients mentioned below from making other dishes.
I call the varieties of all small tomatoes as "mini tomatoes." They can be cherry tomatoes or grape tomatoes (plum tomatoes), I love the cute size and colors. When I spotted a mix of mini tomatoes at a grocery store, I made this dish using a half of them and I kept the other half (yellow/orange ones) planning to make a pasta dish.
I typically make raw tomato sauce with mini tomatoes in season, but I decided to pair up with shishito peppers that was also the other half that was left from making this pasta dish. If you aren't familiar with shishito pepper, you can read the post which I talked briefly about what they are and how to prepare them. Since the color of shishito pepper is bright green, I thought it was cool to have a nice contrast in color using yellow/orange tone tomatoes.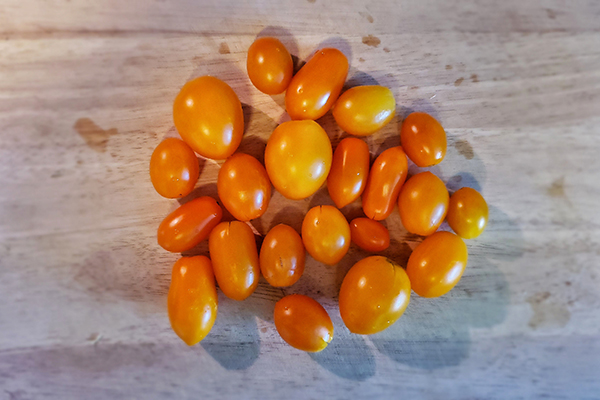 There was another leftover ingredient that I found in the fridge to add more complex flavor to this dish. Can you guess what it was? It's white wine. I'm pretty sure it was either Sauvignon Blanc or Pinot Grigio.
To put all of the above together, I needed some pasta. The only pasta I had in my pantry at that time was casarecce.
That's how the dish was born!
The Ingredients
Shishito Peppers
Extra Virgin Olive Oil
Garlic
Yellow Onion
Casarecce (or any other short pasta)
Mini Tomatoes (I used yellow/orange grape tomatoes)
Dry White Wine (No wine? Just use pasta cooking water)
Parsley (optional garnish)
Salt/Pepper
You can't make this dish without shishito pappers however the other ingredients can be modified with other similar ingredients! I used about 15 shishito peppers to make this pasta dish for two of us. If you have less, it shouldn't be a problem either.
The Tips
As mentioned above, I would recommend removing the core/seeds of shishito pepper for this dish. To do so, pull off the stems first (it easily comes off), then slice in half lengthwise. Now use a grapefruit spoon or a teaspoon to scrape off the core/seeds. From there, cut into an inch size pieces. You can also slice thinly to make strips. It's up to you!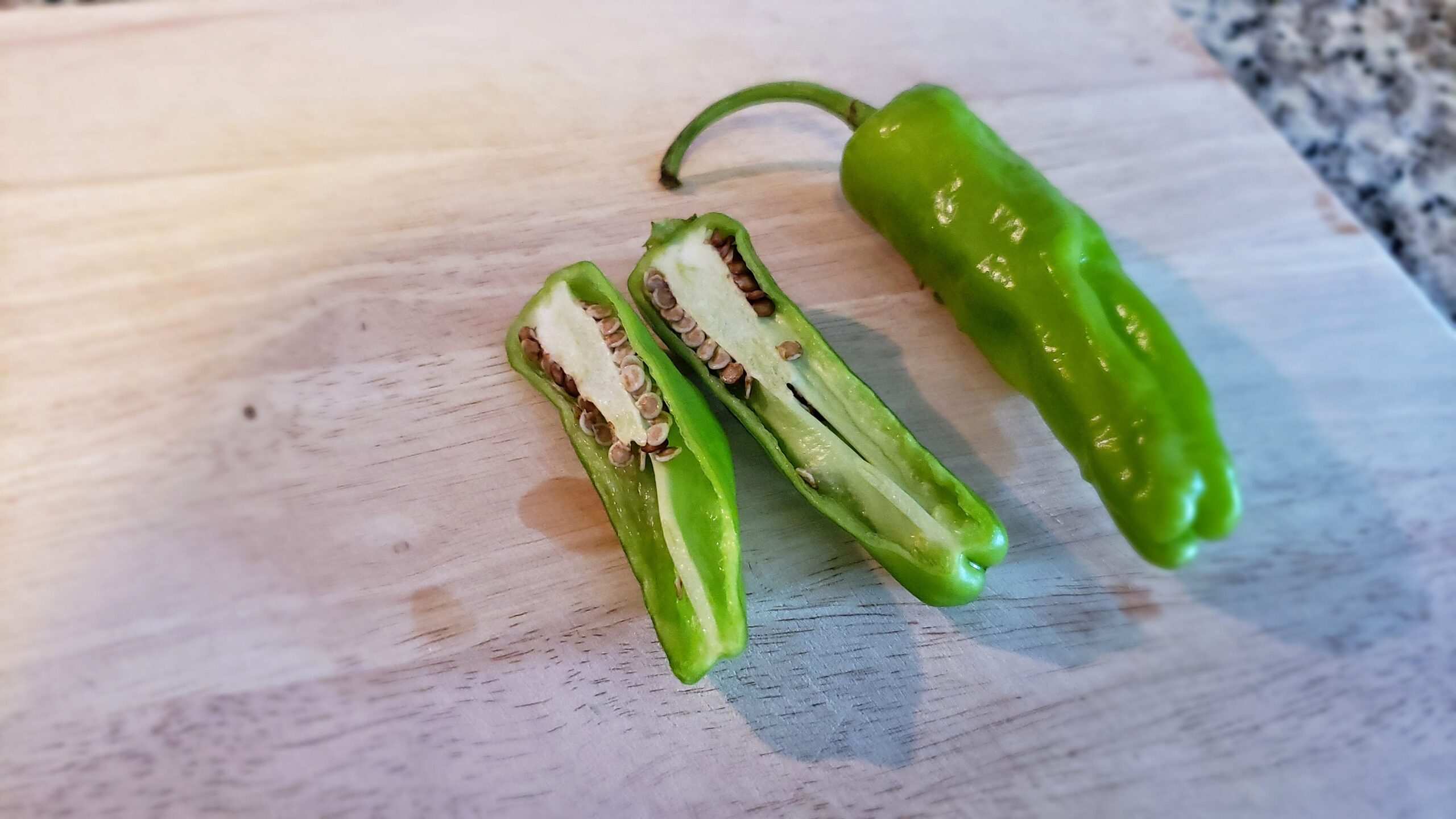 Also, be sure to not overcook shishito peppers. For this dish, it tastes much better when they are still somewhat crispy!
I don't know about you, but I prefer cooked tiny tomatoes to not remain as whole but not to be completely broken down either in the sauce. Halved tomatoes break down too quick with heat. On the other hand, leaving them as whole in the sauce intending to crush them using a paddle can be a scary situation, too. Sometimes, it bursts and get a hot tomato juice splash on my face. So, to avoid that, I started making a cross shaped slit at the top or bottom of the tomatoes. It's a perfect solution!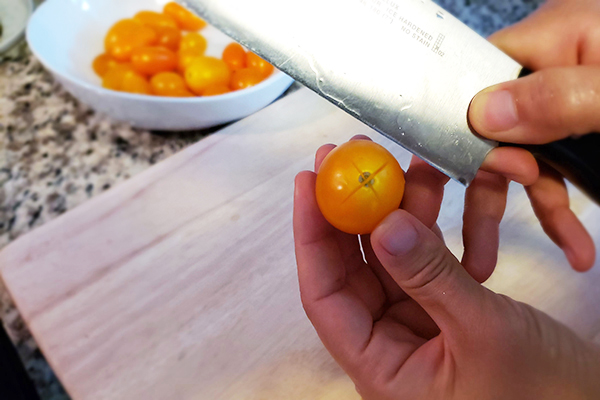 To honor and to savor the potential (but mild) spiciness of the shishito pepper, I intentionally omit the use of extra heat such as red chili pepper flakes. But if you enjoy extra heat, go ahead and add some at the same time as when you cook garlic in oil.
Feeling Inspired?
Check out the shishito pepper and mini tomato recipe along with the other rustic pasta dish!
Capellini with Shishito Peppers (featured in Thrive Magazine)
Fusillin with Butter Bean & Swiss Chard Soup (perfect leftover makeover dish)
Casarecce with Mini Tomatoes & Shishito Peppers
Casarecce with Mini Tomatoes & Shishito Peppers is a rustic and comforting dish incorporating fresh grape tomatoes and crispy shishito pepper. You can make this with any short pasta (or long pasta if you like) in no time! It's vegan and can be made gluten free.
Ingredients
15

pieces

shishito peppers

(about 6 oz)

1

tbsp

extra virgin olive oil

more for serving

2

cloves

garlic

sliced or minced

3/4

cup

thinly sliced yellow onion

8

oz

casarecce

(or any short pasta of your choice)

8

oz

mini tomatoes

(I used yellow grape tomatoes), make a cross shaped slit at the top or bottom

3/4

tsp

salt

1/4

tsp

black pepper

more for serving

1/4

cup

dry white wine

(or pasta cooking water)

1/4

cup

pasta cooking water

Minced fresh parsley

(optional garnish)
Instructions
In a large pot, start boiling water for cooking casarecce.

Pull of the stems of shishito peppers. Slice in half lengthwise and remove the core/seeds. Then slice diagonally into 1/4 to 1/3-inch pieces. Place them in a fine mesh colander and rinse under running water to clean and to remove remaining seeds. Drain well and set aside.

Heat up a frying pan at medium high heat. Pour extra virgin olive oil and add garlic. Cook for 1-2 minutes until aromatic. Next, add yellow onion and cook for 2-3 minutes until translucent. Reduce the heat if necessary.

At this point, start cooking casarecce in salted water for 9-11 minutes or follow the instructions on the package.

Reduce the heat to medium and add mini tomatoes. Season with salt and black pepper. Cook for 2-3 minutes then add dry white wine and pasta cooking water. Let the alcohol evaporate. Reduce the heat to medium low and continue to simmer for another 2-3 minutes until tomatoes are cracked open. You can use a paddle to gently crush down the tomatoes to help them open.

In the last 2-3 minutes before the pasta is done, add shishito peppers. Cook for a couple minutes until tender but still crispy. For better taste and texture, do not overcook the shishito pepper.

Once the pasta is cooked, drain and transfer to the pan. Give a quick toss. If it looks dry, add more pasta sauce.

Serve with freshly cracked black pepper and drizzle of extra virgin olive oil for the finishing touch. Garnish with minced fresh parsley (optional.)
Notes
For gluten-free option, use any GF pasta of your choice. Also, check the label of wine to make sure that it's free of potential use of gluten.