Last Updated on June 3, 2023
[柚子胡椒風味の納豆添えフムス]
Are you looking for a very different way to enjoy hummus that you wouldn't find anywhere else? I got you covered for that! My Hummus with Natto & Spicy Yuzu Sauce is a very innovative Japanese fusion hummus recipe. It's topped probiotic rich natto and spicy yuzu pepper sauce with the addition of cucumber, toasted sesame oil and sesame seeds! You can also use your own recipe of hummus or your favorite store-bought hummus to make this.
The Hummus
I made another hummus recipe here. On the post, I talked about my thoughts on chickpeas and hummus in general. I'll include the same information below in case you haven't checked out the other post. If you have already read it, you can click here to skip to "The Natto & Spicy Yuzu Sauce Topping" section.
In 2021, there's no explanation needed for what hummus is especially from an Asian home cook like me. Everyone loves it and knows what it is! The truth is that, I don't really care for chickpeas unless it's prepared and cooked certain ways. I have only one chickpea recipe with fresh orange and fennel and pretty much that's it. Although I don't cook often with chickpeas for the simple lack of love towards them, our chickpea recipe with fresh fennel and orange is still mighty tasty and highly addictive.
I mainly eat them in the form of hummus. While I don't have my own recipe, I do stick to the one I adapted slightly from Yotam Ottolenghi & Sami Tamimi's Basic Hummus that I found on Food 52. According to the page, it seems that their recipe is also a slightly adapted version from the original one on the cookbook, Jerusalem (Ten Speed Press, 2013.)
I tweaked a little bit to my liking and it's a bit more cost effective. The original one calls for 1 cup plus 2 tbsp tahini. I've made it multiple times with that amount of tahini as stated but I realized that I can't keep up with the cost of using over 1 cup of organic tahini. The jar of organic tahini that I love costs about $10 for a 1 pound (454g.) I'm not gonna lie, it's very rich and delicious when you use that much but I use a little less, 3/4 cup to be exact. It tastes slightly less rich but almost not noticeable. I've also tried 1/2 cup and this one comes out noticeably different in taste but still not bad.
If you never tried making the original recipe on Food 52, I highly recommend giving a try. It's simple, clean, smooth and super tasty!
How I Eat (Use) Hummus
Here is what I do with hummus (including the obvious ways):
Make a dip
Smear on a wrap
Use as a salad dressing
Use as pasta sauce
Eat as a meal with variety of toppings
That's pretty much all I do but I've seen people making hummus soup…hmmm. Personally, I wouldn't be interested in making one but I can clearly see that people are so in love with hummus and/or chickpeas in general. Even at the grocery store, I always go to the bulk section and see that chickpeas are always low on supply.
When I make my hummus, I always use dried chickpeas. Never from a can. It's much cheaper to soak, prepare, and cook on your own. Also, I just don't like the liquid from canned beans of any kind. I know that I can rinse it out and call it a day but for me, it's makes sense to spend a little extra time to prepare my own food from scratch. It always tastes better that way and I just love the slow cooking process.
The Natto & Spicy Yuzu Sauce Topping
Natto
If you're a regular of our recipe blog, you may know my love towards natto. Natto is Japanese fermented soybeans that's often a breakfast staple accompanied with a bowl of rice. Natto is really good for your body because it's super rich in probiotics and vitamin K and supposedly strengthen your immune systems as well. Despite of the health benefits, it hasn't gain its popularity just yet probably (…or most definitely) for the acquired texture (slimy) and smell (very fermented.)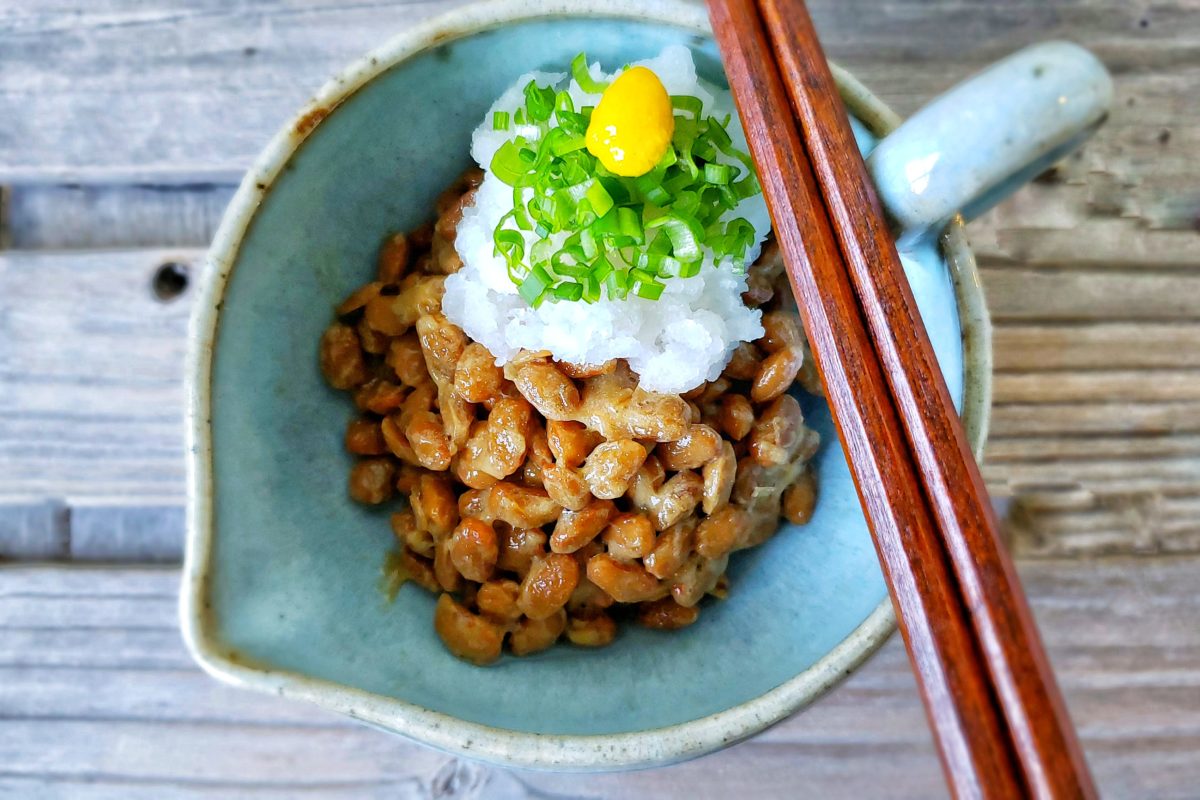 Actually, the taste isn't bad at all even for those who get scared by the appearance and the smell. It's very nutty and has a rich bean taste to it. For the Japanese, we typically mix it with soy sauce and scallions then eat it on top of rice.
On this hummus recipe, I mix natto with cucumber, scallions, salt, and hot yuzu sauce. What's hot yuzu sauce?
Hot Yuzu Sauce
Hot yuzu sauce is a Japanese-style condiment that I first found in Trader Joe's. I now found another one from Gold Mine Natural Foods. It's a bottled spicy & tangy sauce made with vinegar, green hot chili peppers, yuzu zest and salt. It's kind like a tabasco sauce but made with yuzu and green chili peppers (in some cases red chili peppers.) Hot yuzu sauce is fragrant because of the zest from yuzu (traditional Japanese citrus) but also pretty spicy from green hot chili peppers.
On the other hand, there is a similar product called yuzu kosho [柚子胡椒.] Yuzu kosho isn't a new product yet it has become more common in the Japanese kitchen in the past two decades (my personal opinion.) It's a specialty ingredient from Kyusyu region but now it's available everywhere. Unlike the hot yuzu sauce, it's a paste form and it doesn't contain vinegar so there is no tangy taste to it. Also, it has more intensity in the spice level and its aroma. I'm pretty sure that hot yuzu sauce was invented after the popularity of the yuzu kosho.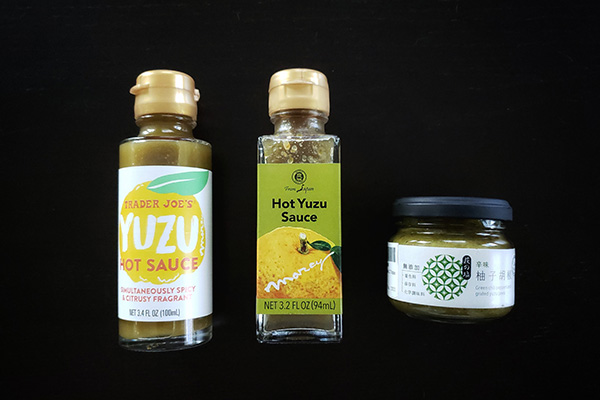 Yuzu kosho is quite versatile for any dishes adding some unique flavored heat. It works well with tofu, veggies, pasta, rice, or soup. It's definitely one of my kitchen staples.
I used hot yuzu sauce for this recip. If you happen to have the yuzu kosho paste instead, you could mix with vinegar to make sauce (see more details in the later section.)
Whether the sauce or paste, it works very well as a condiment for natto, too. It brightens up the flavor and also add just enough spiciness! Let's get cooking.
The Ingredients
Here is the list of ingredients for the delicious healthy hummus meal!
English Cucumber
Natto (Japanese fermented soybeans)
Scallion
Hot Yuzu Sauce or Yuzu Kosho Paste + Vinegar (rice vinegar or regular white one)
Salt
Hummus
Toasted Sesame Oil
Toasted Sesame Seeds
Optionally, if you are making my slightly adapted hummus recipe (the original one can be found on food 52) you will need:
Dried Chickpeas
Baking Soda
Water (for cooking chickpeas)
Tahini
Freshly Squeezed Lemon Juice
Garlic
Salt
Cold Water
The Tips and Recipe Notes
Choice of Hummus
As previously mentioned, you can make this recipe with any hummus of your choice! You can make your own, use your favorite recipe, or buy your favorite store-bought ones.
Hummus Making
By the way, the Ottolenghi & Tamimi's recipe on Food 52 calls for baking soda which is supposed to remove the skin of chickpeas easily. Since the skin peels off easier compared to not using baking soda, I noticed the chickpeas cooks a lot faster as well. Know that the chickpeas will be mushy and that's normal. But because of that, not only do they cook faster but also they will make very creamy & smooth texture once puréed. Be careful not to overcook them as they get too mushy and start breaking apart in the cooking water. Just keep your eye on them if you do this process for the first time. When I make it, it typically takes about 25-30 minutes until they're done.
English Cucumber
I find English cucumber to be more versatile for most of my cooking. The other kind (I don't know what the proper name would be) has very tough skin and more seeds that I have to remove. In my opinion, English cucumber tastes better compared to the other ones.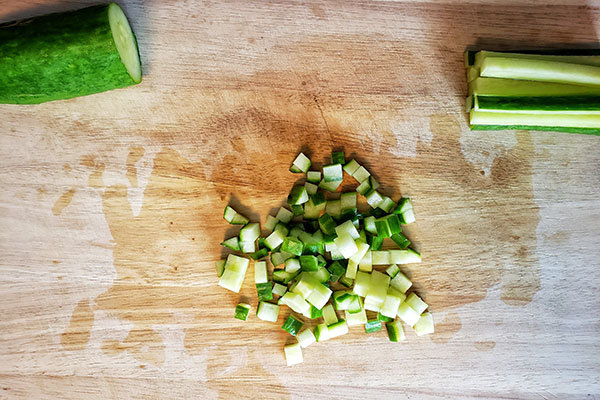 Natto
The one I use is this Organic Natto from NYrture, the company is based in NY owned by a Japanese American. I love the fact that it's in glass container with a metal cap and most importantly, their natto tastes fantastic! Most natto sold in supermarkets in the US is frozen but not this one it's fresh and never frozen. You can order them on their website. They ship on certain days of the week but it's really quick and smooth! They also have other varieties such as the one with turmeric or black bean natto.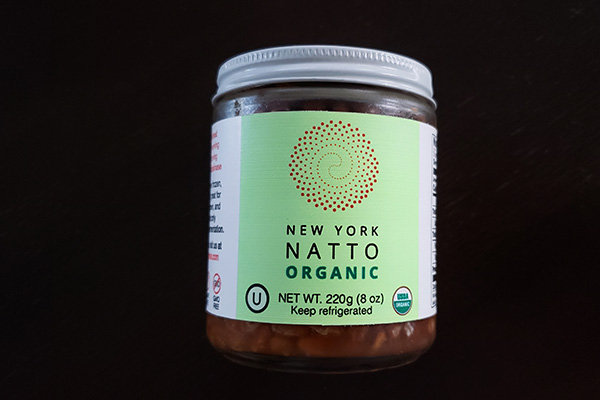 Hot Yuzu Sauce
I buy mine from a couple of different places. One is Gold Mine Natural Foods. It's glass bottled sauce and a product of Japan so it's truly authentic! ☑ Go to our resources page to check out the coupon code and our other favorite products.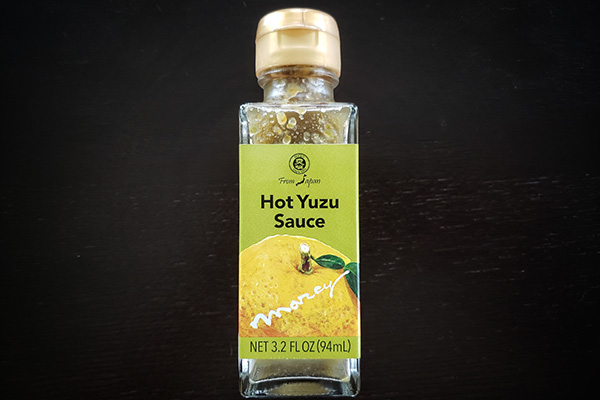 Another hot yuzu sauce you can buy is from Trader Joe's. Theirs is also in a glass bottle and a product of Japan ☑ .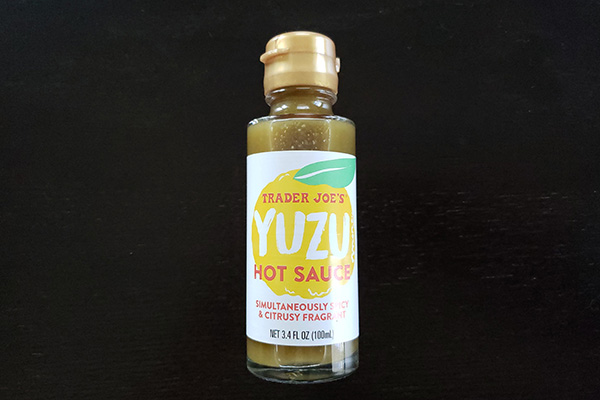 For the yuzu kosho (paste form) I found this one on Amazon. There are also many other brands available (type in "yuzu kosho" on Amazon page to see what's available.) Yuzu kosho paste is not tangy but rather intense in spiciness and aroma.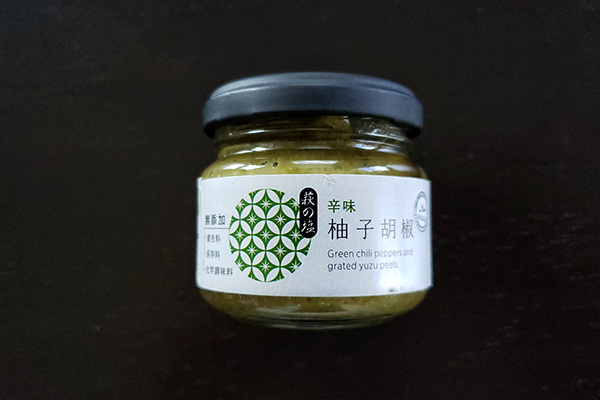 For this dish, hot yuzu sauce works better than the yuzu kosho paste because of its acidity which works well with the rich taste of hummus. The acidity also balances out the strong taste of natto.
If using yuzu kosho paste instead of hot yuzu sauce, you can mix with rice vinegar or regular white vinegar (or lemon juice) to make it taste like hot yuzu sauce.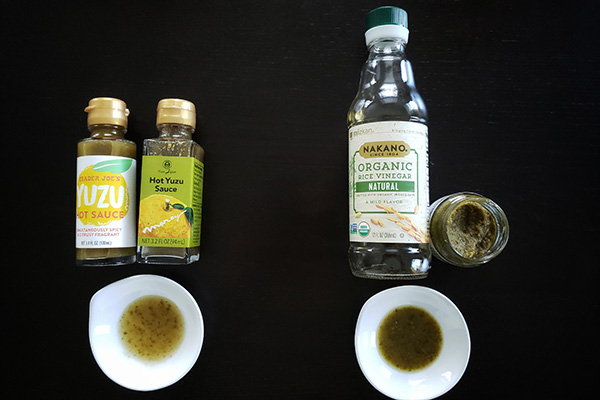 …can be replaced with,
1/2 tsp yuzu kosho paste + 3/4 tsp rice vinegar (or white vinegar)
You can also use more/less each ingredients according to your taste preference.
Feeling Inspired?
Check out our other unique creations!
Hummus with Fresh Veggies & Toasted Walnuts
Chickpea Salad with Fennel & Orange (warm or cold)
Seasoned Natto, Daikon Radish and Cucumber
Hummus with Natto & Spicy Yuzu Sauce
This recipe is intended to be a healthy but satisfying main dish (or snack if you will.) It's topped with natto and spicy, aromatic & tangy hot yuzu sauce! You can also use your own recipe of hummus or your favorite store-bought hummus to make this.
*Hummus recipe is adapted slightly from Yotam Ottolenghi & Sami Tamimi's Basic Hummus on
Food 52.
*Total Time doesn't include the time to soak chickpeas overnight
Ingredients
Hummus (use 3/4 cup hummus for the recipe) *
1 1/4

cups

/ 250 g dried chickpeas

1

tsp

baking soda

6

cups

/ 1.5 litter water

for cooking

3/4

cup

/ 180 g tahini

1/4

cup

/ 60 ml freshly squeezed lemon juice

4

cloves

garlic

roughly chopped

3/4 to 1

tsp

salt

1/2 - 3/4

cup

/ 120 - 180 ml cold water
Hummus with Natto & Spicy Yuzu Sauce (start here if you don't use the hummus recipe above) *
1.5

oz

English cucumber

diced small (1/4 cup diced)

4

tbsp

natto

(Japanese fermented soybeans)

1

scallion

thinly sliced

1

tsp

hot yuzu sauce

(plus more for serving. see the notes) *

1/4

tsp

salt

(adjust to taste)

3/4

cup

hummus

(see the notes. make your own or store-bought) *

3/4

tsp

toasted sesame oil

1/2

tsp

toasted sesame seeds
Instructions
Place dried chickpeas in a large bowl. Cover them with plenty of water (2.5-3 times the volume) and soak overnight.

After soaking, drain the chickpeas. Heat up a medium pot over medium high heat. Transfer the drained chickpeas and add baking soda. Keep stirring for a few minutes. Add water and bring to a boil then reduce the heat to medium low. Keep simmering for 25-30 minutes. Skim off the scums and skins on the surface. Once they are soft enough (a bit mushy) but not completely broken down, use a colander to drain the chickpeas. Let it cool down for 20-30 minutes or so. You can also purée right away without waiting to cool down. I prefer to wait a bit so I can avoid putting hot hummus to the fridge later.

Once the chickpeas are not too hot, start pureeing. In a food processor, combine cooked chickpeas, tahini, lemon juice, garlic and salt. Pulse until finely chopped then leave the processor running and slowly start adding water until it becomes smooth and well incorporated. Alternatively, purée the chickpeas first until smooth and creamy, then start adding the rest of the ingredients as the processor is running. Transfer to a container and let it cool down in the fridge for 30 minutes or longer.

Meanwhile, prepare the Natto & Spicy Yuzu Sauce Topping. In a prep bowl, combine cucumber, natto, scallion, hot yuzu sauce (or yuzu kosho paste + vinegar), and salt. Mix until well combined.

To serve, place the hummus first then top with the natto & spicy yuzu sauce topping as much as you like. Drizzle toasted sesame oil on top and sprinkle toasted sesame seeds. Add extra hot yuzu sauce (optional.)
Notes
My hummus recipe is adapted slightly from Yotam Ottolenghi's Basic Hummus recipe on Food 52.
When using your own recipe of hummus or store-bought hummus, refer only the ingredients for "Hummus with Natto & Spicy Yuzu Sauce (start here if you don't use my hummus recipe above)" and skip to Step 4.
If using yuzu kosho paste, try mixing 1 tsp yuzu kosho paste + 3/4 tsp rice vinegar (or regular white vinegar or lemon juice) as a replacement per 1 tsp hot yuzu sauce. Adjust the amount of each ingredients to your preference.
I used 3/4 cup hummus to make a nice size meal. You can adjust the amount to your preference.
Both hummus (if using this recipe) there should be plenty (more than enough for 4 servings or more.) Store leftovers in airtight container and keep in the fridge. Consume within 2-3 days.
Serve as is for a healthy meal or snacking. It's also delicious with toasted pita bread or crackers.