Last Updated on June 23, 2022
Green Shiso (Perilla Leaves) is a green leafy Japanese herb that's uniquely fragrant and refreshing. It's one of those Japanese produce (ingredient) that may not be widely known outside of Japan but once you experience the taste, you'll know that you won't find the same taste in anything else. Technically, green shiso isn't a pantry item (refrigeration required) but you would definitely be glad trying it out once you discover how great it tastes.
What is Shiso?
Shiso in General
There are two types of shiso [紫蘇] leaves, green and red. They both are Japanese herbal leaves.
Green ones are the most commonly used shiso leaves in cooking. On the other hand, red shiso is less common in everyday cooking however it's used mostly for making umeboshi pickles (Japanese ume plum pickles) and healthy drinks.
In this post, we'll cover the green shiso leaves.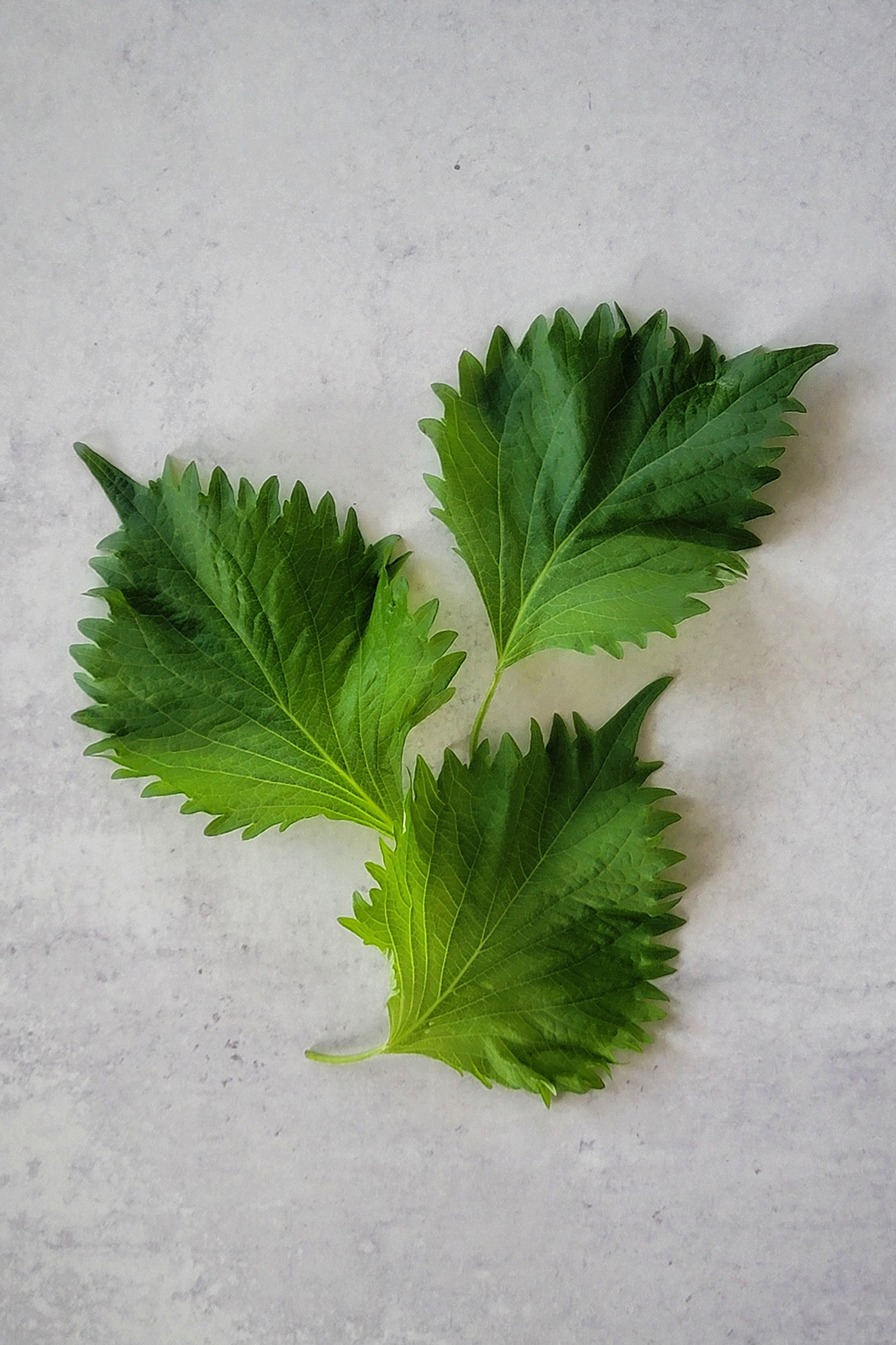 Green Shiso
Green shiso is vibrant green Japanese edible leaf's with a unique herb-like smell. Another common name of green shiso is "ohba" [大葉] or "aojiso" [青紫蘇 or 青じそ.] In English, it's often called shiso perilla leaves, Japanese perilla, or shiso basil leaves.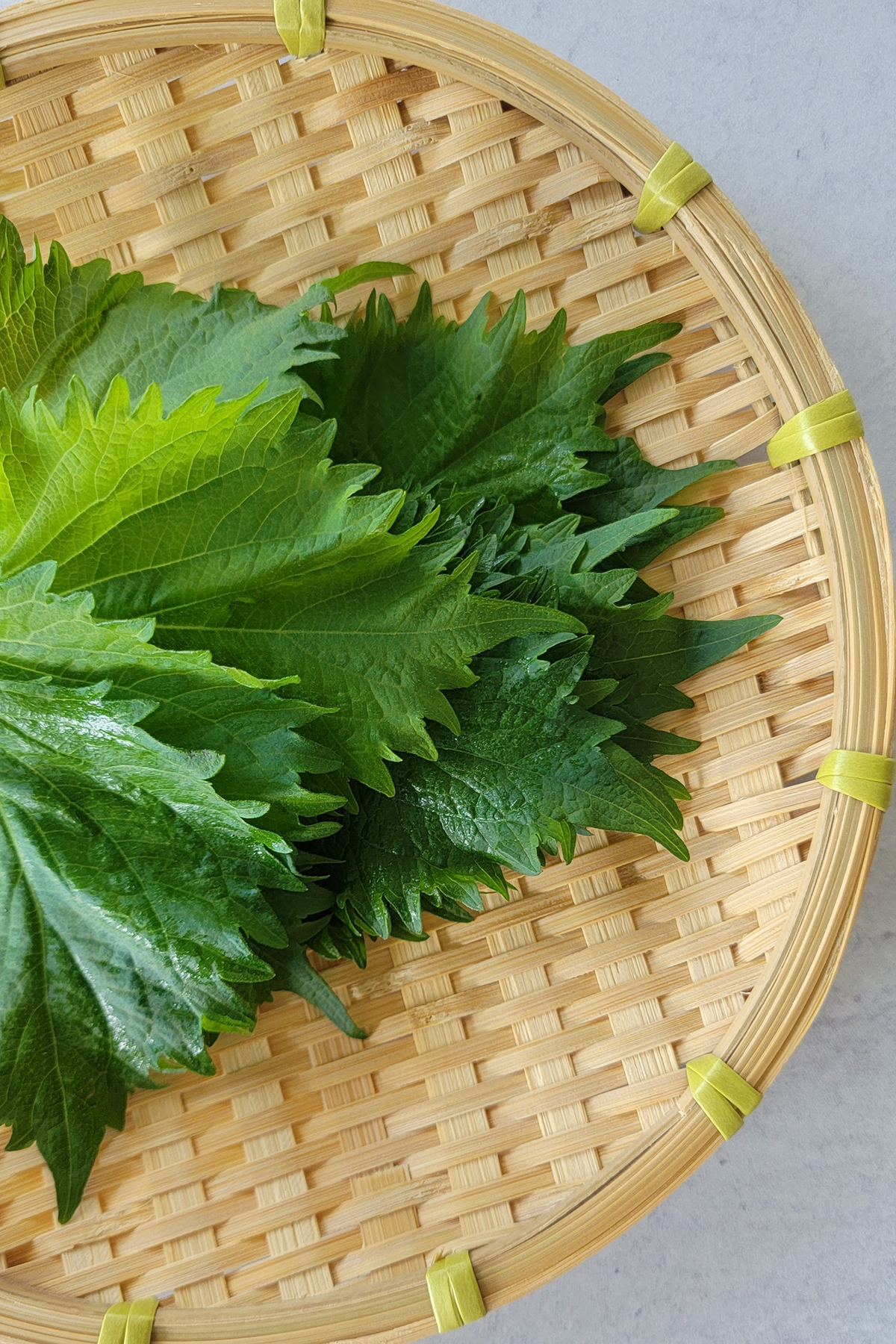 In the U.S, green shiso is commonly used as a garnish for dishes that are served at sushi restaurants. In Japan, we use it for more than just sushi-related dishes. As a side note, green shiso has a similar appearance to Korean perilla leaves but they taste completely different.
Although, green shiso can be available throughout the year, it's a seasonal produce typically from June to September. To me, shiso always reminds of the taste of summer with cold noodles that my mom would prepare.
Taste of Green Shiso
As for the taste, green shiso is very fragrant and has such a refreshing taste. that's very common in both home cooking and formal occasions.
The taste of shiso and ume compliment with one another very well which is why they are often used together. In fact, there is a common thin sushi roll called "umejiso maki" [梅しそ巻き] which has neri ume and shiso.
I have a delicious sushi recipe, King Oyster Mushroom Nigiri Sushi with Ume Shiso, which has a similar taste of umejiso maki.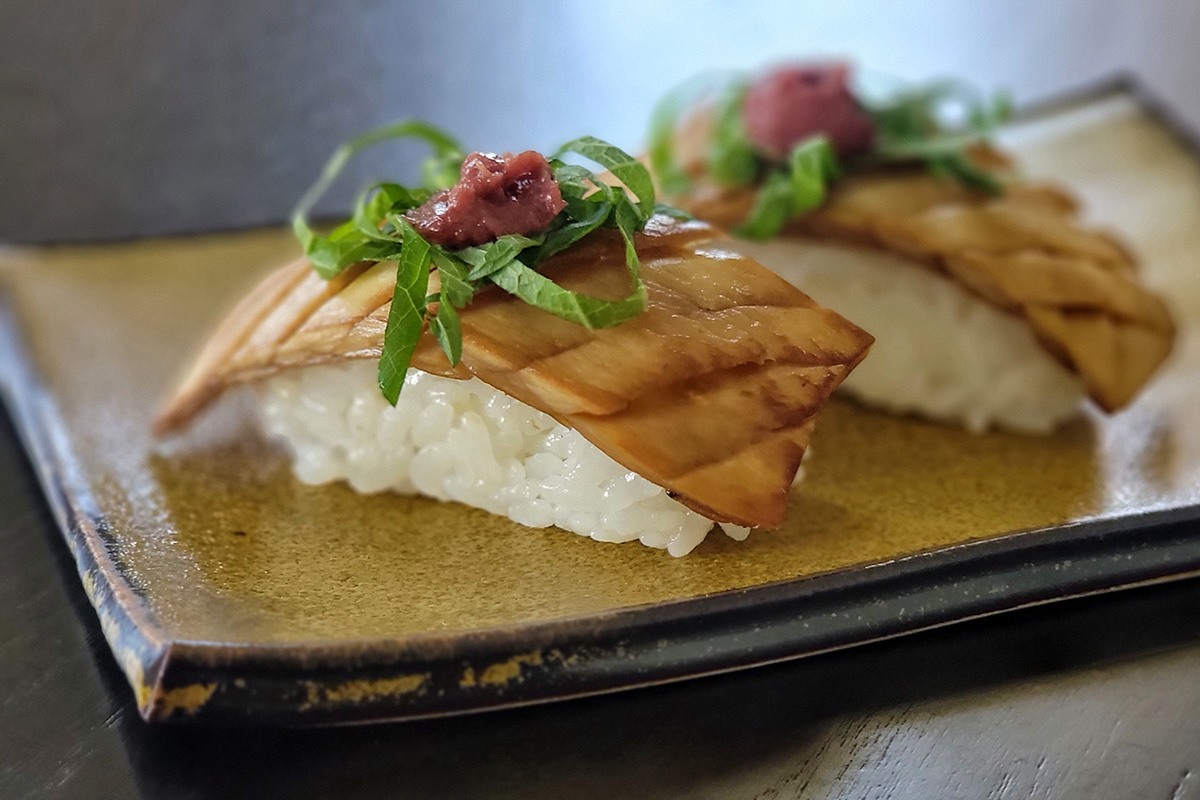 Aroma of Green Shiso
Green shiso is very fragrant. It has a lightly minty and basil-like aroma which is very refreshing!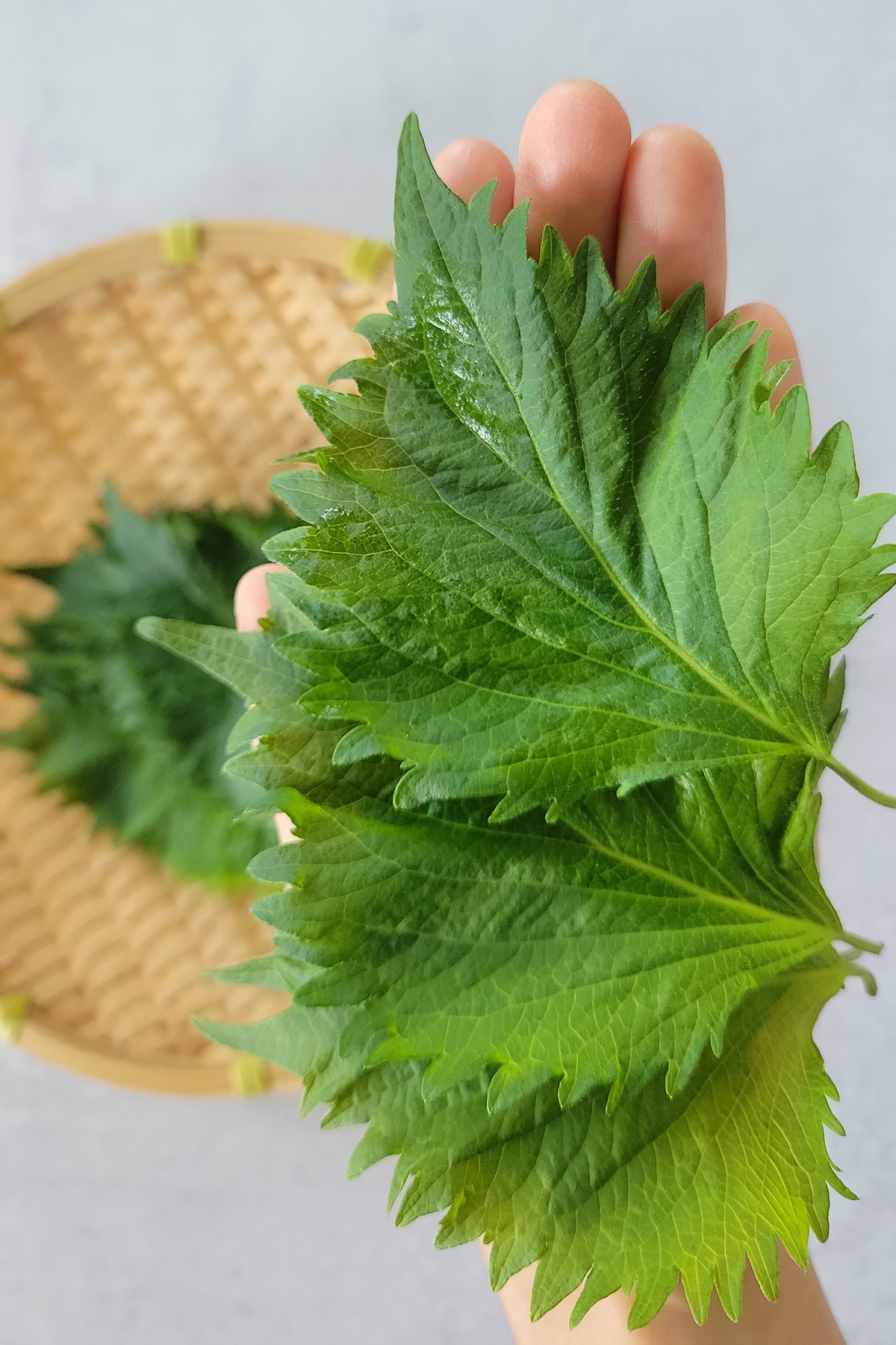 What to Make with Green Shiso
Green shiso is pretty versatile but in my opinion, you can taste and smell the best when it's eaten raw. So, it's perfect with:
But, green shiso is also great as a topping for cooked dishes or as an ingredient to cook with such as:
Pasta
Rice
Fried rice
Gyoza (Japanese dumpling)
Harumaki (Japanese spring roll)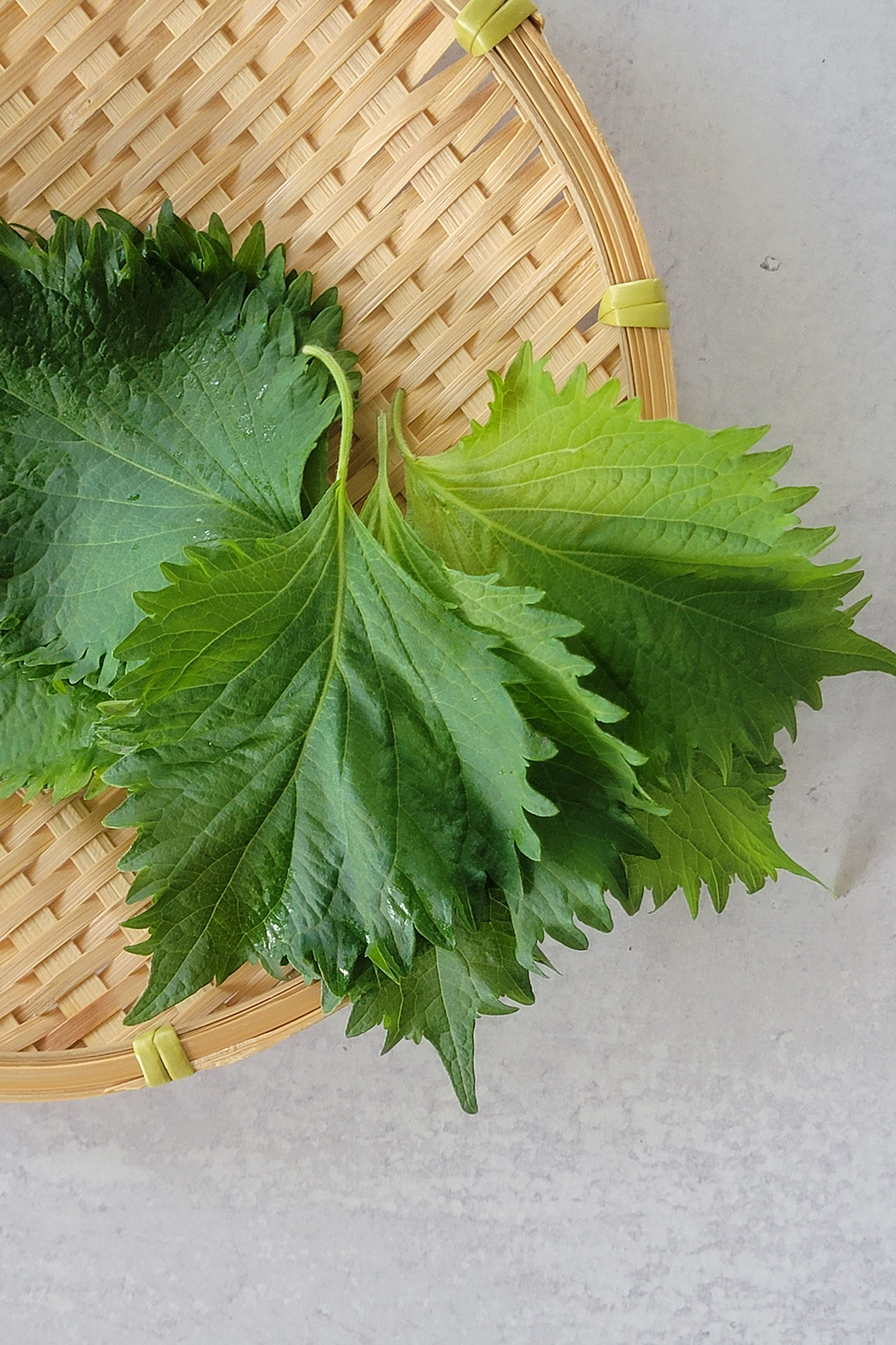 How to Store Green Shiso
When you buy shiso from a grocery store, clean under running water (if it's not cleaned.)  Pat dry with a towel to remove excess water, then make a bundle of 10 leaves or so. Wrap with a damp paper towel then put in a container or a zipper bag. Store in a fridge and use as soon as possible for the best taste possible.
Properly stored green shiso will stay fresh for about 1-2 weeks or longer.
Where to Buy Green Shiso
If you live in a place that has major Japanese grocery stores, most likely you will find one there. If you live in the U.S. and you don't have access to large Japanese grocery stores, you can buy one here. ↓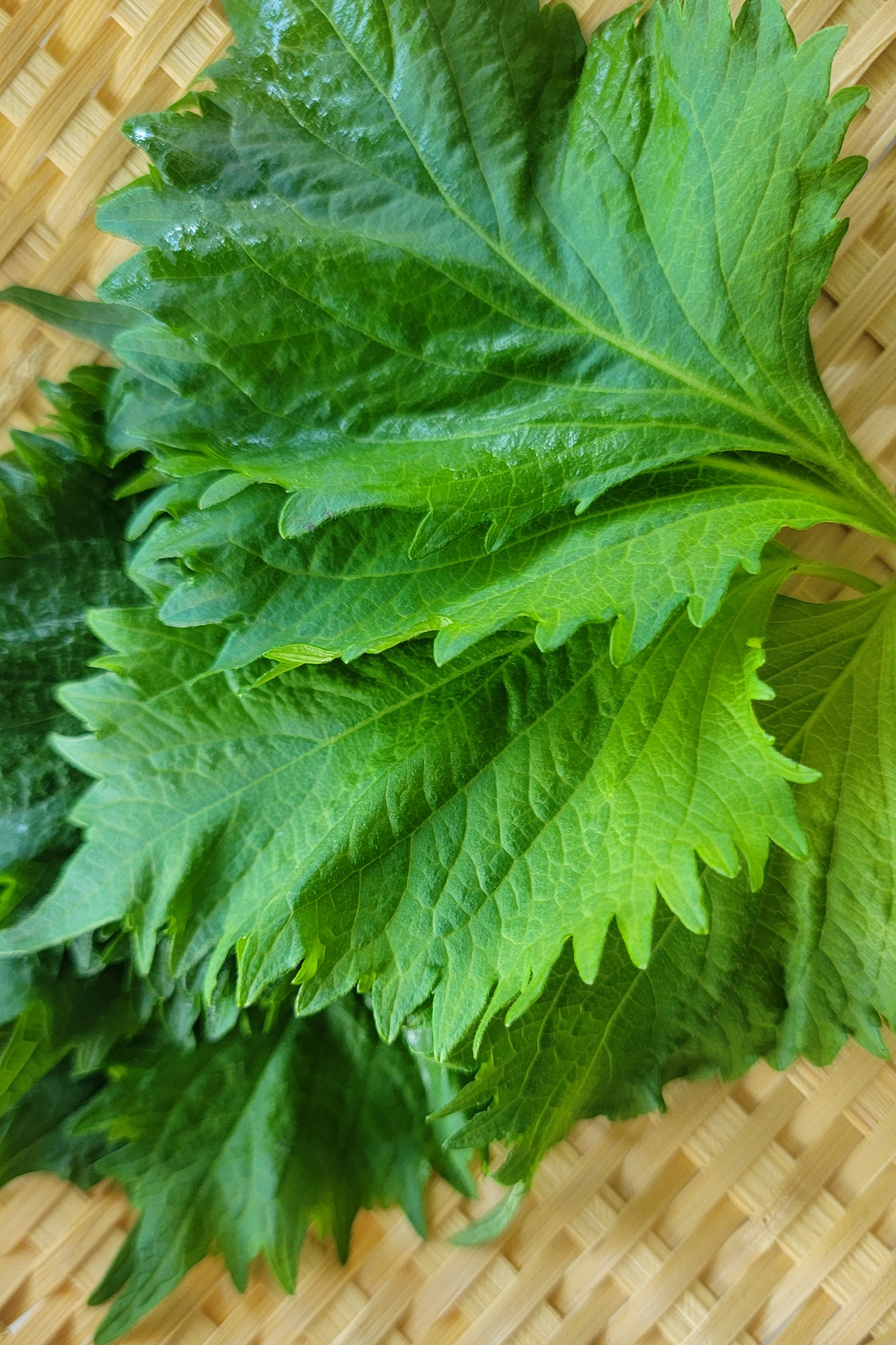 The availability of green shiso leaves may be seasonal however, their online store is definitely worth checking out! They have a variety of Japanese produce that you can buy online and green shiso (ohba) is one of them. They also have red shiso leaves as well. Please note that shipping may not be available.
Unfortunately, I live in a place where I can't find any green shiso in local grocery stores. It literally took 20+ years for me to find a place to buy shiso but I'm so excited that I finally found one. Ever since I discovered Suzuki Farm, I've been buying green shiso almost on a weekly basis.
I also shop other authentic Japanese produce items as well. I have to say it's a bit tricky to choose what to buy because the shipping package is without refrigeration. Obviously, the produce arrives fresher and in better condition during the cold(er) months compare to the hott(er) months. But shiso always arrives fine! I highly recommend it!