Last Updated on June 3, 2023
Neri Ume (Pickled Ume Plum Paste) is a multipurpose vegan Japanese food product that you can use for just about anything! The saltiness and sourness of pickled ume plum adds a fruity, refreshing but strong accent to dishes. Neri Ume will be your next item to add to your vegan Japanese pantry.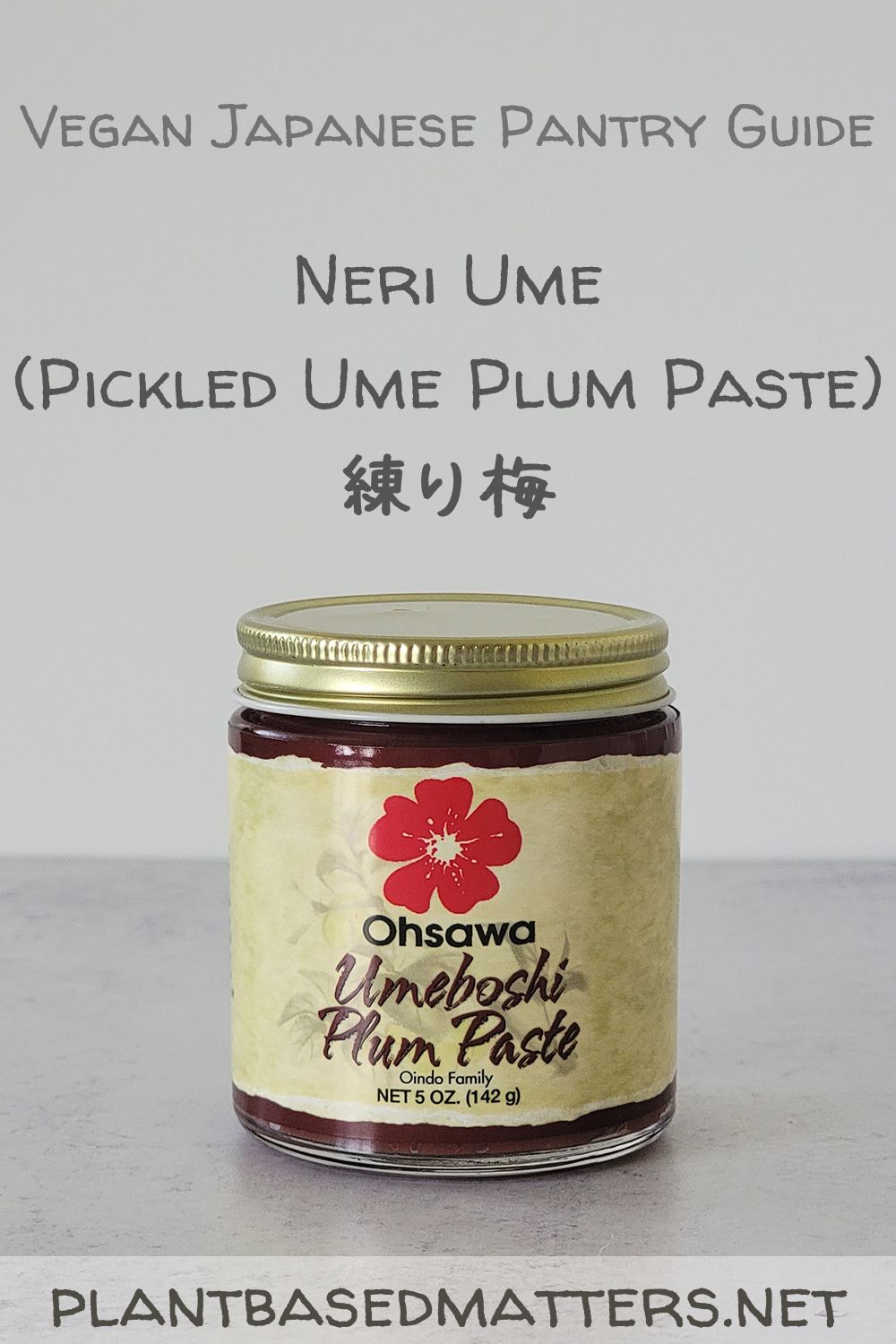 What is Neri Ume?
We can't really talk about neri ume without knowing umeboshi. So, let's cover that first!
Ume or Umeboshi
Umeboshi [梅干し] is a traditional Japanese ume plum pickle that's intensely salty, sour yet fruity.
The word "ume" [梅] is a Japanese word for "ume plum." But, the same word "ume" in this case, is a shorter version of the word "umeboshi." Whether on menus or finding recipes, if you see the word "ume" in there, it's made with umeboshi or neri ume.
Typically, umeboshi is made of:
Ume plum
Sea salt
Red shiso leaves (perilla) — for red umeboshi
Umeboshi is one of the Japanese traditional preserved foods called "hozonshoku [保存食]." Many people make their own umeboshi by start prepping in the month of June to August when perfectly ripened ume plum is harvested.
Actually, there are two types of umeboshi:
Red umeboshi called "aka umeboshi [赤梅干し]"
White umeboshi called "shiro umeboshi  [白梅干し]"
Red umeboshi is made with red shiso leaves (perilla) which gives that dark red color to the umeboshi. On the other hand, white umeboshi is made without red shiso leaves. Some white umeboshi is sweetened with honey so when you buy white umeboshi, you may want to check the ingredient list.
The Japanese typically eat umeboshi with a bowl of rice or in onigiri (rice ball.) Umeboshi on rice in a way represents the flag of Japan, white and red! The saltiness and sourness is very dominant so a little bit goes a long way.
Now, what's the difference between umeboshi and neri ume? The answer is very simple! Umeboshi is a whole ume plum pickle. On the other hand, neri ume is a paste form of ume plum pickles.
Neri Ume
Neri ume [練り梅] is basically the same as a typical whole umeboshi. The only difference is that it's pitted and made into a paste. Neri ume typically comes in a tube or a jar which is actually very convenient to use for cooking!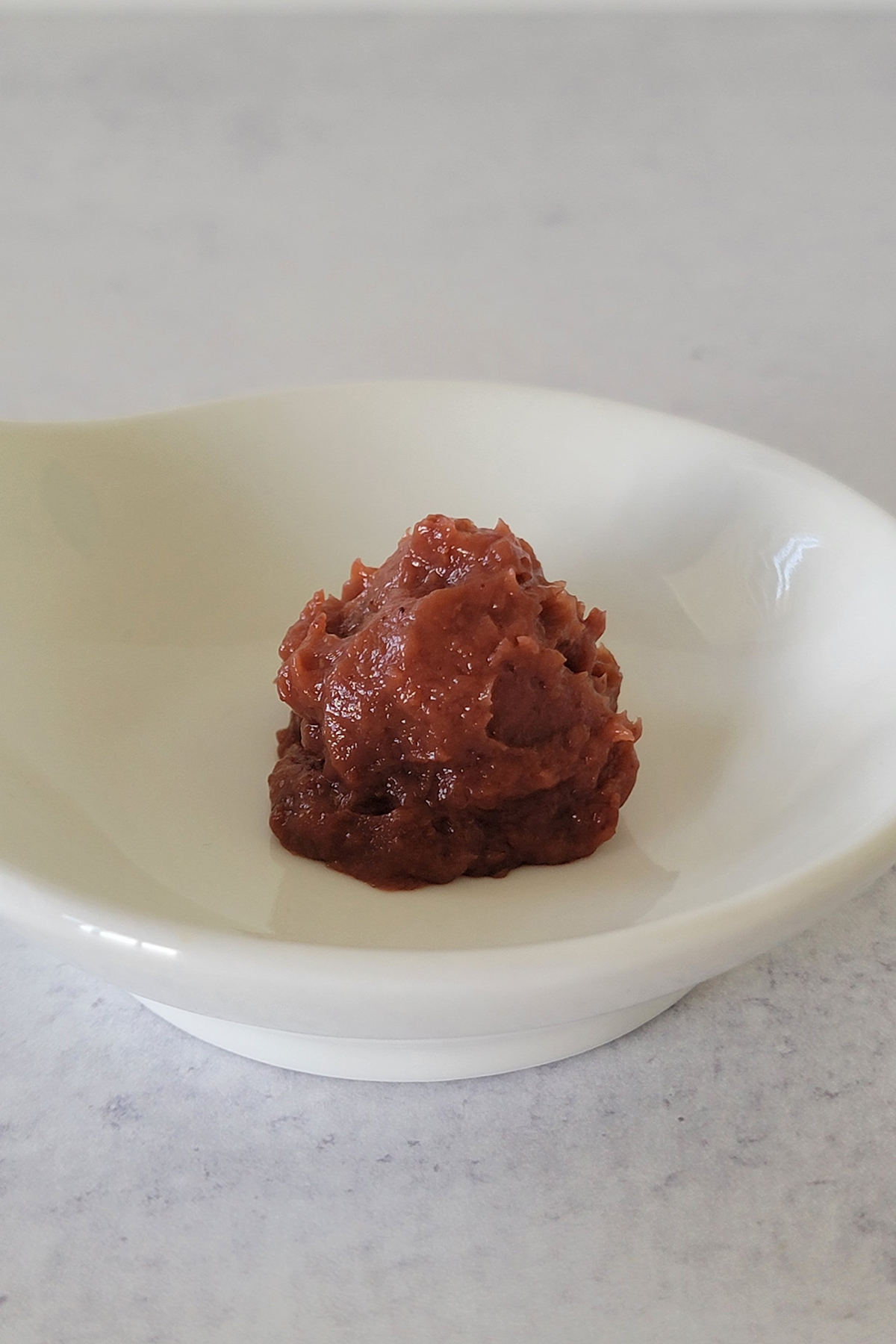 If you can't find neri ume, you can simply buy umeboshi, then remove the pit. After that, place it on a cutting board and keep chopping finely until it becomes a smooth paste.
What to Make with Neri Ume
Unlike umeboshi, neri ume is often used as a condiment or an ingredient for making sauces. Some examples are:
Salad dressing
Pasta sauce
On

nigiri sushi

In sushi roll
Topping on cooked veggies
Topping on tofu
Dip (as is) etc.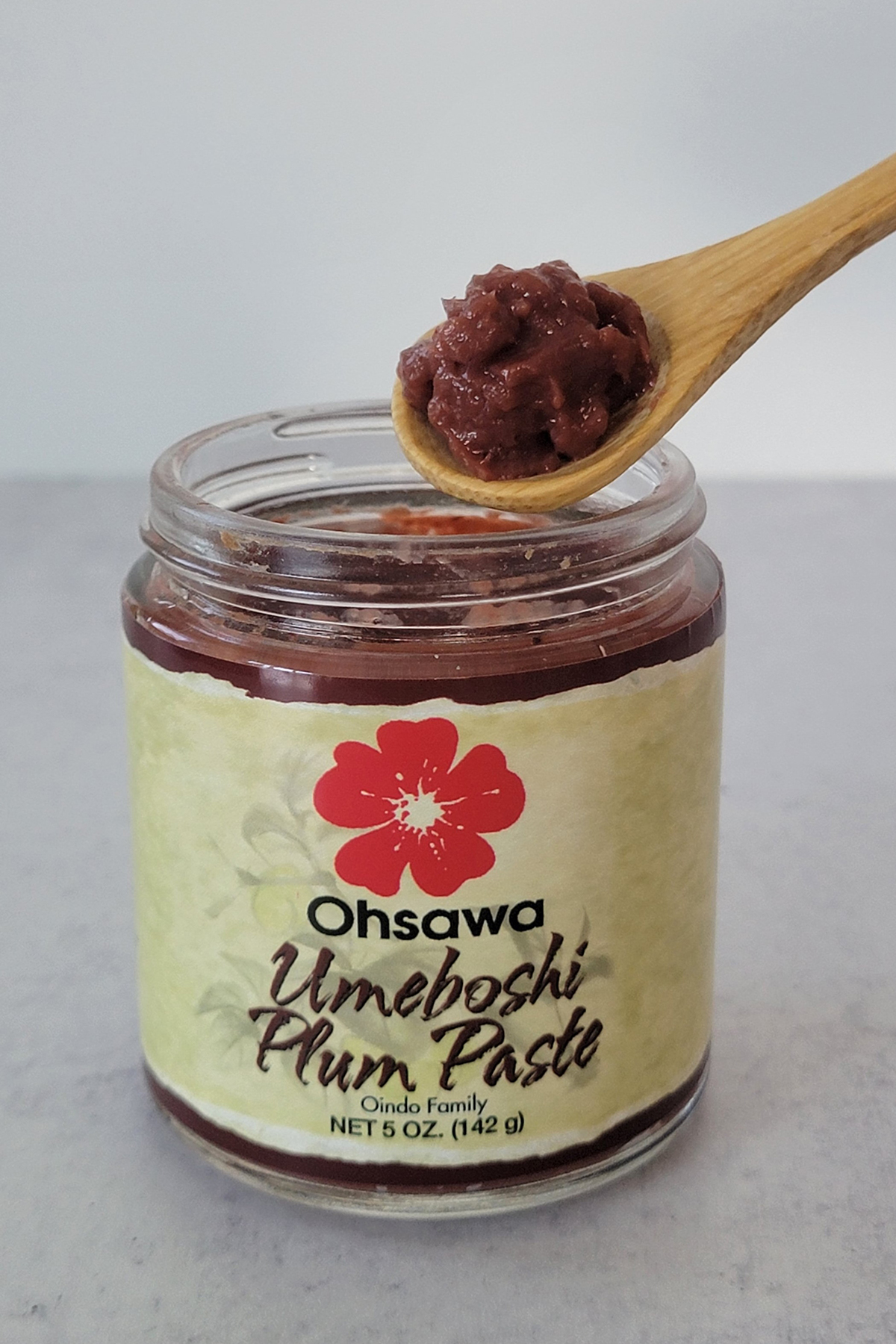 There is no need to cook neri ume (you can consume as is just like any other pickles.) For example, neri ume is great with cucumber sticks and/or daikon radish sticks!
Also, neri ume (or umeboshi) in general, it pairs very with shiso perilla leaves. Actually, this is my favorite way of enjoying neri ume!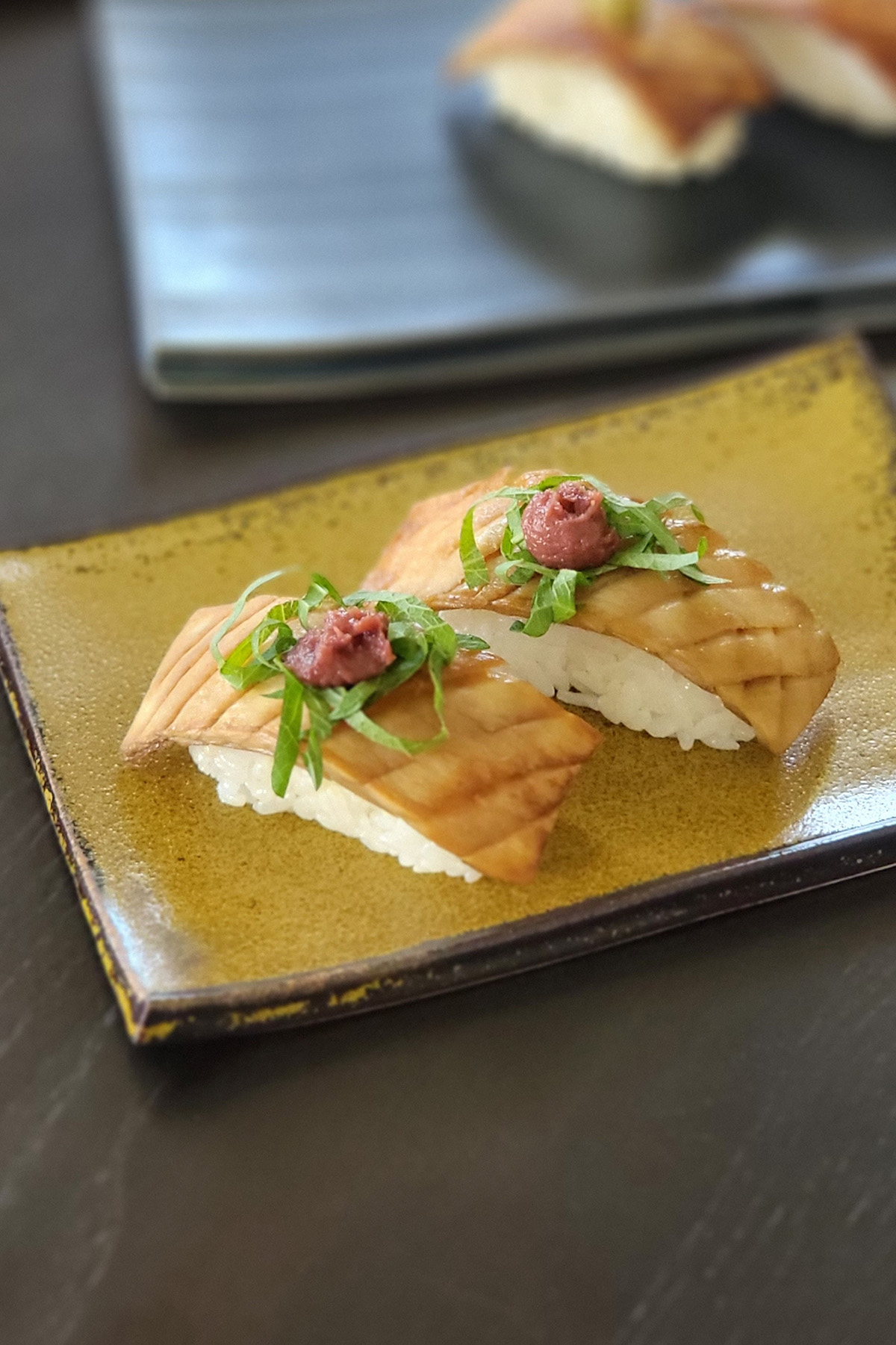 How to Store Neri Ume
You can keep unopened neri ume in a pantry at a room temperature. However, once you open it, you want to store in a refrigerator and consume within 2-3 months.
Where to Buy Neri Ume
You should be able to find neri ume at most Japanese grocery stores and some Asian grocery stores. I shop neri ume online.
This product comes in a 5 oz jar. This is the product that I use for my recipe and it's a product of Japan. They also have 16 oz size jar. The 5 oz jar may look pretty small but it'll last for a long time.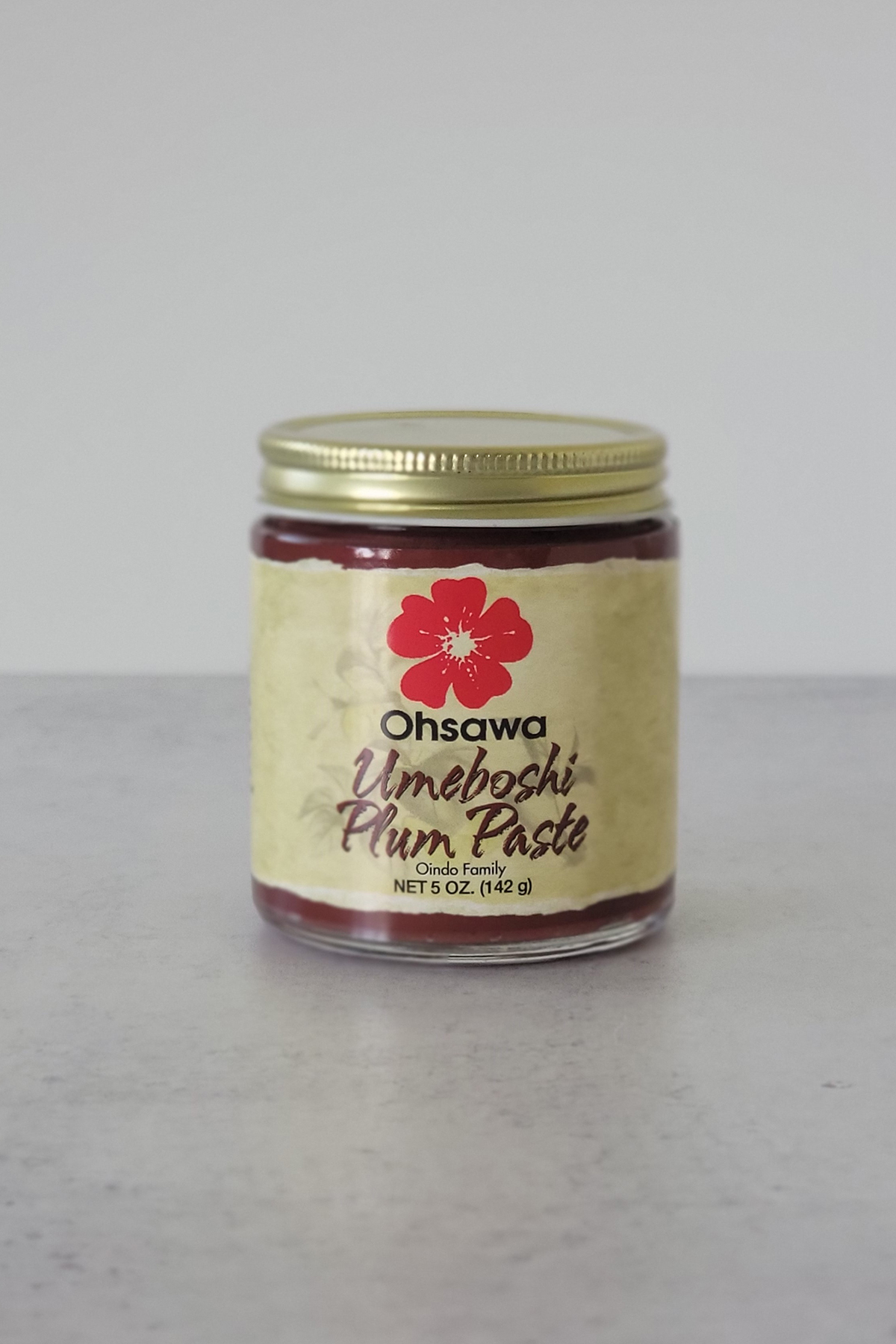 This product is what I use to use before I found the Oindo Umeboshi Paste. It's also a product of Japan and very similar to the Oindo Umeboshi Paste. I'm pretty sure you can find this in Whole Foods Market near you (if you live in the U.S..)
This is a liquid type of neri ume which is very unique. It's a product of Japan and organic, perfect for pouring directly on raw veggies, leafy salad, and pasta.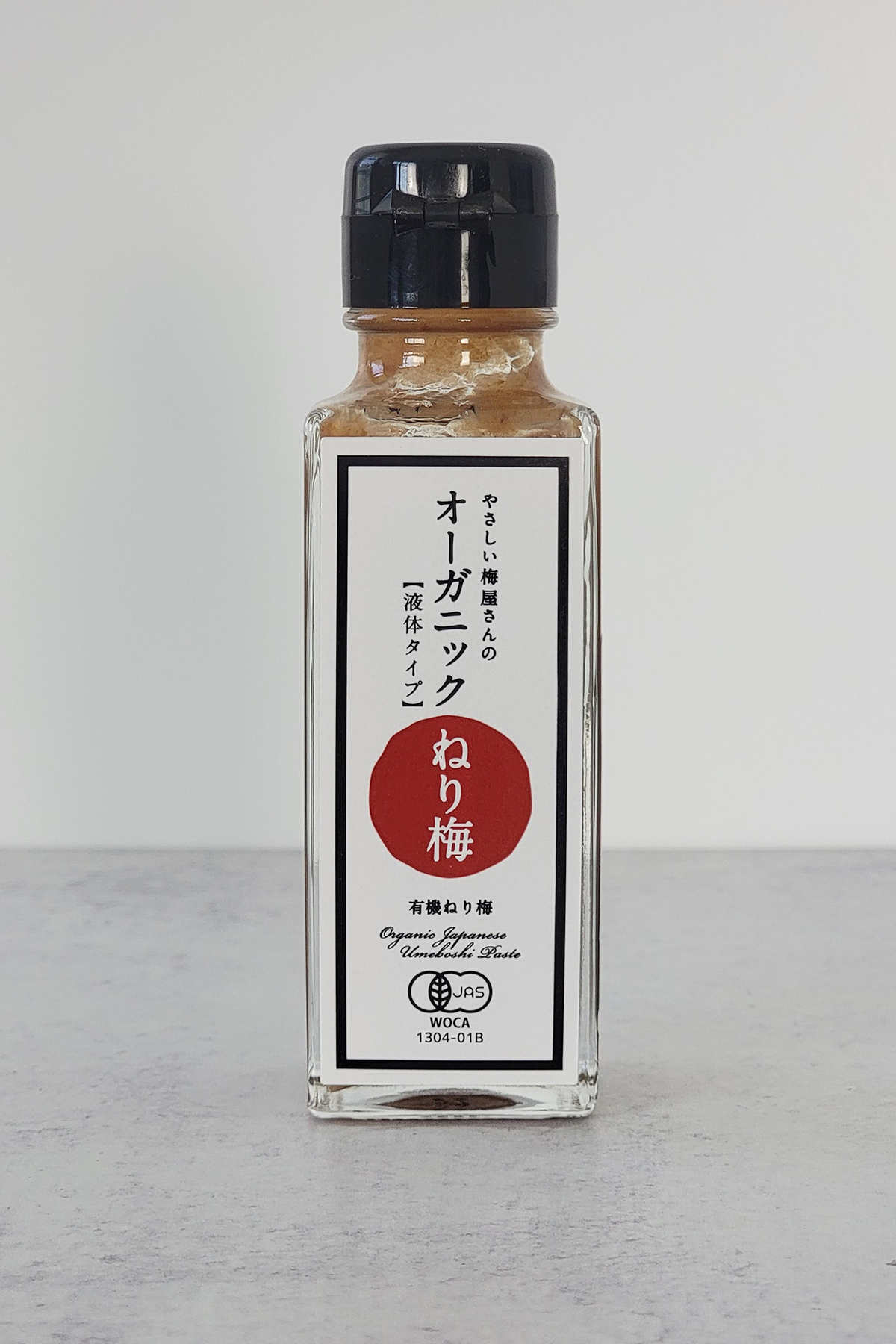 I recommend trying "real" Japanese neri ume for you to stock up your authentic vegan Japanese pantry. This is a general tip for shopping Japanese groceries or pantry items which is to get the products that labels as "Product of Japan" on the back of the package. Often times, what appears to be a "Japanese" product is actually produced in another country. Always check the label!
Let me know in the comment sections below if you have any questions or other recommendations!