Last Updated on February 14, 2021
Are you a sweet food person or savory when it comes to breakfast? I'm definitely a savory person, to be honest. But I occasionally crave sweet stuff especially on weekends when I can take a little more time to prepare a nice & cozy breakfast! My Orange Infused Fall Spice French Toast is my take on Fall inspired french toast with a little touch of orange! It's comforting but refreshing at the same time. This new take on vegan french toast will warm your heart and soul!
Fall Spice?
Fall is by far my favorite season of the year. I love the color of changing leaves, days are getting shorter, feel the weather change in the air, and cooking cozy food at home. Especially on weekends, there is always something cooking on the stove: beans, soups, warm noodles etc.. I just love everything about it! Here in Florida, we don't really see and feel the weather change (which I hate)  but I like thinking back of how I used to see and feel back in Japan where there is four-seasons and the times between mid-September to early November.
Now, the actual spice mix I used for this recipe is pumpkin spice but I named it as "Fall Spice." Why? I heard from somewhere that pumpkin spice mix is an American thing. The name "pumpkin spice" is a bit disguising to non-Americans because technically there's no pumpkin in it. It's actually a spice mix to make pumpkin pie. Here is what's in a jar of pumpkin spice:
Cinnamon
Ginger
Nutmeg
Cloves
As an alternative to the pumpkin spice mix or you can simply replace with cinnamon only or use your own blend of the spices above.
Use of Citrus Fruit
I love incorporating orange in cooking whether it's sweet or savory. The aroma and the mix of sweetness and tangy-ness give a good accent to any dishes. Fall and winter food is typically comforting, cozy, warm but it could be a bit rich, heavy or dense. By adding some fruity element, it will somehow make the dish lighter and also bring the flavors to life. Like any citruses, you can use zest and segments, or zest and juice. For this french toast, I use the latter.
Let's get into the recipe!
The Ingredients
The Batter
Flaxseed Meal
Sugar
Pumpkin Spice Mix
Orange Zest
Freshly Squeezed Orange Juice
Unsweetened Soy Milk (or any other plant milk of your choice)
The Rest
Unsalted Vegan Butter
Day-Old Sourdough Bread
Maple Syrup
For the thickening (binding) agent, I use flax seed meal.
For the spices, as mentioned above, you can replace with just cinnamon or a blend of warm spices of your choice.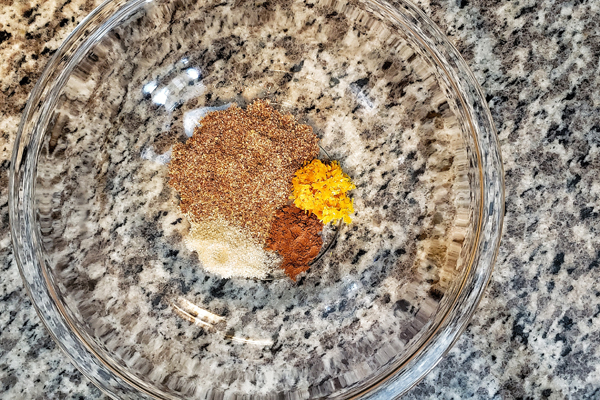 I used Valencia orange for this recipe because that was what's available to me as an organic option. I personally don't want to use zest from conventional citrus…navel orange or maybe blood orange (it may be bitterer) should work as well. One whole Valencia orange was enough to get zest and juice for this recipe (2 servings—4 thick slices or bread.)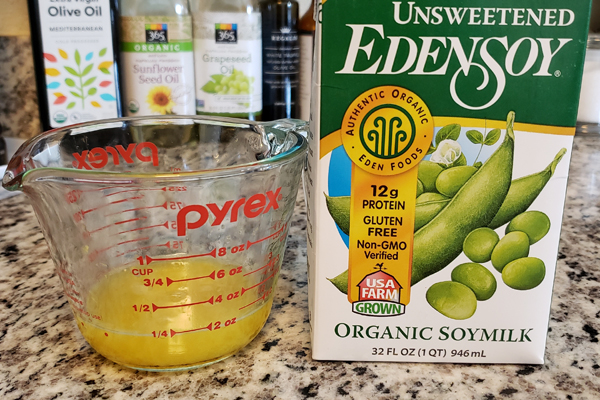 Speaking of bread, sourdough makes great french toast especially infused with orange like this recipe! But if sourdough is not your thing, you can replace with other artisan bread of your choice. Whatever you chose, day-old bread is a must!
The Tips
I don't really have any particular cooking tips for this recipe. Maybe I should point out that when you mix all the ingredients for the batter, it's important to let the batter mixture stand for 10-15 minutes. As you may know, flaxseed meal combined with liquid will thicken on its own but needs a little time to activate.
Like making any other french toast, you can control the softness of the toast by adjusting the soaking time of the bread in the batter. I like mine not drenched, a little bit moist on the outside and still somewhat dry on the inside. So I briefly soak one side for 15 seconds or so and immediately flip to soak the other side for another 15 seconds, then transfer to a pan to cook.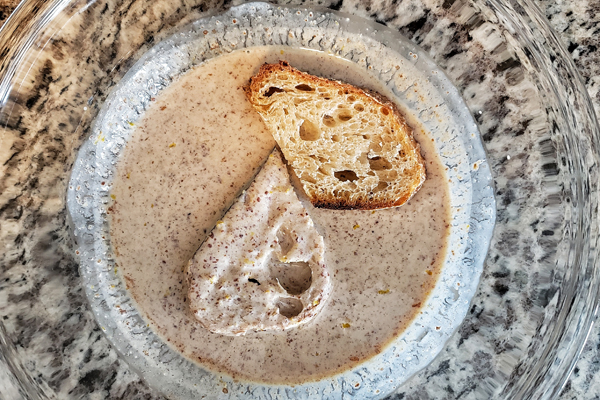 In my opinion, soaking for a total of less than a minute would be ideal so the bread don't get too soggy. But, it really depends on the dryness of the bread prior to the soaking (ex. 2 days-old bread is drier than a day-old bread) is  so make your own judgement for your preference!
The Taste
There's something about making french toast on weekends that makes us feel happy! As you bite into this french toast, you can taste a hint of warm spice (pumpkin spice) with the aroma of orange coming through. It's comforting but not too heavy. Also, the batter itself is not too sweet so you can control the sweetness by adjusting the amount of maple syrup for serving.
Feeling Inspired?
Try other orange infused delicious and unique vegan creations!
Fettuccine with Shiitake & Orange Truffle Cream Sauce
Chickpea Salad with Fennel Orange (warm or cold)
Orange Infused Fall Spice French Toast
My Orange Infused Fall Spice French Toast is my take on Fall inspired french toast with a little touch of orange! It's comforting but refreshing at the same time. This new take on vegan french toast will warm your heart and soul!
Servings:
2
(makes 4 slices)
Ingredients
The Batter
2

tbsp

flaxseed meal

1

tsp

sugar

1/2

tsp

pumpkin spice mix

(more for serving)

1/2

tbsp

orange zest

(from a whole Valencia orange)

1/4

cup

freshly squeezed orange juice

(about a half of Valencia orange)

3/4

cup

unsweetened soy milk

(or any plant-based milk)
The Rest
2

tbsp

unsalted vegan butter

(about 1/2 tbsp per 2 slices)

4

one-inch slices

day-old sourdough bread (about 8oz)

cut in half as an option to make 8 small pieces

Maple syrup

(for serving)
Instructions
In a large prep bowl, add flaxseed meal, sugar, and pumpkin spice mix. Over the bowl, use a zester to shave orange zest. Set aside.

In a liquid measuring cup, squeeze fresh orange juice up to 1/4 cup. Then add 3/4 cup soy milk. The total should be 1 cup of orange juice & soy milk mixture. Whisk together then add to the bowl from step 1. Whisk together and let it stand for 10-15 minutes until the batter will be thickened.

Start heating up a frying pan (or a griddle) at medium heat.

Meanwhile, take a couple of bread slices at a time to soak in the batter for 1 minute or less depending on your texture preference.

Once the pan is heated, add butter and let it melt.

Add the batter coated bread slices to the pan. Cook 4-5 minutes on each side. Repeat the process as necessary.

Serve with maple syrup and dust the top with more pumpkin spice mix.
Notes
As an alternative to pumpkin spice mix, use ground cinnamon, or make your own blend of ground cinnamon, ground ginger, ground nutmeg, and ground cloves.
If sourdough bread is not your thing, use any artisan bread of your choice.