Last Updated on February 14, 2021
Have you tried natto yet? Here is another way that you can enjoy natto with crunchy veggies! Seasoned Natto, Daikon Radish and Cucumber is a refreshing salad-like dish that you can enjoy by itself or on top of rice. It's vegan and made with no added oil.
Natto
I've recently re-introduce you to natto lately on this post here. It's Japanese fermented soybeans that is naturally vegan, gluten free, and good for your gut from probiotics. I grew up eating it all the time, and still this day, I love it so much that I can literally eat it everyday on every meal I eat! I must say it's an acquired smell and texture for non-Japanese people. Actually, the flavor of natto is not as odd as the smell & texure. It's very nutty and slightly sweet. It's similar to tempeh in away. If you think you've discovered the love for Japanese food but haven't tried natto yet, natto will be your next adventure for you!
If you want to know a bit more about natto and the particular product I use, check out this post.
The Ingredients
Here is the list of main ingredients for the recipe (salt isn't included.)
English Cucumber
Daikon Radish
Natto
Scallions
Toasted Sesame Seeds
Soy Sauce
Rice Vinegar
I prefer using English cucumber for the texture of the skin and its flesh. It's pretty similar to the Japanese cucumber in both taste and the texture. English cucumber has tender skin and less seeds so nothing that you need to peel or remove which produces low waste!
I use daikon radish to keep the Japanese theme. But I think you can substitute with regular western radishes (red radish, rainbow radish etc.) if daikon radish is not available in your area. Again, daikon (or radish) is, what I consider, one of the low waste veggie options. You can consume its flesh including skins, the stems and leaves.
Just like the other natto dishes I make, I use organic natto from NYrture. Their natto is never frozen so both taste & texure is night and day difference compare to all the other frozen options that you may find at Asian grocery stores. I'd never go back to any other brands for many good reasons!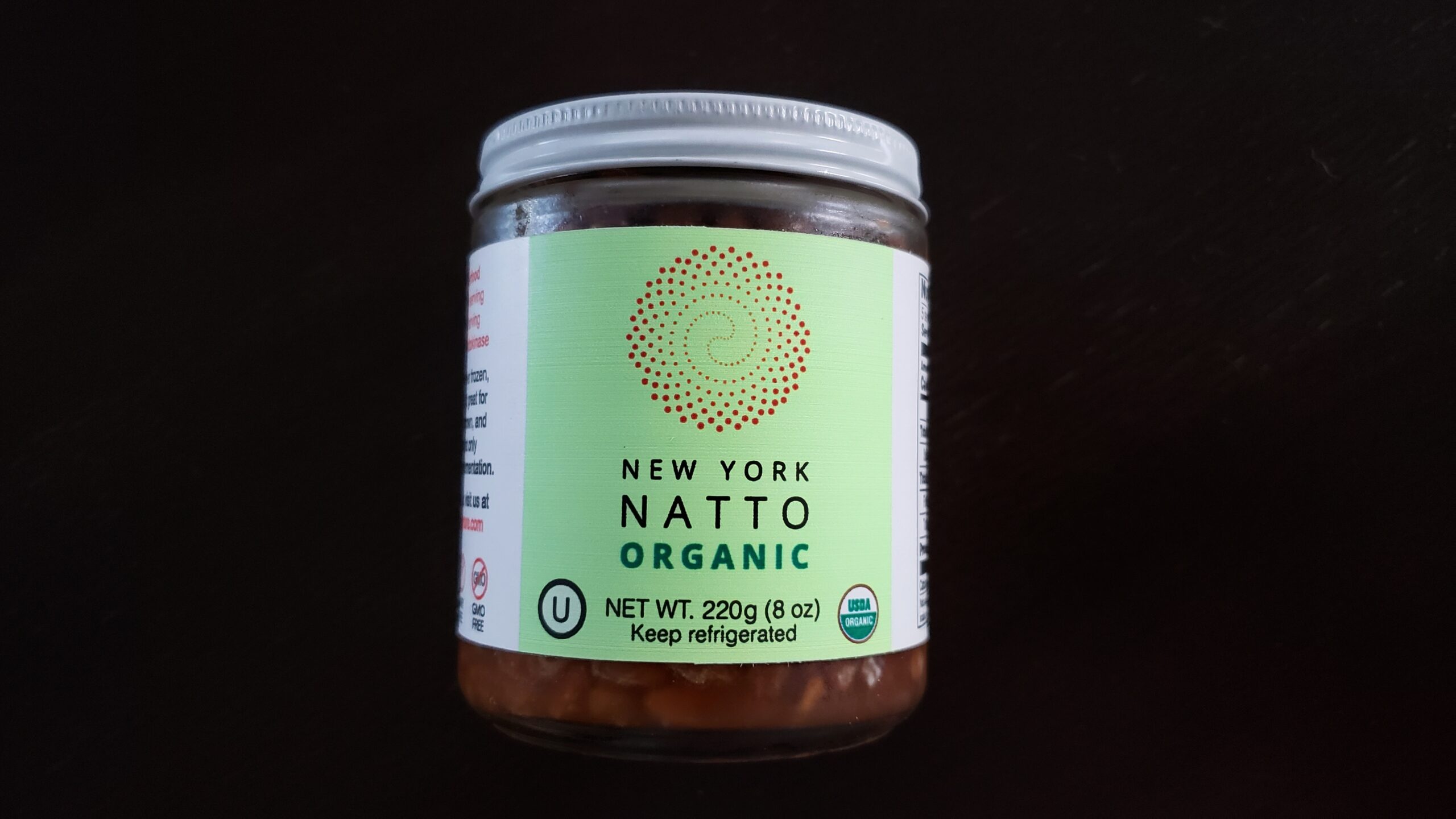 The Recipe 
Notes
Be sure to cut all the veggies as the same size as natto. It's about 1/4 to 1/3-inch size cubes.
Also, adding rice vinegar balances out the saltiness from soy sauce. If you don't have rice vinegar, you could substitute with other non-fruity white vinegar. I love using vinegar. It's not that I look for more acidity but let's say you add some salty components to a dish and taste it. Then you will find that it needs something else but you don't know exactly what it is. Often times, the answer is vinegar, or some acidic component!
I made this recipe with no-added-oil however adding a little toasted sesame oil may be a great option for those who don't watch the oil intake.
Now, do you want better tasting toasted sesame seeds? Try making your own!
The Taste
I love the crunchiness of cucumber and radish goes with the fluffiness of the natto. The scallions and my homemade toasted sesame seeds complement the dish very well!
Ok…as I mentioned above, natto has an aquired smell & texure, but mixing with fresh & crunchy cucumber and radish with all the other ingredients will make the characteristics of natto milder than eating it by itself.
The dish is great on its own but I think to put it over a bowl of warm starchy short grain rice will be even better!
Feeling Inspired?
Try my other natto and similar Japanese recipes.
Quick Sauteed Daikon Leaves and Peels
Seasoned Natto, Daikon Radish and Cucumber
Here is another way that you can enjoy natto with crunchy veggies! Seasoned Natto, Daikon Radish and Cucumber is a refreshing salad-like dish that you can enjoy by itself or on top of rice. It's vegan and made with no added oil.
Servings:
3
(appetizer size)
Ingredients
About 5

oz

English cucumber

about a half of a whole cucumber, small diced (about 1 cup)

6

oz

daikon radish

peeled and small diced (about 1 cup)

1/2

tsp

salt

4

tbsp

natto

Japanese fermented soy beans

1

scallion

finely chopped

2

tsp

toasted sesame seeds

1

tsp

soy sauce

1

tsp

rice vinegar
Instructions
In a medium prep bowl, combine cucumber, daikon radish, and salt. Massage and mix gently with hand. Let it stand for 5 minutes. After the 5 minutes, squeeze them to remove excess water then transfer to a large prep bowl.

Into the bowl, add natto, scallions, toasted sesame seeds, soy sauce and rice vinegar. Mix well.

Serve immediately by itself or with a bowl of rice.
Notes
As a non-oil-free option, add a few dashes of toasted sesame oil for some richness.
Feel free to adjust the amount of soy sauce and vinegar to your taste.