Last Updated on February 14, 2021
This is one of my comfort foods! As the name says it all, my Okra Natto is a simple dish made with my favorite ingredients: okra & natto! It's simple, light, healthy and vegan. A touch of soy sauce is all you need to season them. You may have just discovered a Japanese homecooked style dish that you never knew existed!
Okra
I have posted several different recipes with okra on this blog.
Pan Fried Okra in Sweet & Savory Miso Sauce
Roasted Okra with Ginger Miso Mayo Dip
I have talked about my love for okra on those recipes above so I will skip it this time. As you may know, okra has a slimy element that scares some people. Most Japanese, including myself, would not mind the sliminess. That is probably because we are so used to eating other slimy "national food" — Natto!
What is Natto?
Natto is fermented soybeans. Due to the fermentation, it is slimy, stringy, and pungent. As far as I consider (I am sure all Japanese people would agree), natto is one of the national food called kokuminshoku [国民食] of Japan. For examples, to name other national food includes;
Gohan (Rice)
Misoshiru (Miso Soup)
Onigiri (Rice Balls)
Udon
Soba
Ramen
Curry Rice (Japanese Style Curry with Rice)
Tanago-Kake-Gohan (Rice with Raw Egg)
Sushi
Umeboshi (Pickled Plum)
Tsukemono (Pickled Veggies)
Of course, there are a lot more but natto is definitely one of them.  Unlike sushi or ramen, natto has not gained its popularity just yet. I have a couple of natto recipes on my blog. Make sure to check them out! If you have not tried it yet and you would not mind eating slimy food, why not try it today?
Okra & Natto
This combination is the ultimate! When the two sliming ingredients come together, it is like a perfect marriage that was meant to be together. lol. In Japanese, it is called "neba-neba" which is an onomatopoeic word to describe a sticky or slimy texture of food. The more you stir, the slimier it gets.  It gives you a sense of weird satisfaction after stirring and feeling the slimy sensation in your mouth. I LOVE IT!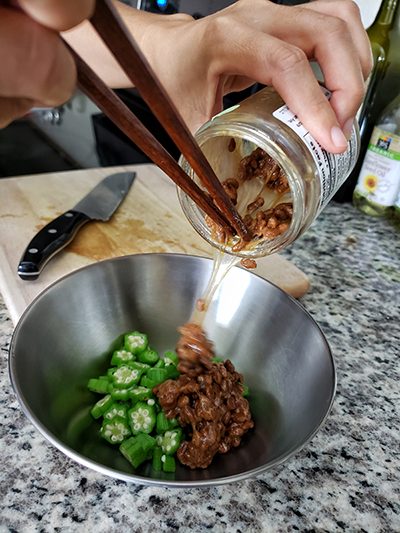 The Ingredients
This is a short list of ingredients to make this recipe!
Fresh Okra
Salt
Water (for blanching okra)
Natto
Soy Sauce (use tamari for GF option)
For natto, if you live in the U.S, I highly recommend trying the Organic Natto from NYture. It is the best!
In case you are wondering, natto is not seasoned. You can add any seasoning to dress it up but soy sauce is the most popular condiment to season natto. Other options may be ponzu sauce for a little citrusy kick.
The Tips & Recipe Notes
Here is something that may help you with the process of making this recipe!
Okra
To prepare okra with a little special treatment, you can do a process called itazuri to remove the tiny "hair" on the okra. It is method done by sprinkling some salt on okra, rolling gently back and forth on a cutting board. Then cook them in salted water for a few minutes and soak them in a ice bath. Pat them dry, remove the top if necessary, then slice them thinly.
I used only 4 pieces of okra for this dish for making two servings. What can you do with the rest if you do not have a plan to use them soon? You can cut them into bite-size pieces, keep it in an airtight container and store it in a freezer! Whenever you are ready to use them, you can simply cook for a few minutes and ready to eat. I do this all the time and it is super convenient for a frequent okra eater like me.
Natto
As I mentioned earlier, natto becomes slimier as you keep stirring. But what stirring also does is to develop more flavor. When you stir, you will notice that it will start developing white coating around the beans. It almost looks like a cocoon. That is what gives the umami flavor! Some say stirring in circular motion for 30 times while others say go for more than 100 times. I think I go close to 100 times.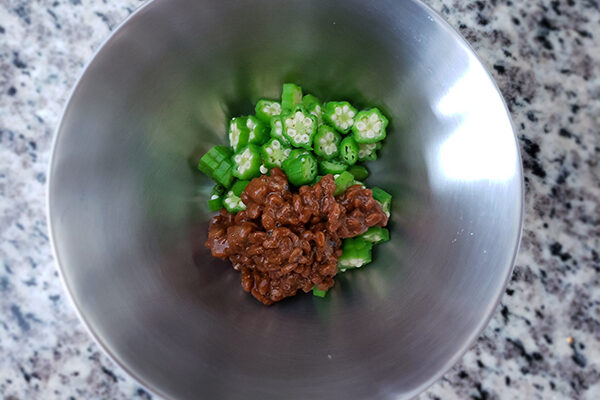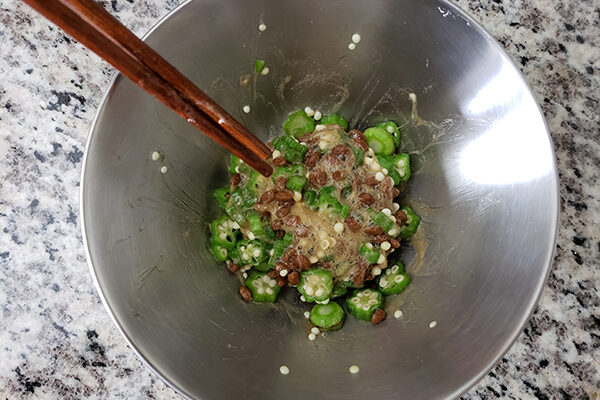 By the way do you know that I have a special bowl called natto-bachi [納豆鉢] and chopsticks called natto-bashi [納豆箸] made for stirring natto? You can see them in the main photo for this recipe post. They make the stirring process done properly to develop the best flavor!
Seasonings & Toppings
I kept the recipe to the super basic so the only seasoning to this dish is a little bit of soy sauce. As mentioned above, you can use tamari for GF option or ponzu for some citrusy sensation with the same great taste from soy sauce.
You could add some toppings like scallions, toasted sesame seeds, grated ginger, and wasabi to give more complex flavor to a simple dish.
How to Serve
The dish could be a great side dish on its own however the ultimate way to enjoy the taste at its best is to put it on top of rice! A lot of Japanese side dishes are meant to be paired with a bowl of rice (to be particular, white rice.) For me, without the rice it feels incomplete. So make yourself some rice and enjoy!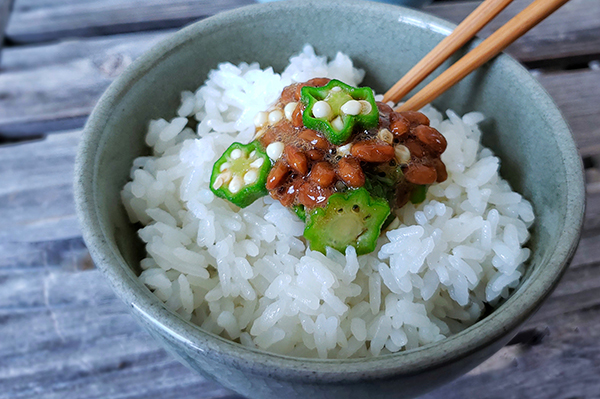 Feeling Inspired?
Wanna try more natto?
Seasoned Natto, Daikon Radish and Cucumber
Okra Natto
This is one of my comfort foods! As the name says it all, my Okra Natto is a simple dish made with my favorite ingredients: okra & natto! It's simple, light and healthy. A touch of soy sauce is all you need to season them.
Ingredients
Preparing Okra
4

pieces

fresh okra

1

tsp

salt

1 1/2

cups

water
The Rest
1/4

cup

natto

(Japanese fermented soybeans)

1

tsp

soy sauce

(more for serving)
Instructions
In a small pot, start boiling 3 cups water.

Meanwhile, place okra on a cutting board. Sprinkle salt (about 1/2 tsp) over the okra and roll them gently back and forth to massage. Leave the salt on and set aside. This step is to remove the tiny hair on the surface.

Once the water is boiling, reduce the heat to medium or medium high. Add 1/2 tsp of salt to the water then gently drop the salt covered okra (from step 2) to the pot to avoid water splashing. Cook for about 2 minutes then immediately transfer the okra to ice bath to stop cooking. Remove okra from the ice bath and gently pat dry them to remove excess water.

Cut off the very top of the okra and slice them thinly (about 1/8-inch.) Transfer to a small prep bowl.

Combine with natto and add soy sauce. Use chopsticks and move in a circular motion to mix. Keep stirring vigorously until the mixture becomes stringy.

Serve as is as an appetizer or top over a warm bowl of rice. Drizzle extra soy sauce if necessary.
Notes
It's best served with steamed Japanese rice (or any starchy rice.)